'90 Day Fiancé': Nicole Nafziger Seemingly Sets Wedding Date with Azan Tefou
Things might not be going well for 90 Day Fiancé stars Nicole Nafziger and Azan Tefou on Season 4 of Happily Ever After, but she's saying something different online. With so many questions swirling about the current status of their engagement, Nicole held a Q&A session with fans over the weekend.
The Florida native said she will "likely" be getting married this year. "Probably not this 'summer,' but this year is highly likely," she told a fan.
During the same Q&A session on Instagram, she said the reason she and Azan aren't affectionate is because of his culture. "Why do you think national TV is any different? He knows his family will see this show. We are not married. He respects his religion and his country. Think what you want. I know what I feel from him and in my heart," she said.
She also shared multiple photos of her daughter, May, and mother, Robbalee.
On Monday, she posted a picture of herself with May after she got a haircut. She captioned the photo: "May kept asking me for short hair so here it is! @hair_by_johnpaul is just the best in town May looks so amazing and beautiful and even more so with her new haircut! While we were there they wanted to treat May to a gorgeous manicure."
Nicole added in another post about May: "God gave me exactly what I needed at the exact right time and I thank him for that. I thank him for you."
Days earlier, the 24-year-old shared a "quirky" poem: "I am me. Just who I want to be. I learn and I grow. Eventually learning my flow. Staying true to yourself is key. I am unapologetically me."
Finally, she dedicated one post to her mother. "Life doesn't come with a manual, it comes with a mother," she wrote.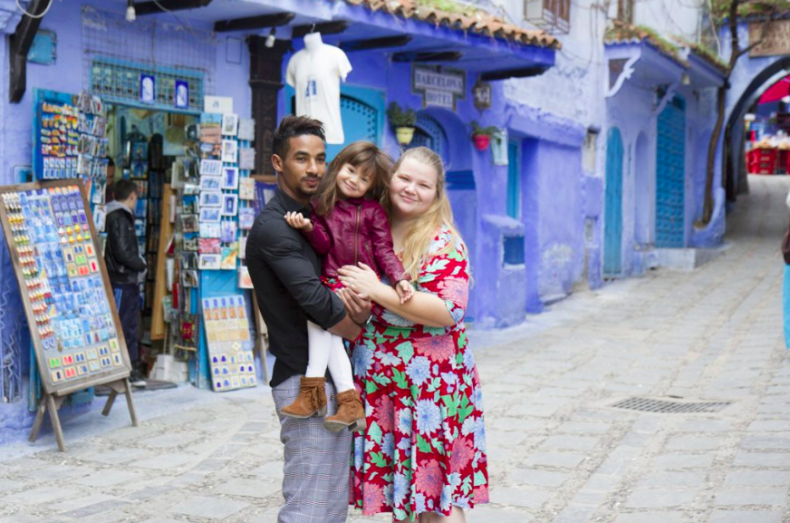 While she could have just been showing love for her mother and daughter, Nicole hasn't posted a photo of Azan since last month.
Last time viewers saw Nicole, Azan canceled their trip to Grenada last-minute because of a family emergency. His K-1 fiancé visa to the U.S. was denied and he wasn't allowed to enter South Korea when they previously planned a trip there. Though they've been engaged for nearly two years, Nicole and Azan haven't made things official because they can't afford a wedding. Of course, her family (and viewers) doubt the authenticity of their relationship. If they were to get married, it would have to be in Azan's home country of Morocco. When she was there last season, they said they spent $6,000 on a beauty store, though they revealed in Season 4 there was no store.
90 Day Fiancé airs at 8 p.m. ET on TLC.