Nicole Nafizger Instagrams Weight Loss Update After One Month of DietBet
90 Day Fiancé star Nicole Nafziger is continuing her journey to fitness. The mother-of-one, who is engaged to Moroccan native Azan Tefou, took to Instagram to encourage her followers to join her as she tries to get healthy.
"Who's ready to find the motivation to lose weight?! I'm so excited to be hosting my first dietbet and I'm even more excited for y'all to be joining me! It's super easy to join. Just click the link in my bio and click 'Play Now,'" she wrote Tuesday. "Follow the instructions and you'll be a part of our dietbet. Make sure to download the app we can make post and share our thoughts and victories as a community. I'll be posting motivation and interacting with y'all on the app! WE GOT THIS . JOIN TODAY!"
While Nafziger is seemingly motivated to lose weight, sharing a before and after photo in her post, not everyone was convinced. "honestly don't see a difference between the two pics. Which one if before & which one is after? Not trying to be negative at all. I know how hard it is to lose weight. I lost 65 lbs in 2016 and have kept it off via daily Pilates and a healthy diet," IG user @peacefulpagangirl wrote. Most commenters, however, were uplifting and encouraged Nafziger to continue.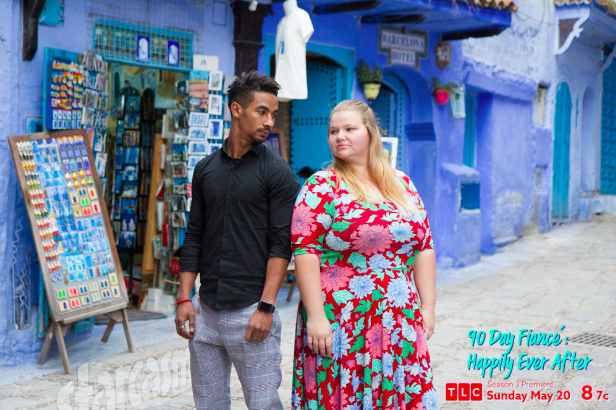 The day before, Nafziger posted a series of photos and videos that showed herself enjoying the day at Disneyworld with her daughter, May. "Had so much fun with May and sisters at @waltdisneyworld. May and my sister Ashley LOVE Disney! Like more then normal people. At least my sister knows all the good rides and where everything is," she wrote.
She hasn't given a recent update on Tefou. The couple were supposed to get married multiple times, but Tefou's visa to the U.S. was denied. When Nafziger flew to Morroco to get married there, she apparently didn't fill out the proper paperwork and she went home a single woman.
Nafziger's season of 90 Day Fiancé is not currently airing, but there are new couples to follow when Season 6 of the show airs Sundays at 8 p.m. on TLC.