'90 Day Fiancé: The Other Way' Update: Are Paul and Karine Getting A Divorce?
Paul Staehle and Karine Martins had an tumultuous run on 90 Day Fiancé: The Other Way, and it seems their relationship has only gotten more complicated after filming. The show will air its tell all post-season episode on Monday night, which will likely show where couples are in their relationship now. Staehle and Martins, it appears, have taken some pretty big steps in their relationship.
Staehle and Martins are still together, according to their social media accounts. Staehle encouraged fans to help the couple financially and emotionally by hiring them on the app Cameo, which allows fans to order personalized video messages from their favorite television stars.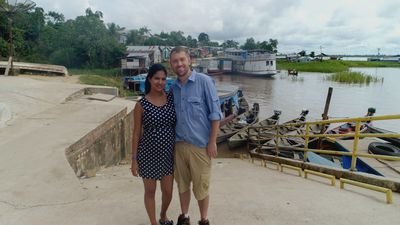 Martins and Staehle had problems with their visas on 90 Day. Staehle moved to Brazil to be near Martins, who was pregnant at the time. His visa was denied, however, because of a past criminal record that translated to terrorism in Brazil. Staehle explained the charge involved a threat to slash someone's tires.
Staehle and Martins are now living in America together with their son Pierre. Their original plan was to get Martins an American visa, but the process was too expensive.
Online posts from the pair, however, appear to hint at problems between the two. At the end of September, Staehle spoke of divorce in a since-deleted Facebook comment, which was captured by Reality TV World. "Karine asked me to remove our photos. And let everyone know that she doesn't want me in her life," he wrote. "Karine advogado de divorcio me ligou. Guess I need a lawyer."
"Karine advogado de divorcio me ligou" translates to "Karine's divorce lawyer called me."
He'd also started a conversation surrounding divorce in an Instagram poll, according to Cheat Sheet. "Doing a poll strictly out of curiosity. For someone I know very well...... Should a wife divorce her husband over his mother buying gifts daily spoiling their son? Should a grandmother be banned from seeing her grandchildren over spoiling them. And a husband be divorced for defending his mother's actions?"
The pair have faced a variety of issues in their relationship including two miscarriages, which Staehle confirmed to Cosmopolitan.
'90 Day Fiancé: The Other Way' Update: Are Paul and Karine Getting A Divorce? | Culture