90 Day Fiancé star Chantel Everett might find out some damaging information about husband Pedro Jimeno on Sunday's episode of Happily Ever After Season 4. In a sneak peek clip, family friend Obed talks about Pedro's "sneaky" family.
"As a friend of Pedro's family, I wanted to come forward to Chantel and tell her the truth 'cause I'm the only one who knows his family, like, for real because they did something similar to me," Obed says. "So, I know how bad they are and she needs to know what she got into with Pedro and his family."
Chantel is shocked to hear what Obed is telling her. "I really thought that Pedro and I had a fairytale beginning," Chantel says in a preview for Sunday's episode.
It turns out that Chantel's family, who has always been suspicious of Pedro, might have been right to be skeptical. "It was a set-up," Obed says. "They arranged to get Pedro to the United States."
When Chantel asks "who," Obed says, "his family."
The preview ends with Chantel looking shocked.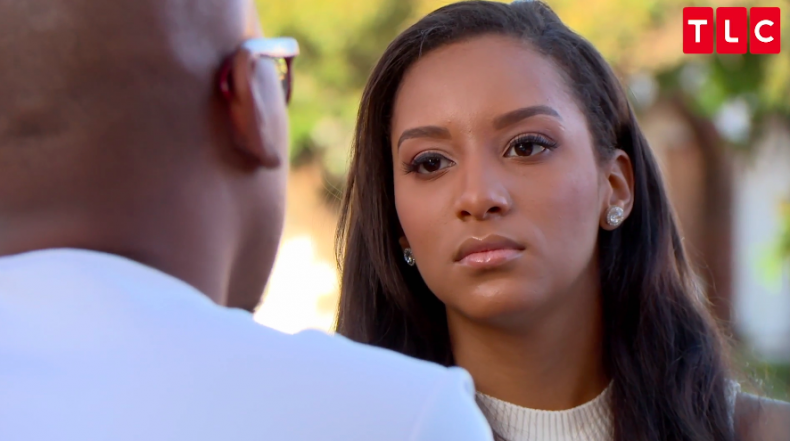 Last time 90 Day Fiancé viewers saw Obed, Chantel was thinking about following Pedro to the DR after he bought a one-way ticket. "His sister and his mom, I don't trust them," Obed told Chantel at the time. "They are always doing some business and it's always something sneaky."
In Sunday's episode, Chantel recalls their previous conversation. It's one of the reasons she followed Pedro to the DR.
"The last time I spoke to him, it seemed like he had information about what's going on with Pedro," Chantel says. "I really feel that there's something not right about Pedro's trip to the DR and how his family is treating me."
Chantel met with Pedro's mother and sister to move past their differences, but both meetings went awry.
In real time, it's unclear if Pedro and Chantel are still together. They might be considering they landed their own spinoff, The Family Chantel. She doesn't post about Pedro on Instagram. When posted pictures of herself on vacation in Ecuador, Pedro was not included.
To find out what happens next, don't miss Sunday's 90 Day Fiancé: Happily Ever After at 8 p.m. ET on TLC.