'90 Day Fiancé' Stars Russ and Paola Mayfield Instagram Response to Rumors About Their Marriage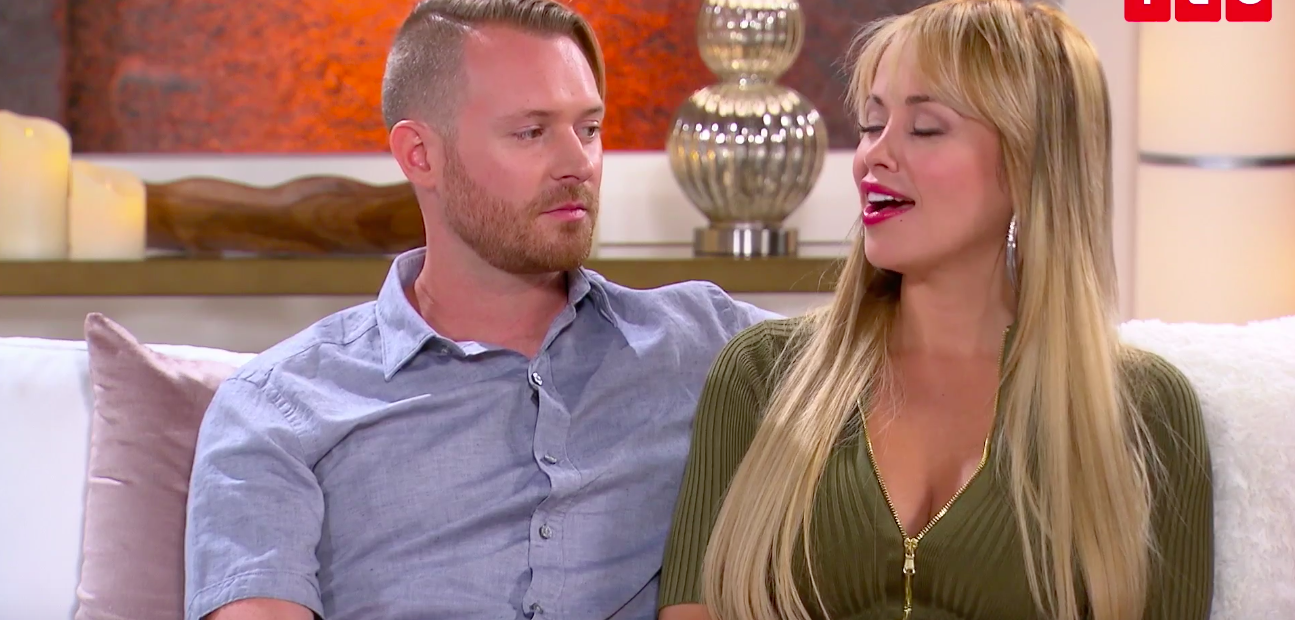 90 Day Fiancé star Russ Mayfield took to Instagram on Saturday to respond to fans who accused him of being "the jealous type." On Season 3 of 90 Day Fiancé: Happily Ever After? Mayfield has been depicted as being protective over his wife and seemingly hindering her modeling career but the Oklahoma native argued he wasn't being portrayed accurately by TLC cameras.
Mayfield posted a picture of him and Paola kissing at Great Stirrup Cay in the Bahamas. Then he issued his lengthy statement as the caption for the photo.
"There's much more to me than what you see on TV. I'm honestly not the jealous type, although I had preferred to keep my wife's curves a mystery, especially when it comes to the lusting creeps out there," he wrote Saturday. "I accept and am proud of my wife for the beautiful woman she is and she's all mine but like most relationships, we find ourselves with differing opinions at times and love costs and takes effort for it to work."
Mayfield also defended his wife against people who claimed Paola wasn't treating him fairly and that she was just using him for his money. "I am tired of the comments from the marriage 'experts' stating I deserve better, my wife doesn't respect me, or she only loves me for my money and so on and so forth," he wrote. "The mere glimpse of our lives shown doesn't always show our best moments but impressions and expressions from our cultural differences and how we are coming together as an even stronger couple."
Mayfield ended his post by saying the naysayers didn't bother him. "I am proud of where I come from and where I am going and that's with the love of my life, whom I love for better or for worse," he finished. "I am not perfect and only look for support from my followers, not hypocritical and judgmental ignorance seeking 'like' attention."
Paola responded to fans about the modeling pictures she posts to social media on Thursday. "…it doesn't affect him as much as some of you," she wrote on Instagram. "He accepts me, loves me and respects me the way I am and lets me work even when he is not 100 percent comfortable. We fight and we make up."
"Girls talk like never they fight with their spouses," she continued, "talking about me not being a 'good wife' just because the gigs I take are 'too sexy' but let's be honest, none of you have seen photos of me completely naked or rumors of me being unfaithful to my husband. My only 'sin' is my work."
With nearly 200,000 IG followers, Paola Mayfield is one of the most followed TV personalities to emerge from the 90 Day Fiancé franchise. She moved to Oklahoma in 2017 to be with her husband, who was working as a field engineer. Paola was unhappy in the area, and they later relocated to Miami so she could pursue a modeling career. Russ Mayfield famously clashed with his wife over posing topless for some of the photos, and also fought with her best friend, Juan, on multiple occasions. As Paola Mayfield noted in her Instagram post, she is still friends with Juan despite the tension it causes in her marriage.
To find out what happens next, don't miss 90 Day Fiancé: Happily Ever After? when it airs Sunday at 8 p.m. ET on TLC.