'90 Day Fiancé' Season 8 Spoilers: Are Brandon and Julia Still Together?
There's another mama's boy signing on to TLC's 90 Day Fiancé, and viewers are already rolling their eyes. If Brandon Gibbs' relationship with his Russian love Julia looks anything like relationships past, it seems likely that they won't stay together for the long haul.
Brandon, who is 27, was introduced to TLC viewers as a man who is very invested in his family life. He and his parents live together and run a farm, where Julia, 26, will begin to work once she comes to America. Though Brandon and Julia are engaged, their relationship already seems intertwined with that of Brandon's parents, no matter the level of independence that the younger couple asks for.
Before Julia even arrived in America, Brandon's mother, Betty, set up a gynecologist appointment for the Russian immigrant, as Betty insisted that Julia start taking birth control. And upon actually arriving in America, Julia was met with the news that she wouldn't be allowed to share a bedroom with her financé, and would be pitching in on the farm.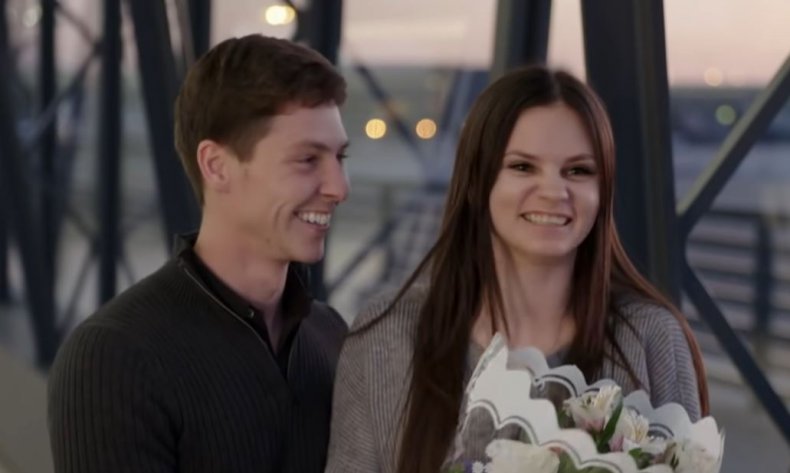 So, as Julia steps into a life that looks more like that of an adopted daughter than a live-in fiancée, will her relationship with Brandon last?
90 Day viewers have already begun comparing this setup to Larissa Dos Santos Lima and Colton Johnson. Johnson welcomed his Brazilian fiancée, and eventual wife, to his Las Vegas home, where he resided with his mother, Debbie. Larissa and Debbie never got along, which put Colt in the middle—trying to please both of the important women in his life, and letting them fight it out, time and time again.
While Brandon's relationship with Julia and Betty doesn't look quite as volatile, his obvious commitment to pleasing his family has left a bad taste in viewers' mouths—at least in the first few episodes of Season 8. It's for this reason that viewers are guessing Julia and Brandon won't make it.
It does look like there's a bit of hope for them, though. Brandon and Julia have made their Instagram accounts private, as speculation from the fanbase grows. But upon the season's start, Julia shared a sweet photo of herself and Brandon at the airport. "How sweet it was in the beginning," the caption reads. "[A] whole path ahead."
The caption could be taken two ways—it's possible she's looking back before a rocky path sorted itself out, or she's looking back before a rocky path scuttled the couple's relationship. There's a definite chance they're still in a committed, successful relationship. But, it seems equally possible that Julia and Brandon have already split under the pressure of Brandon's family.
Viewers have a whole lot more time in the season to figure it out. 90 Day Fiancé premieres at 8 p.m. ET every Sunday on TLC.