'90 Day Fiancé' Season 8 Spoilers: Are Mike and Natalie Still Together?
In one of the most dramatic 90 Day Fiancé teasers in the TLC franchise's history, Natalie is seen sobbing as she's shuffled off to the airport.
The Ukrainian woman fell in love with an American, Mike, through mutual friends, and though they struggled with relationship issues throughout 90 Day Fiancé Season 7, Natalie is moving to America in Season 8.
Or so she thought. Apparently, Mike will send Natalie back to Ukraine when the pressure to marry in just 90 days during a global pandemic becomes too much. A new teaser for the season outlines the heartbreaking decision, one that's so unexpected that Natalie actually calls Mike a "monster" to the camera. But as 90 Day Fiancé fans know, no argument, no matter how dramatic, necessarily signifies the end of a relationship.
Mike and Natalie are expected to be together even after the whirlwind that fans saw in Season 7, and that they'll see again in Season 8. In fact, it's all going to end with a wedding, regardless of whether it's actually captured on camera by TLC.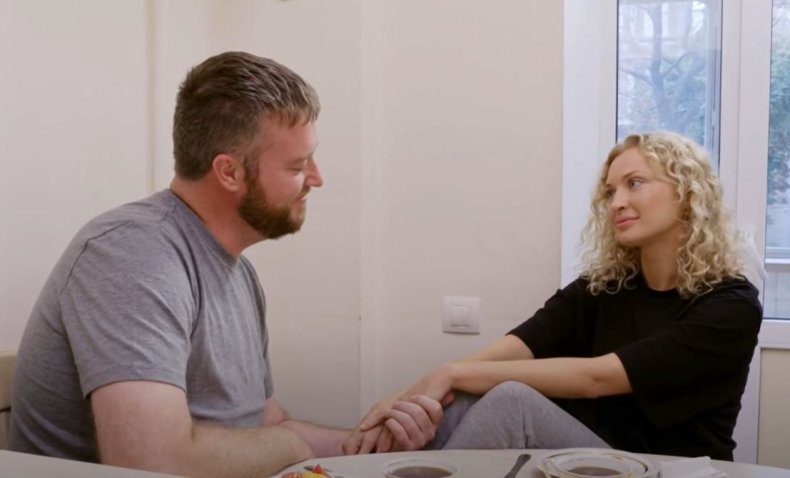 A local newspaper in Mike's hometown announced that he did wed Natalie in March, according to a report from SoapDirt. How the wedding fits into the timing of Natalie's apparent return to Ukraine is unknown. Maybe she'll get off the plane in a love story moment enviable by even Friends' Ross and Rachel, or perhaps the pair will reconnect after some time apart.
It certainly hasn't been an easy relationship for Mike and Natalie. The last time the pair were featured on TLC was during the 90 Day Fiancé Season 7 "Tell-All" special. In these post-season interviews, each couple airs their secrets and feuds that unfolded after filming. During their talk, Natalie claimed that Mike cheated on her.
Their on-screen relationship hasn't unfolded on American soil yet. Throughout Season 7, Mike was seen traveling abroad to visit Natalie as her K-1 Visa—the temporary relationship visa that allows immigrants into American before marriage—was delayed. Mike first traveled to Kyiv, Ukraine, where he finally met Natalie in person. Later, the pair vacationed in Paris and Natalie accepted a proposal from Mike.
At some point, though, they seemed to break the engagement. After a series of fights, Natalie returned the ring and Mike returned to America. It's worth noting that religion was a large topic of disagreement between the pair. But, apparently, they've sorted out at least some of their disagreements and have tied the knot. Whether Mike and Natalie's wedding will actually be seen on Season 8, and whether the marriage will last well beyond the season finale's air date, remains to be seen.