'90 Day Fiancé' Star Ashley Says Jay Being in Jail Over Fourth of July 'Is The Worst Feeling in the World'
90 Day Fiancé star Ashley Martson confirmed husband Jay Smith was spending the Fourth of July in jail after he was arrested by local police and is currently being detained by ICE. The couple split after Ashley caught Jay cheating on her. According to Ashley, all Jay wanted was a green card and didn't care about being her wife.
"Our relationship has been very toxic from the beginning, and I just never did anything about it, because I knew if I contacted the police that Jay would be deported," Ashley, 32, told Celebuzz in an exclusive interview on Wednesday. "There was a lot of abuse going on in our relationship."
"This is a very sad situation overall...I'm not popping champagne bottles celebrating today," Ashley told Celebuzz. "It's hard to sit here and think about how he's sitting in a jail cell right now, but I also have to remember everything he put me through the past year... I still have a great deal of love for him so it isn't easy... Picturing my husband in jail is the worst feeling in the world."
The 20-year-old reportedly broke into Ashley's house, so she filed a PFA (Protection From Abuse), as police instructed. "Jay was served at 7:10 PM on Monday, and it specifically said in there 'you're not allowed to talk about this PFA or Ashley at all on any social media platform,'" Ashley told the publication.
He didn't follow their orders and posted on social media. "I realize I always waste my f*** ing time trying to care about other people feeling and other people kids and other people f***ing privacy," he wrote. "And no matter what the cops always show up at my house for dumb f***ing reasons no more. And go fuck yourself."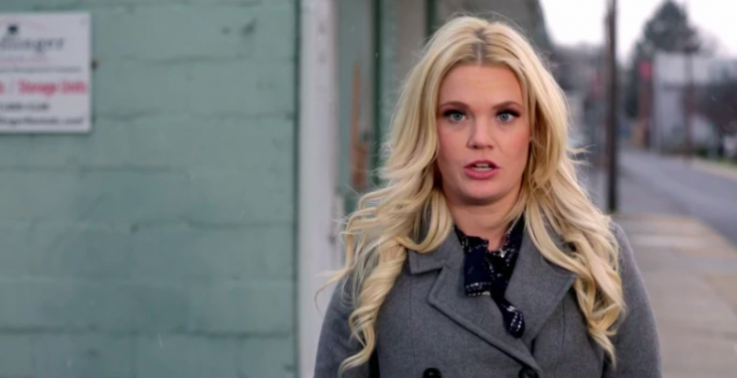 Jay was charged with a PFA violation and arrested. He could have been released but was turned over to ICE since immigration had a detainer on him. Jay was then transferred from Cumberland County to York County Prison since ICE was holding him—not local authorities. "Jay and I have a PFA hearing next Wednesday...and then he'll go back to York Country Prison until he is seen by an immigration judge," Ashley said.
Jay isn't the only one having legal problems. She was charged with simple assault and one charge of criminal mischief after she threw a fire extinguisher through the window. She blames Jay for the incident. "He literally did everything he possibly could to get me to freak out because he was informed that if he could prove abuse on his end that he could stay in the country," she said. "For a while, we were trying to work it out, and then one day he asked me to come over to his house to pick up my passport, and I go over and he has a half-naked girl on his couch."
Ashley regretted her actions after a fan asked about Sunday's episode. "I haven't watched it but I know what's coming. Yes, it gets heated. Yes, I regret what happens but when you're the in heat of the moment and feel your whole world crumbling down around you, sometimes you make poor decisions. I'm human," she wrote on Sunday.
"Don't come and take my passport and other belongings when I'm about to leave for vacay," she added. "I will break things."
'90 Day Fiancé' Star Ashley Says Jay Being in Jail Over Fourth of July 'Is The Worst Feeling in the World' | Culture