'90 Day Fiancé' Star Nicole Nafziger Is a 'Mastermind' Who is 'Using' Azan Tefou, Evelin Villegas Claims
If there's one thing 90 Day Fiancé fans generally agree on, it's that Azan Tefou is not serious about marrying Nicole Nafziger. While most people are typically against Azan, there's one person who has come to his defense: fellow 90 Day Fiancé participant Evelin Villegas.
Evelin alleged 90 Day Fiancé always makes the non-American on the series look bad. She gave Azan as an example.
He took $6,000 from Nicole to start a beauty store that has never come to fruition. He regularly flakes out on planned trips and has canceled their wedding at least two times in the nearly four years they've been together. Azan's intentions baffle fans, but Evelin claims Nicole is the real "mastermind" and "using" Azan.
During a Wednesday Q&A on Instagram with fans, first flagged by In Touch Weekly on Thursday, Evelin agreed with a fan who said TLC always "portrays the immigrant as the bad one, no matter what."
"It's like we're always trying to get a green card or something like that," she said.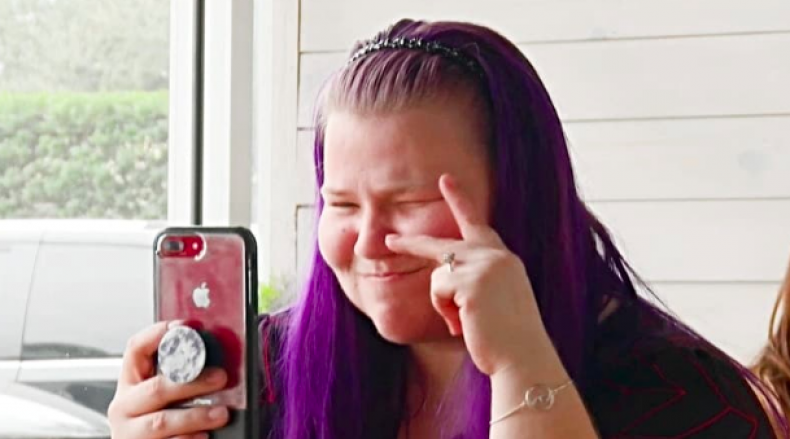 Fans were confused by Evelin's comment, so she continued to explain.
"Think about it ... Azan cannot get to the [United States]," she said. "I think she's the one telling him."
While Evelin acknowledged that Nicole sends Azan money, she claimed it's the cash he's earned from being on the show.
"She's sending him money, but the money for him being on the show," Evelin said. "I just think she's the one playing."
Though Azan appeared in some episodes of 90 Day Fiancé this season, he didn't physically appear on camera with Nicole. He canceled their trips that were supposed to take place during filming and cannot legally enter the U.S. for reasons they have not publicly disclosed.
Nicole and Azan live nearly 4,000 miles apart, with Azan in Morocco and Nicole in Florida. When fans press her about their relationship, Nicole always defends Azan, who she calls the love of her life.
"It doesn't matter how many years [I've been with Azan]. My relationship is my own with the person I am with. No one is allowed to judge me because our process is different and taking longer than other 90 Day [couples]," she told In Touch Weekly last month. "I don't judge other cast members, and I would hope they felt the same way to not judge my relationship."
Like Azan, Evelin has arguably been portrayed as a reality TV villain, too. Boyfriend Corey Rathgeber dumped his life savings into his move to Ecuador, where he's trying to start a bar business. Though Evelin works at the bar, all the investments came from Corey, who wants to marry and start a family with Evelin. She, however, is unsure of marrying him and is adamant (and forthright) about not wanting children.
There's also the cheating scandal, where Evelin hooked up while her ex while they were on a break. They don't exactly agree about being on a break.