'90 Day Fiancé' Star Nicole Nafziger Posts Detox Tea Ad Amid Controversy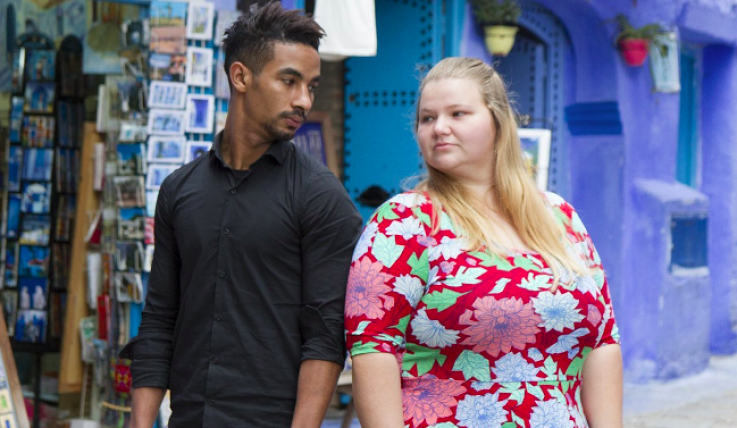 90 Day Fiancé star Nicole Nafziger is seemingly continuing her weight loss journey, posting an ad for Teami. Detox teas, like Teami, have recently come under fire for being unhealthy. Most recently, Good Place actress Jameela Jamil called out Amber Rose for promoting detox tea while pregnant. She's also feuded with Khloé Kardashian for hocking a similar product.
Nafziger disabled comments on her post, potentially to avoid the same type of backlash.
"Being a #teamipartner means so much to me! I've been drinking my @teamiblendsskinny tea again with the colon tea every other night and I always notice a huge difference in my energy and how I feel!" she wrote on Wednesday. "This stuff actually removes toxins in my body from junk food and helps me lose unwanted pounds that have been stuck in my gut for YEARS! I cannot recommend it enough. I especially love that it cuts down my craving for soda and sweets. If you're looking to make an easy change with big benefits, you should try this program at least once! Be sure to use my code "NAF20" for 20% off your detox pack and tumbler!"
Celebrities haven't called out Nafziger for her promotion, but Jamil roasted Rose for her Flat Tummy Tea ad. Rose has more of a platform, with 18.8 million followers compared to Nafziger's 333,000.
"Okay listen up @flattummyco just launched an Organic Pregnancy Tea to help us moms with those bloated, nauseous, blah feeling days! It's safe to take while pregnant and breastfeeding," she wrote Wednesday. "This is not a detox tea—it's specially designed to help reduce occasional nausea and support digestion during pregnancy—haters stop riding the bandwagon and think for yourselves."
Jamil wasn't buying that "flat tummy" wasn't a detox, like Rose claimed. "FLAT TUMMY PRODUCTS FOR... PREGNANT WOMEN?" she wrote. "Is this FDA approved? Are we... f***ing... KIDDING?" She added: "So many women, with such big platforms, promoting such irresponsible f***sh*t, that it blows my mind."
The actress previously told People magazine it was her personal responsibility to blast celebrates for their promotions. "I'm not nervous to call anyone out. I think people are just scared and greedy," she said. "I think girls, in particular, are scared because we're always told to not be unlikable, and not to be difficult, and to be perfect."
"I would like to, hopefully, be a force of change in that [and] show people that sometimes you have to be scary, and you have to be intimidating, and you have to be bold, and you have to be unlikable in order to protect yourself and to protect other people," she said. "It's like a moral responsibility."
'90 Day Fiancé' Star Nicole Nafziger Posts Detox Tea Ad Amid Controversy | Culture