'90 Day Fiancé' Star Steven Frend Says Yoga Has Helped His Relationship With Olga: We're 'Better Human Beings'
Former 90 Day Fiancé star Steven Frend no longer papers on the TLC show that brought him international attention—and criticism—but the star has a message he wants to get out: Doing yoga has made him a better person.
Previously scrutinized for the way he treated fiancée Olga Koshimbetova, fans may remember that Steven was critical of Olga and at times overbearing when his story first aired in October. He even lied about applying for her K-1 visa to come to the U.S. But now Steven says he's a new man and it's all because of yoga.
Newsweek chatted with Steven about how he was able to improve his life as a father and partner. Check out the Q&A below: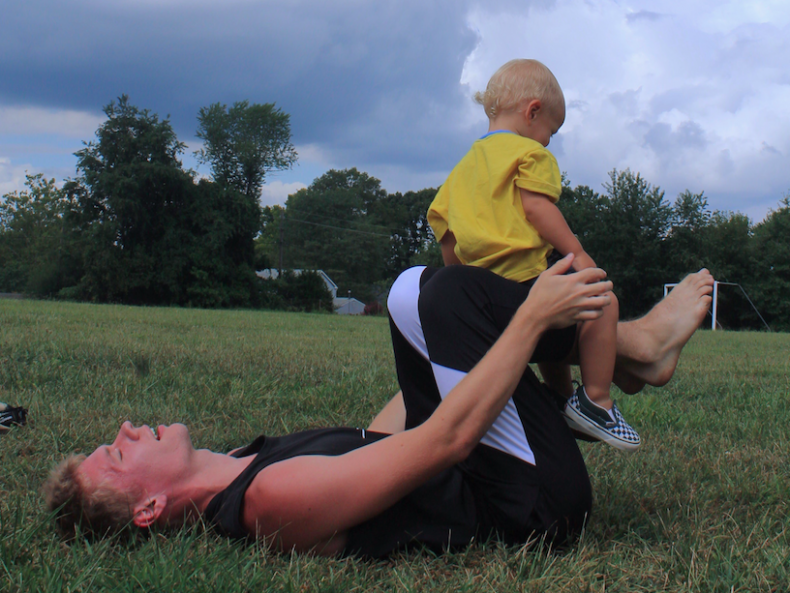 How did you get into yoga?
I have always considered myself a very active, outdoor, and sporty man. I love surfing, skateboarding, and when I used to live near the beach, I did calisthenics.
I am always curious about new activities and for the last few months I have seen on my Instagram feed more and more men doing yoga, mentioning how beneficial it is for anybody. That's when I started researching about the practice of yoga and how it can make a difference in your life, both physically and mentally. I said: let's do it!
I had already decided I would try yoga, but then when I saw companies like Coroa Yoga pushing to bring more guys to the mat deeply believing yoga makes us better human beings, that really pushed me even further to start my yoga practice.
How has it changed your life?
The practice of yoga has helped me in two main aspects: physical and mentally.
On a mental level, yoga makes me a calmer man; it helps me practice mindfulness through body postures and breathing techniques. As mentioned I am a very active person, and I am always on the go, doing something all the time. I remember when I did the pose Shavasana for the first time, the yoga pose when you are laying on the floor without moving. It was challenging for me to just stay still and do nothing!
However, and thanks to the yoga practice, I discovered I also need to embrace relaxing moments, situations when I need to just do nothing and enjoy with my loved ones on a very simple way. Simplicity is sometimes the best!
On a physical level yoga is full of benefits for the human body, including muscle stretching and strengthening, reinforces the lower back, reduces stress and anxiety, and it helps you gaining flexibility. It has undoubtedly become a great compliment to the rest of sports I practice.
What was it like to be on 90 Day Fiancé and receive criticism?
Truth be told, criticism never mattered to Olga and I. As stated yoga is making me a calmer and more patient person, understanding the situations for what they really are and giving them the importance they deserve. We are happy and that's all that matters to us. People will talk no matter what, and everybody is entitled to their own opinions as long as they are based on respect. I have more important things to do that caring about what people say about us.
Do you regret going on 90 Day Fiancé?
Absolutely not. The show has not only reinforced the relationship Olga and I have, but it has also helped us to meet new people every single day, to discover new places, enjoy different situations, and detect new life opportunities and activities, including yoga and overall wellness.
Do you practice yoga with Olga and your son?
Yes, every morning as we get out of bed both Olga and I welcome the new day with some yoga practice: We start with slow breathing exercises, we throw some gentle flow, and we finish with a five-minute meditation practice.
Our son is still very young so it is hard for him to just stay still and do some yoga, but he will get there!
Has yoga helped your relationship with Olga?
Yoga encourages you to connect body and mind, to be present, to breath in new energy and let things don't belong to you out. It is energizing, balancing, empowering and rejuvenating.
The moment your body and soul are connected you become more self-aware of your reality. You are in tune with your own feelings and emotions. You are in charge. And the moment you gain mental clarity is when you can shine and share love, to treat people the way you would like to be treated, and to be honest with you and the people around you. Both Olga and I are better human beings, and consequently better partners, since we started our yoga practice.