Are Darcey and Angela Still Friends After '90 Day Fiancé' Fight? Darcey Talks Peace, Jesse and More
The dust is beginning to settle on a wild 90 Day Fiancé: Before The 90 Days "Tell All" episode. After a giant confrontation between Angela Deem and the other cast members, reality star Darcey Silva spoke out about Angela's vocal support of Darcey's ex, Jesse Meester, in a conversation with Hollywood Life.
On the Tell All, which aired last week, viewers watched security separate Angela from the rest of the group after a verbal rampage in which she took Jesse's side. Jesse and Darcey were in a confrontational relationship featured on Season 2 of the series, though they publicly split in 2018. Darcey went on to appear on Season 3 of 90 Day Fiancé: Before the 90 Days in a new relationship with Tom Brooks. Angela's attack was aimed at Darcey and Tom, among others, who she claimed "bullied" Jesse.
Despite the outburst, Darcey is staying cool. She explained Angela's comments aren't for her to worry about. "Bless her heart, I'm not quite sure [what] her intentions for that [were]," she told Hollywood Life. "It was a very drama-fueled Tell All. Everybody reacts in different ways."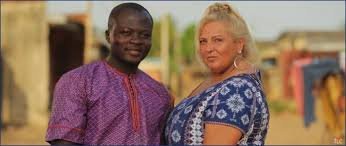 Angela Deem and Michael from '90 Day Fiance': Before The 90 Days.
Getty Images/John Smith
She also projected positivity on to the situation with Angela, whom Darcey had befriended via social media and at other 90 Day Fiancé events. "I don't wish anyone harm or any negativity," Darcey shared. "I just want everybody to have peace about it, really. I can't control how other people react and do things. All I can do is have peace about it myself and just be there for the ones that got hurt emotionally."
Darcey also noted the reality show has a way of fictionalizing relationships. She said everyone on the hit television series has the same intentions. "All this happened because [Jesse] walked in and everyone had my back," she said. "It was just sad to see. Nobody wants to feel demeaned or hurt, or emotionally destroyed by any of this. We're all just here for love and living our life and exposing our lives for the world to see. And we all want the same thing, which is love."
While Jesse's entrance at the Tell All was a shock, Darcey had a team of people to support her during the vulnerable moment. "That was beautiful that they had my back and Tim stood his ground and protected me," she said.
A new season of 90 Day Fiancé kicked off Sunday. The seventh season of the show features a handful of new couples, plus returning cast member Angela and her Nigerian love, Micahel, who will also be seen on the season, according to a teaser.
Correction: A previous version of this story incorrectly credited an interview with Darcey Silva. The interview was with Hollywood Life.