'90 Day Fiancé': Yara's Old Reality TV Appearance Hints She Might Not Be Looking for Love
A young couple on 90 Day Fiancé Season 8 may not be what they seem. According to a clip that recently resurfaced, one person in the pair has been on reality TV before, and it's an appearance that raises major questions.
Season 8 of 90 Day Fiancé shows Yara, 25, and Jovi, 29, attempting to make their relationship work when Yara moves from Ukraine to the United States. But a Reddit post from earlier this month reveals that, years ago, Yara appeared on a show called Fashion to the People. On that show, which premiered in Ukraine when Yara was just 19, she described her dream type of man: a foreigner with money.
Well, now, she may have found that in Jovi. You can watch a clip from Yara's episode of Fashion to the People below.
Yara's initial comments in the clip, translated from Ukrainian to English for subtitles, read as follows: "My name is Yaroslava, I'm 19 years old. I'm a big party girl. I love nightclubs very much I also love rich men, foreigners preferably."
Later in the clip, she says, "It's very hard for me to believe in love."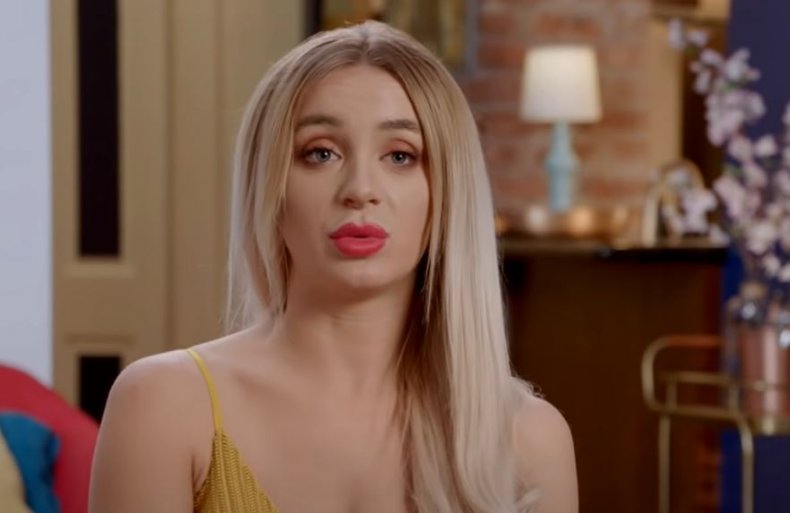 She continues, saying, "At first, I think it's love, but in fact it turns out to be just sympathy for a person and it fades very quickly. Usually I meet foreigners when I walk down Khreshchatyk street, for example, it happens very often ... It seems to me that they are, I don't know, better, more intelligent than Ukranian men."
Well, Yara found a foreigner. Jovi, who embraces an American, southern lifestyle in Louisiana, proposed to Yara after they met on a traveling app. The couple has already traveled much of the world together—a perk that comes from Jovi's job, as he explains on Season 8.
Yara's only just arrived in America in the series. Viewers saw tensions rise between Jovi and Yara immediately after she's exhausted from her 30-hour flight to America. Jovi wanted to introduce Yara to his friends and take her to New Orleans's Bourbon Street upon landing, but a disagreement ensued wherein Yara asked if she could shower and go to sleep.
Later, Yara met Jovi's mother for the first time. Soon enough, there was another disagreement, one about whether the couple should sleep at his mom's house, or return to their own home after dinner. Foreshadowing on the show also suggests that Jovi's mother wants the couple to have a big wedding, while Yara doesn't want any American festivities.
So far, fans who criticize the couple claim that they're both immature and unsure of how to best communicate their needs and wants in their relationship. But there's still a ways to go this season, so they could sort things out. No matter what, though, Yara and Jovi will have to officially tie the knot in just 90 days, should Yara want to extend her American visa.
90 Day Fiancé Season 8 airs each Sunday night at 8 p.m. ET on TLC.