'90 Day Fiancé's' Olga Can Finally Move To America With New K-1 Visa, Steven Reveals On Instagram
90 Day Fiancé's Olga Koshimbetova and Steven Frend will finally be able to live together in the U.S.: Olga's K-1 visa has been approved. On Sunday's episode, Steven revealed he had not filed a request for Olga's visa, though he told her he had as soon as she announced she was pregnant. Instead, Steven visited Olga and his son, Richie, in Russia.
"OLGA'S VISA APPROVED TODAY [sic], DECEMBER 24th, 2018," Steven announced on Instagram. "No words can describe how happy I am. My birthday is the 26th so its the best birthday present for me."
On the Sunday episode, Olga understood Steven's reasoning to prolong her visa application. He explained the pair didn't know each other well at the time and had to figure out what was best for their child. She explained she would have appreciated him being honest at the time he first told her he had applied for the visa.
After the heavy conversation, Steven proposed to Olga, who was giddy to receive her ring. On his Instagram, Steven shared a photo of Olga and Richie, which features her ring. "People may wonder how I could afford this ring... I got it in Russia, it wasn't the most expensive ring but a price tag doesn't determine love," Steven wrote on Monday. "One day in life I'll be able to afford the ring this girl deserves. We decided to come back to Instagram despite all the backlash we had. Merry Christmas Eve everyone."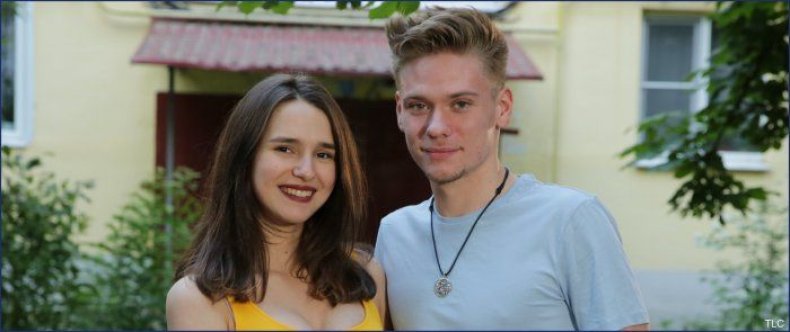 The caption refers to a brief hiatus the couple took from Instagram when they were slammed for staying a couple after many viewers found Steven's behavior toward Olga post-birth to be immature and rude. The couple is now receiving backlash for posting two GoFundMe pages asking for child funding.
"Hi, This is Steven & Olga from 90 day fiancé," one GoFundMe Page reads, which had reached around $4,200 of its $15,000 goal as of publishing. "Drastic times call for drastic measures, as myself (Steven) am only 21 years old. Trying my hardest to get my life on the right track and I feel as if I'm doing a great job. But we face certain hardships; Olga will be unable to work for an extensive period of time, as for myself I just landed a job opportunity as a Fire Sprinkler Installer (Apprenticeship Program) the training is 4 years long."
He explained his current college program, and training initiative, adding, "I'm very nervous on how things will play out but I have faith god will take matters into his own hands. I'm not asking for a lot, in a matter of fact I feel ashamed having to make this campaign but I must do what is best to support my family."