90-year-old Veteran Marks Birthday by Going Skydiving: 'It Was Beautiful'
Some people celebrate their birthdays with cake, others with champagne. Korean War veteran and Purple Heart recipient Eason Bennett decided to do one better and celebrate turning 90 by jumping off a plane, honoring a 10-year-old wish to go skydiving he made when he was 80.
The nonagenarian took to the skies with his granddaughter while a group of supporters gathered in Amelia Island, Florida, to cheer him on, Fox30 Action News Jax reports. The event took place at 9 a.m. on Sunday—one day before Veterans Day.
"My dad, 10 years ago when he was 80, said when he makes it to 90, he wants to jump out of an airplane," Kathy Bodamer, Eason Bennett's daughter, told reporters. "I guess maybe he didn't think he'd be around but he still wanted to do it."
Skydive Amelia Island recorded the special occasion, with an accompanying video of the skydive showing Bennett singing "Happy Birthday" as he parachutes 10,000 feet from the plane to the ground.
When he was landbound once again, Bennett celebrated with a beer, describing the experience as "beautiful" and telling reporters it was his "best ever" birthday. "It was beautiful," he said.
Friends and relatives from as far afield as California had arrived to join Bennett and mark the occasion.
But Bennett is not the first—or, indeed, the oldest—vet to mark a major birthday by jumping out of a plane. Bryson William Verdun Hayes, a D-Day veteran, celebrated his 100th by skydiving at Dunkeswell Airfield in Devon, U.K., in 2016, the BBC reported at the time.
Hayes, who was awarded the Legion d'Honneur, France's highest order of merit, used the occasion to raise money for the North Devon Hospice, while fulfilling an ambition to go skydiving he had held since he was 90.
He performed a second skydive in May 2017 becoming the oldest person to skydive at the age of 101 years and 38 days—until he was beaten by Irene O'Shea of Athelstone, Australia, who has skydived every year since her 100th birthday, ABC News reports.
Aged 102, O'Shea became the world's oldest skydiver in 2018 after jumping 14,000 feet to raise money and awareness for Motor Neurone Disease Association of South Australia.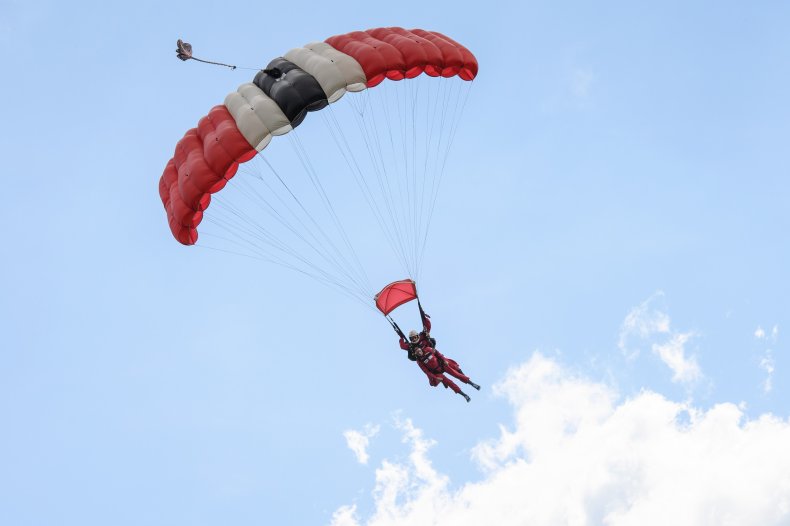 As for Bennett, he plans to celebrate his 100th birthday with just as much of a bang, telling Brittney Donovan of Action News Jax he has ambitions to climb Mount Everest.