At $908 Billion, Democrats Gave Up Stimulus Checks to Keep Unemployment Aid
Democrats working on the bipartisan $908 billion relief package wanted to include stimulus checks, but in trying to keep the price tag low for their Republican colleagues, they gave up the provision in favor of unemployment assistance.
The first round of stimulus checks in last spring's CARES Act cost about $290 billion, so including them in new targeted relief package was going to mean forgoing other measures. Given the price tag of the latest bipartisan proposal, a second round of stimulus checks could have required Democrats to sacrifice federal unemployment benefits, something they weren't willing to concede, according to Senator Joe Manchin.
"To say that we only have X amount of dollars and I'm going to send checks to people that still have a job, still have a paycheck coming in—but I'm going to ignore and not help the people who are still unemployed or becoming more unemployed because this pandemic is ravaging—I don't think that makes any sense to anybody," Manchin told CNN's New Day on Wednesday.
The Democratic senator was among the group of bipartisan legislators that put together the $908 billion relief plan, which includes $300 a week for the enhanced unemployment benefits. The group began working days after the election and unveiled the bipartisan, bicameral proposal last week. Manchin said they're "close" to finalizing the outline of the package but are still working on two provisions—liability protection and aid to state and local governments.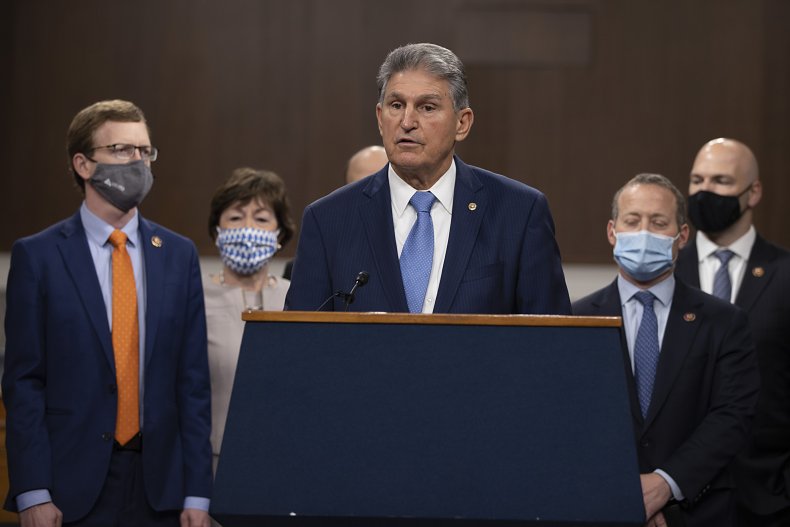 Democrats have held firm on the need for funding aid to state and local governments, a provision Republicans have criticized as a "bailout" for poorly run governments. On the other side of the aisle, Senate Majority Leader Mitch McConnell has said he won't bring a package to the floor for a vote if it doesn't include liability protections, but Democrats have been hesitant on that provision because it could shield businesses from legitimate claims from workers.
However, Manchin seemed confident that a deal could be reached on liability protections, saying he also doesn't want people "sued out of business" but wants to do it in a way that "makes sense" and protects workers as well.
As legislators were ironing out the details of the package, the White House proposed its own plan. At $916 billion, the proposal has a similar price point as the bipartisan plan but swaps a continuation of the $300 weekly unemployment benefit for another round of stimulus checks. Instead of the $1,200 payments individuals received from the CARES Act, the second round would be $600 payments. The White House plan does include federal help for the jobless, just not the unemployment benefit, according to the New York Times.
Treasury Secretary Steve Mnuchin, who has been leading negotiations for the White House, said in a statement he "looks forward" to finalizing a bipartisan agreement to provide "critical economic relief to American workers, families and businesses."
House Speaker Nancy Pelosi and Senate Minority Leader Chuck Schumer pushed back against the White House plan, calling cutting unemployment assistance from $180 billion to $40 billion unacceptable. They added that the proposal shouldn't obstruct the bipartisan talks that are underway in Congress.
On New Day, Manchin said the White House's plan to include stimulus checks but not an extra $300 a week for unemployment assistance "won't work" and reiterated that it makes no sense.
"We're trying to help in an emergency way. We want to send stimulus checks if we could. We can't get our Republican colleagues above the $908 [billion,]" Manchin said.
Newsweek reached out to the White House for comment but did not receive a response in time for publication.