91-Year-Old Rabbi Who Saved Families From the Holocaust Dies of Coronavirus Two Months After Leading Opening Prayer in House
An elderly Rabbi who was said to have helped rescue 56 Jewish families during the holocaust has died from the COVID-19 coronavirus.
Rabbi Romi Cohn, 91, died Tuesday, not long after being diagnosed with COVID-19. Only two months earlier, he had delivered the opening prayer for the U.S. House of Representatives, in commemoration of the 75-year anniversary of the liberation of Auschwitz.
Cohn was born in Czechoslovakia in 1929 and was 10 years old when the country was invaded by Germany. After his family fled for Hungary he joined with partisans in the fight against the Nazis, returning to Czechoslovakia and forging Christian identification documents that helped Jewish families to escape. His mother and four siblings were later killed in a concentration camp.
"As a young boy of 10 years I was condemned to be dead, to be murdered along with my entire family... by one evil man, may his name be erased forever," Cohn told lawmakers during the January prayer.
After emigrating to the United States, Cohn served as a rabbi in Brooklyn, New York and was well known as a mohel, performing over 3,000 circumcisions on newborns free of charge and training over 100 on the practice. He also had a career in real estate development and co-authored a book based on his early life experiences, titled The Youngest Partisan: A Young Boy Who Fought the Nazis.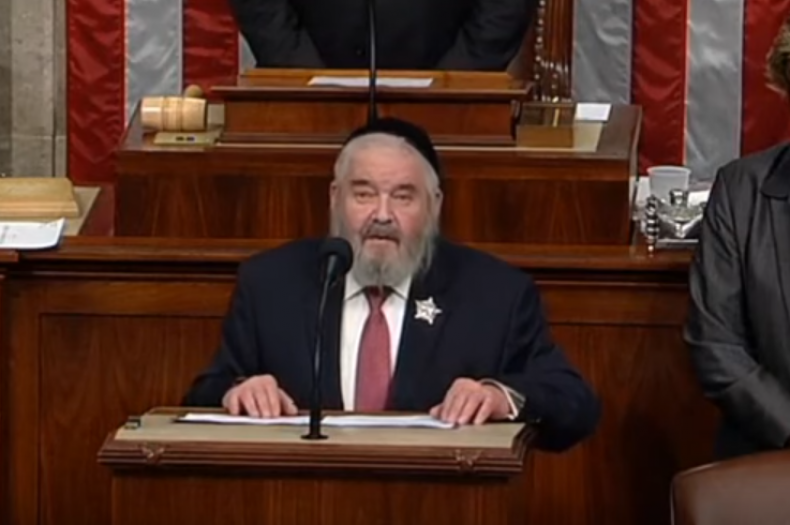 Jewish community leaders paid tribute to Cohn, while noting that his passing is also a stark reminder of the threat posed by the pandemic.
"Rabbi Cohn was a role model to the Jewish community," Rabbi Marc Schneier, president of The Foundation for Ethnic Understanding told Newsweek over the phone. "This tragic death reminds us that faith in God does not mean that sorrow will never enter our homes, or that illness will never strike our loved ones."
Rep. Max Rose (D-N.Y.) invited Cohn to deliver the House prayer and expressed his grief on Twitter after learning of the passing on Tuesday.
"Heartbroken to hear Rabbi Romi Cohn z''l [may he rest in peace] passed away from COVID-19," Rose tweeted. "Rabbi Cohn lived an incredible life of service, helping 56 families escape Nazi tyranny. 2 months after he led the House in opening prayer, I hope you'll join me in praying for him & his family."
Cohn was one of two New York City rabbis reported to have died Tuesday after testing positive for the virus. The other was 60-year-old Rabbi Yaakov Meltzer, who was said to have passed away due to other preexisting conditions.
COVID-19 has killed religious leaders of different faiths from around the world. One of Iran's top Islamic clerics was struck down by the disease last week, while at least 50 Italian priests are also believed to have succumbed to the virus.
Social distancing measures and bans on large gatherings have also resulted in the temporary elimination of in-person religious services in many areas, although some have transitioned to online streaming platforms. Schneier serves as rabbi at the Hampton Synagogue, which has expanded already popular prerecorded services offered on television by the Jewish Broadcasting Service.