911 Dispatcher Hung Up on Chicago Teen Fatally Shot by Police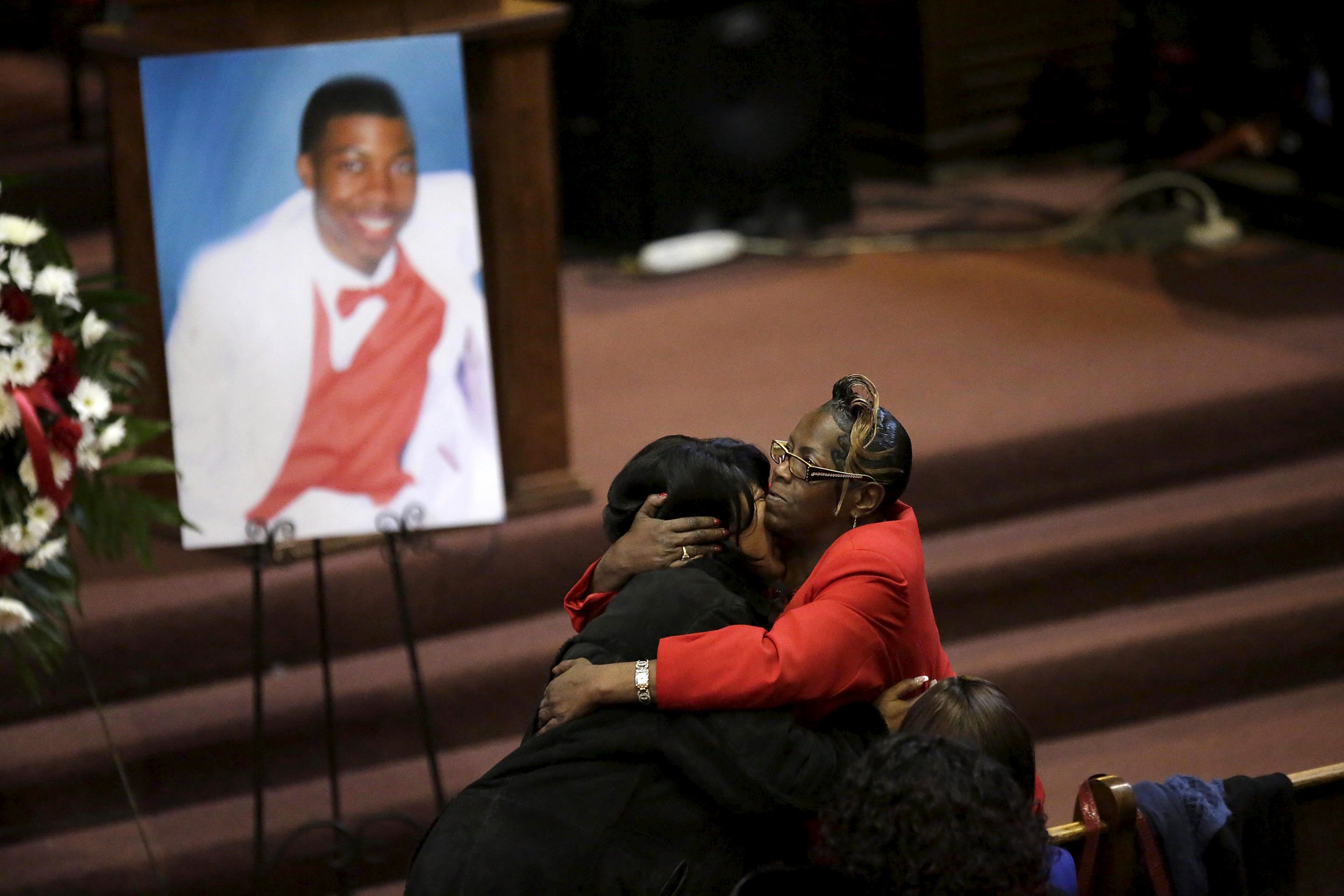 Quintonio LeGrier, the 19-year-old who was fatally shot by Chicago police on the morning after Christmas, had called 911 three times pleading for help, but the dispatcher hung up on him, according to new records released this week.
LeGrier was shot six times by police in the stairwell of his father's West Side apartment building when officers entered the premises in the early hours of December 26. A neighbor, Bettie Jones, a 55-year-old mother of five, was also shot and killed by police during the incident.
Prior to the release of new 911 recordings on Monday, the public only knew about two of the emergency phone calls—one from Quintonio LeGrier and one from his father, Antonio LeGrier. But the Independent Police Review Authority, which investigates allegations of police misconduct, said that the city's Office of Emergency Management and Communications (OEMC) recently provided the recordings of two more calls.
"I need an officer over here, OK?" the teenager said to the dispatcher in his first call, placed at 4:18 a.m.
"No, it don't work like that," she responded. "What is your emergency?"
After Quintonio pleaded multiple times that there was an emergency, the dispatcher responded: "If you can't answer the questions, I am going to hang up," which she then did.
Melissa Stratton, an OEMC spokeswoman, told the Chicago Tribune that disciplinary proceedings have already begun for that 911 operator for failing to follow proper protocol. Once Quintonio said that his life had been threatened, the dispatcher should have sent police, Stratton said.
Quintonio called 911 again at 4:20 a.m., asking repeatedly for the dispatcher to send police to the building. He called again at 4:21 a.m, saying that he needed an officer because someone was threatening his life. In both calls, the teenager is audibly frustrated.
The dispatcher who answered his third call sent a squad car for a well-being check. While officers were responding, Antonio LeGrier made his 911 call. Clearly out of breath, he said that his son was armed with a bat and trying to "break inside [his] bedroom door."
Quintonio allegedly swung a baseball bat at Officer Robert Rialmo, who then shot him six times. Jones, a neighbor, was fatally shot once in the chest by Rialmo. Police later said Jones's death was "accidental."
Quintonio was a sophomore studying electrical engineering at Northern Illinois University. His mother described him as an honor student, and said he was home visiting family during his holiday break. School police records indicate that he was acting erratically in the months leading up to the shooting.
There had already been a public outcry in Chicago on November 24, after video footage was released of a white police officer shooting black teenager Laquan McDonald 16 times on October 20, 2014, ultimately killing him. The video exposed a long-brewing problem in the city, not just of police misconduct, but a culture of covering up the problem and failing to hold officers accountable.
911 Dispatcher Hung Up on Chicago Teen Fatally Shot by Police | U.S.