Never Forget: Throwback Pic of Riley the Service Dog Reminds Us of the Canine Heroes on 9/11
Every year on September 11, people all across the country take time honor the countless firefighters and emergency crew responders who put their lives on the line in the midst of the terrorists attacks on the United States in 2001. But while remembering the people who participated in rescue missions and helped clean up Ground Zero, it's also important to recognize others who were right there on the front line: search-and-rescue dogs.
A Redditor reminded everyone of the sacrifices and hard work that some service dogs performed in the aftermath of 9/11 by sharing a photo of Riley, one of the dogs that assisted emergency response crews in finding people buried in the rubble at Ground Zero. In the memorable photo, Riley is being lifted out of the World Trade Center debris.
Riley, a golden retriever, is one of 300 dogs that were enlisted to search for live people at sites where the 9/11 attacks took place. As a member of FEMA's Pennsylvania Task Force 1, he helped locate the bodies of several firefighters, according to the American Kennel Club. Despite finding a number of dead bodies during his search, Riley never gave up on looking for the living.
In Mackenzi Lee's 2019 book The History of the World in Fifty Dogs, in which Riley was profiled, his handler spoke of the dog's dedication to the job.
"Riley knew the people he continued to find were dead. He was never a formally trained cadaver dog. His job was to find the still living. I tried my best to tell Riley he was doing his job. He had no way to know that when firefighters and police officers came over to hug him, and for a split second you can see them crack a smile—that Riley was succeeding at doing an altogether different job. He provided comfort. Or maybe he did know," he explained.
One of the most famous dogs from 9/11 rescue efforts was another golden retriever, named Bretagne. She was only 2 years old when she began searching for and recovering people at Ground Zero. Bretagne went on to aid in rescue missions in natural disasters like Hurricanes Katrina and Ivan before she retired.
Sniffer dogs have been used to help with search-and-rescue missions for decades, but most people didn't quite understand the vital role they played until the dogs of the National Disaster Search Dog Foundation, established by Wilma Melville in 1995, were brought on to help look for people following the Oklahoma City bombing, according to Dr. Cynthia M. Otto, veterinarian and founder of the Penn Vet Working Dog Center, who worked at Ground Zero.
"There was some sense that they might be able to find a lost Boy Scout in the woods but nothing of the scope and impact of a national disaster," Otto told the American Kennel Club in an interview released Friday, adding that, in regards to 9/11, the service dogs were a "ray of sunshine" for emergency crews surrounded by so much devastation and death.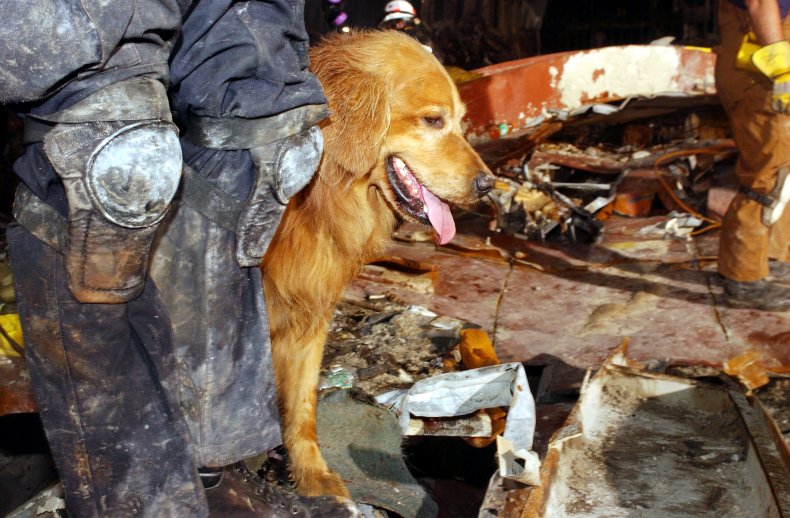 Although 300 service dogs were enlisted to help out in the aftermath of 9/11, only 100 of them were actually prepared to perform missions in major disasters in a city like New York. Many of them were more suited for searching for people who went missing in woods or rural areas and weren't equipped to deal with a large amount of metal, broken glass and debris that covered Ground Zero. However, according to Otto, the faithful servants captured the hearts of the public and resulted in millions of dollars being raised to support organizations that trained and worked with service dogs.