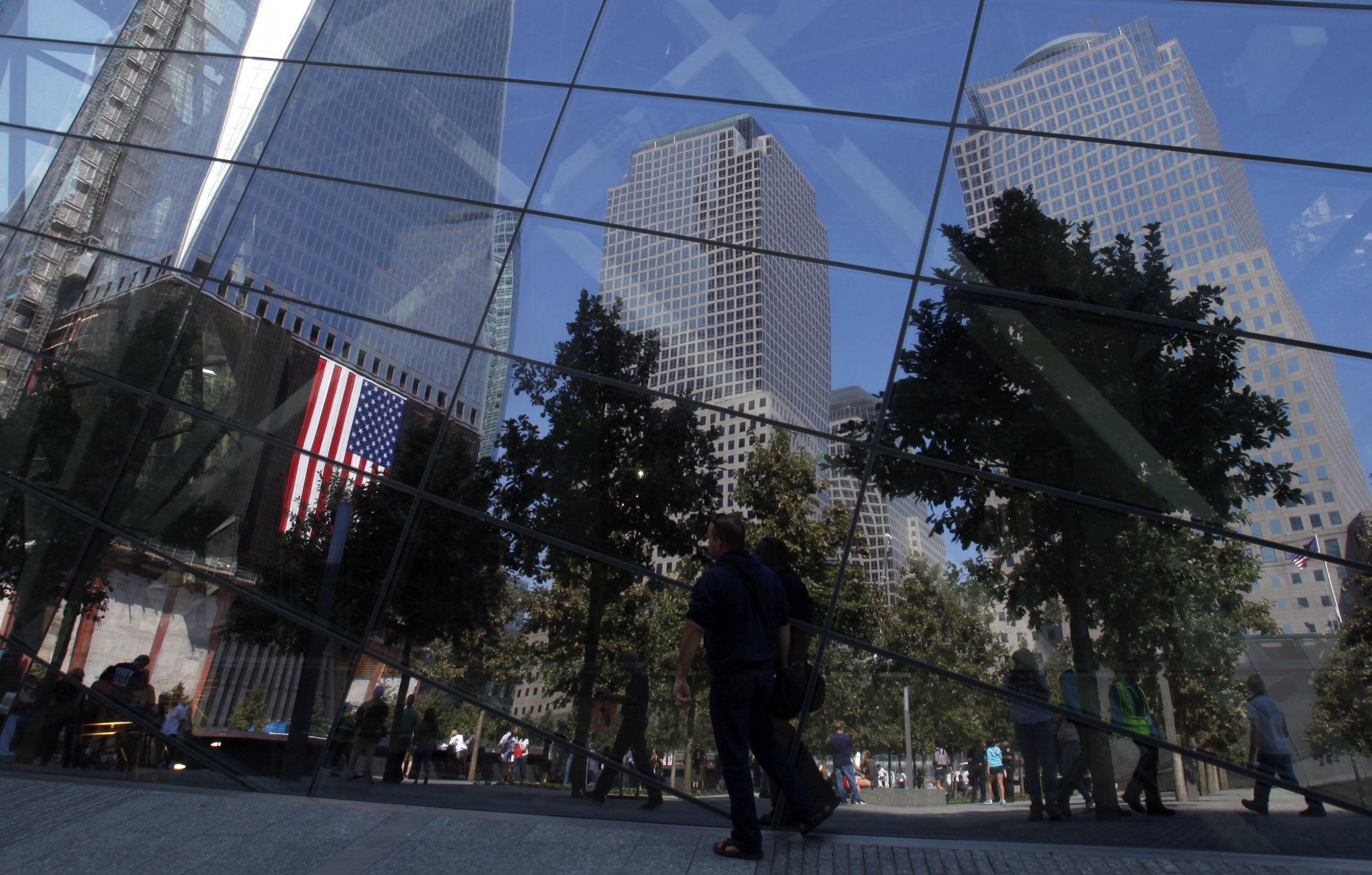 When The Village Voice chose Anthony Freda to create artwork for a story about the 9/11 Truth movement, he first planned to gently mock the Truthers. It was 2006, and as the article stated, mainstream 9/11 accounts like the film World Trade Center had relegated the Truth movement to DIY documentaries and a few sweaty corners of the Internet. But as Freda researched the Truther claims, what they said made sense to him, especially about how Building 7 came down. "At the onset I was hostile to these ideas," Freda says, "but by the end of my night of research I said that these are serious people with questions that haven't been answered."
Rather than attack the Truthers, Freda instead attacked the official narrative. The resulting piece, a collage called Questions, uses red string to connect images, like a detective on TV building a case on a bulletin board. Questions will soon join the permanent collection at the National September 11 Memorial & Museum, becoming one in a handful of artifacts there that represents an alternate view of history.
In the background of Questions is a blackboard, with notes and drawings scribbled in chalk. At the bottom is the back of a man's head as he watches the second plane strike the Towers; above that man is string linking the images of Osama Bin Laden, John F. Kennedy, Donald Rumsfeld and George W. Bush, an honorary 9/11 Museum board member. There are also bits of flags and words printed on an old-fashioned label maker scattered throughout.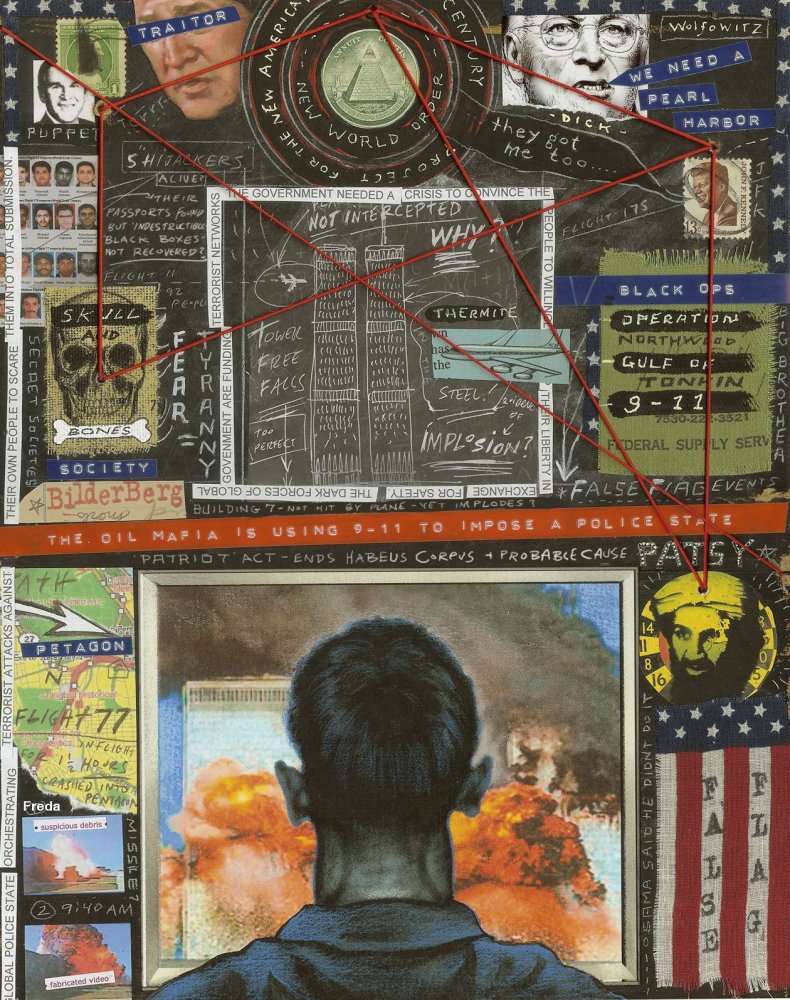 Freda doesn't identify as a Truther. "I'm just a person who is trying to understand the world as it really is," says the artist, a New Yorker, who recalls watching the smoldering towers on 9/11 from the roof of his apartment 20 blocks away. He considers himself a political artist; he's done commercial illustrations for publications such asRolling Stone and Esquire, but also takes on controversial subjects such as genetically modified food and militarized police for alternative news websites such as Activist Post, The Big Picture and Infowars.
Museum spokespeople clarify to Newsweek that acquiring Questions doesn't mean the museum is interested in any questioning of the standard narrative. "This artwork by a witness of the terror attacks in New York City, being accepted in the collection, references a perspective held by some who dispute historical accounts of September 11," Chief Spokesman Michael Frazier writes in a statement. "While the Museum categorically disagrees with this perspective, does not in any way endorse it, and refutes it through our historical exhibitions, we recognize these baseless views were taken by some after 9/11 and see the artwork only as an artifact of that movement."
"We do have other Truther material," adds Anthony Guido, director of communications.
"I particularly like Anthony's artwork because it has so many levels and it's not so straightforward," says John Massaria, a documentary filmmaker who is chronicling Freda's work for an upcoming film, Behind Truth Art. Massaria accompanied Freda to the museum in October, when the artist donated the work and discussed the piece with curators for 90 minutes.
"Unless they're really good poker players, they didn't seem shocked," Freda says about that meeting. "They seemed very captivated by what I was saying."
The 9/11 Museum has attracted 1.8 million visitors since it opened last May. Freda's work joins a collection of more than 23,000 images and 10,300 artifacts, which include beams from the Twin Towers, emergency vehicles and personal objects that belonged to victims. The museum says it has no plans to display Freda's work.
"You can't have a 9/11 museum without the 9/11 Truth movement being represented in some way," Freda says, though he concedes, "I'm still not sure what their motivations are for having this piece in there."