'9-1-1' Season 5 Release Date, Cast, Trailer, Plot: When the Fox Show Is Returning
9-1-1 Season 5 is airing on Fox this fall, four months after the emotional events of the last season finale which saw the LAPD team fighting against a sniper.
When the Fox show returns in September, Athena Grant (played by Angela Bassett) and her team will have even more on their plate than they did the last time we saw them. In Season 5, Episode 1, the team has to deal with a city-wide blackout.
In the trailer for the season, we see some of the results of that blackout. Zoo animals are running wild on the streets, and the city's air traffic control tower has gone offline.
This is just the tip of the iceberg on this season of 9-1-1, however. Here's what plots fans can expect the cast to contend with when episodes of Season 5 are released.
9-1-1 Season 5 release date
The new season premieres with an episode titled "Panic," which is set to air on Monday, September 20 at 8 p.m. ET / 7 p.m. CT on Fox. Episodes will then be available weekly on that same day and time.
After airing, episodes will also be available to stream online on Hulu.
While 9-1-1 Season 5 is streaming this month, fans of its spin-off 9-1-1: Lone Star have to wait a little longer. That show is being held for mid-season, meaning that we can expect its new season to begin in January 2022.
9-1-1 Season 5 cast
All of the main cast from the last season are returning for this new one. This includes Ryan Guzman's Eddie Diaz, who many fans thought might be dying last season after his injuries in the final two episodes.
Joining Guzman is:
Angela Bassett - Athena Grant
Peter Krause - Bobby Nash
Oliver Stark - Evan Buckley
Aisha Hinds - Hen Wilson
Kenneth Choi - Howie "Chimney" Han
Michael Grant - Rockmond Dunbar
Jennifer Love Hewitt - Maddie Kendall
John Harlan Kim - Albert Han
Corinne Massiah - May Grant
Marcanthonee Jon Reis - Harry Grant
Christopher Diaz - Gavin McHugh
What to expect from 9-1-1 Season 5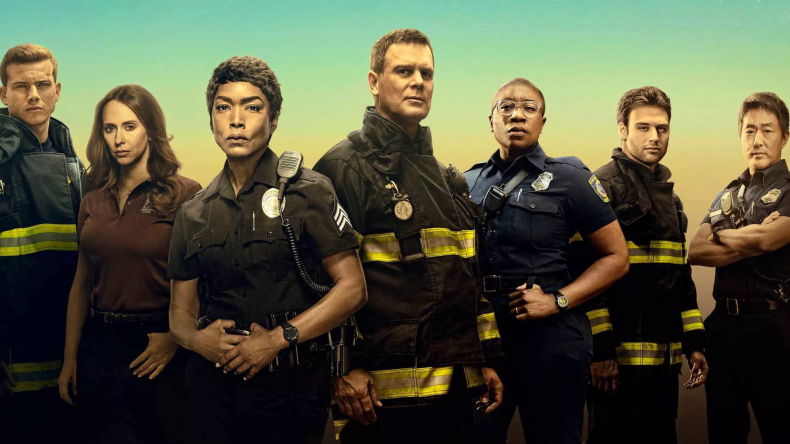 The official Fox synopsis for the opening episodes of the new season reads: "As the fifth season of 9-1-1 opens, the first responders race into action when a series of ransomware attacks target computer systems, air traffic control towers and hospitals.
"Then, a massive city-wide blackout causes havoc in L.A. Meanwhile, Athena deals with a family emergency, Maddie's postpartum depression worsens, Eddie suffers a health scare, and a new call center operator takes charge."
This blackout is due to be the focus of the first three episodes of the season. Later in the season, among the plot points the show is set to deal with include the complications resulting from Maddie's depression and Albert's move into becoming a firefighter.
Those waiting for the next 9-1-1 and Lone Star crossover will have to wait until 2022, though the showrunners have teased that one will happen when the later show returns to Fox
9-1-1 Season 5 trailer
The promo released for the new season focuses mostly on the blackout that kicks off the season. After the team get warnings for an earthquake, a tsunami and a mudslide all at once, they wonder whether they are in for one of the busiest days of catastrophe they have ever had.
As they begin to learn more about the actions of the hacker who has shut off LA's power, they realize it may be both.