9/11 First Responders Fight Congress For Compensation As They Fall Ill to Ground Zero-Related Toxins
The September 11th Victim Compensation Fund is running out of money and will cut future payments to first responders and victims of the 2001 attacks by as much as 70 percent, officials announced last week.
The cuts, effective this month, follow an increase in new claims from those who have become sick after working or living near attack sites in the months following the catastrophic events that killed 2,996 people and injured another 6,000. The fund has now paid out about $5 billion of its available $7.3 billion to more than 20,000 victims and currently faces a backlog of 19,000 unpaid claims.
Since 9/11, there have been more than 2,077 certified cancer conditions in firefighters caused by the toxins breathed in on September 11th and afterwards. In total, there have been 9,300 registered cancer conditions related to the aftermath. More people have now died because of toxins inhaled at Ground Zero sites than did during the September 11th attacks. The Victim Compensation Fund was passed by Congress in 2011 to compensate those affected by toxins from the World Trade Center, Pentagon and Shanksville attacks and was renewed with additional funding in 2015.
On Monday, a number of first responders—alongside Senators Kirsten Gillibrand and Chuck Schumer, Representatives Carolyn B. Maloney, Jerry Nadler, Peter King and former Daily Show host Jon Stewart—rallied Congress to more permanently finance the victim compensation fund.
"This is a no-brainer. This is one of the best managed programs, there is no waste," said Jake LeMonda, president of the FDNY-Uniformed Fire Officers Association to Newsweek. "It's unconscionable that we have to fight and beg for proper funding. These were the people who when our nation was attacked on our home soil toiled in that toxic stew of carcinogens and toxins despite being told by Christie Whitman [the former director of the EPA] that the air was safe to breathe."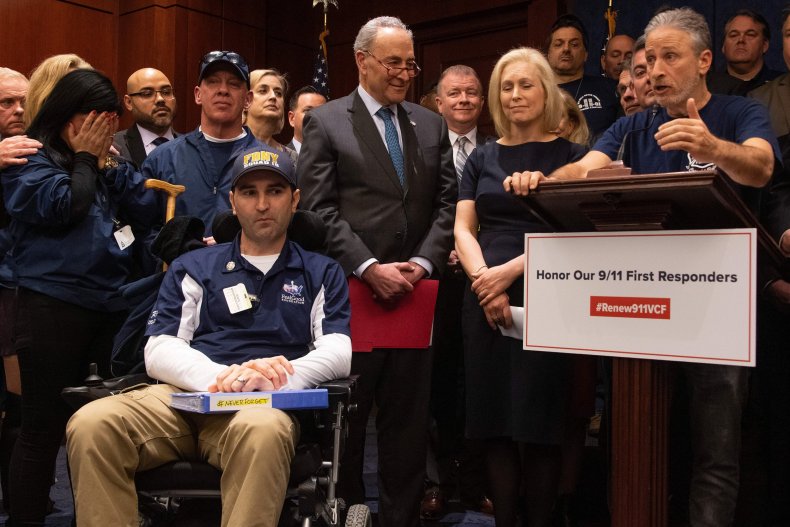 Cancer can take a long time to present itself, said LeMonda, and those who are diagnosed with 9/11-related diseases now, as opposed to five years ago, deserve the same funding that others have received.
"We recognize that this is horribly unfair, particularly because we have spent the balance of this program paying claims at full value, and claimants who are coming in now are going to receive less," said fund administrator Rupa Bhattacharyya in a statement. "Unfortunately, the law really leaves us no choice. This is the fairest way we could come up with to do it."
Medical care for first responders with 9/11-related illnesses will be covered by another Congressional fund for the next 75 years, but this fund is intended to supplement the costs of home care, lost salaries and other illness-related expenses that don't show up in medical bills.
"A firefighter I worked with passed away a little over a year ago, his family in the end needed home hospice care, they needed a wheelchair accessible ramp, they needed to pay for the constant trips back and forth to the hospital and doctor's appointments, his spouse had to give up her job to take care of him, they had to stay in hotels overnight, they had to pay counseling for their kids, and they were missing the overtime pay he received while he was an active firefighter," LeRoy McGuinnis, vice president of the FDNY-Uniformed Firefighters Association told Newsweek, explaining why additional money is necessary.
"We were literally at war that day, we were impacted on our home soil and the first responders and everyone else who went down there acted as domestic soldiers," said LeMonda. "We were here to protect and try to save those who couldn't save themselves. We're just asking our elected officials to do the right thing, let's take care of those people who took care of us."
Jon Stewart, who has long advocated for compensation for 9/11 survivors and first responders, did a slew of press on behalf of the bill Monday. "In the World Trade Center Health Program, 45,000 people are suffering from at least one 9/11-related chronic health condition. More than 10,000 have been certified with a 9/11-related cancer, with more being diagnosed every day, and almost every other day another 9/11 responder or survivor dies from a 9/11-associated cancer," he wrote in a Daily News op-ed. "And yet here we are … again."