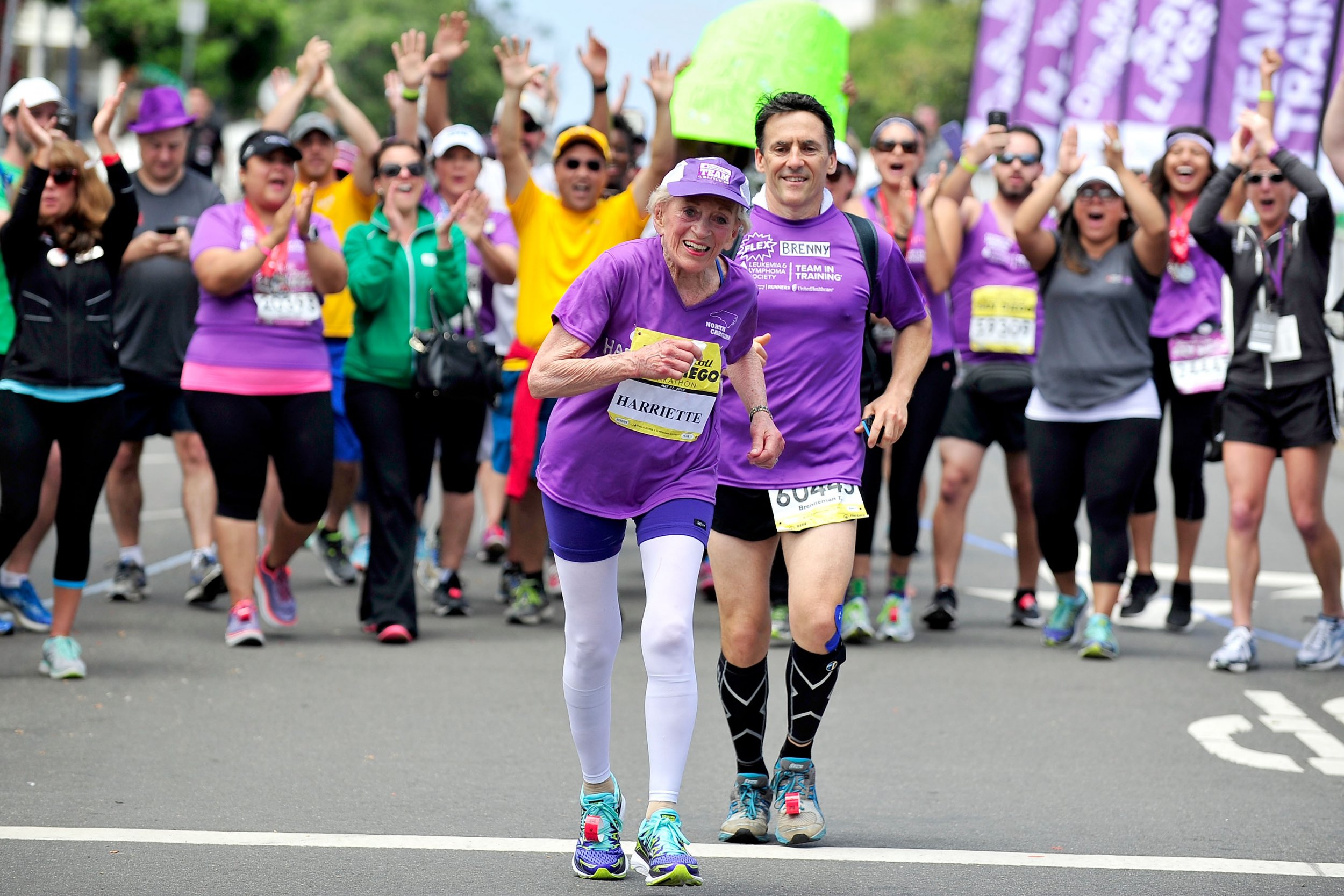 The marathon is a true testament to human willpower and motivation. Since ancient history, runners of all ages have caused fascination with their ability to complete the 26.2-mile foot race.
In most cases, the heart of the long-distance run is filled with the underdogs, the recreational runners like 92-year-old Harriette Thompson. Last weekend, she wasn't the overall winner in her 16th marathon, but she finished first in the 80-plus age group.
"I didn't really feel much pressure this time, and I didn't go very fast," she tells Newsweek on Wednesday, deemed National Running Day. "It was my worst time."
Thompson, a widowed resident of Charlotte, North Carolina, and a cancer survivor, became the oldest female marathon finisher ever when she crossed the finish line at the San Diego Rock 'n' Roll Marathon last Sunday with a time of 7:24:36.
She surpassed Gladys Burrill's time of 9:53:16 from the 2010 Honolulu Marathon, which Burrill ran 19 days after her 92nd birthday, according to Runner's World.
Thompson traversed the San Diego course by combining walking and running, but she reminds others that her personal best time on that course, which she has ran 16 times, is 6 hours and 7 minutes.
"I keep thinking, Why are they making such a fuss? I really didn't have such a great time," she says. "But the fact that I was old made all the difference."
Thompson started running the marathon, which was instituted in commemoration of the fabled run of the Greek soldier Pheidippides, in 1999 at the age of 76. She was inspired by her friends who participated by raising money for the Leukemia & Lymphoma Society. (She since has raised about $90,000, says a spokeswoman for the organization.) Thompson remembers her longest run before her first marathon as "a block or two."
She recalls a November day in the early 1970s as one of her first attempts to run. The cold weather, her neglect to stretch and her choice to wear tennis shoes instead of sneakers caused a tendon to snap in one of her legs. The doctors told her the tendon was not important for running, so she persevered.
Now she is a sports celebrity and running inspiration. Organizers at Sunday's race introduced her to the crowd of 25,000 runners who lined up at the start line.
"I had to raise my hands and look like I was ready to take off," she says. And from her experience during the race, she says: "I almost didn't have a chance to think. Everyone came by wishing me well. They all knew who I was because I was so old."
Thompson has ran the San Diego Rock 'n' Roll Marathon every year, except in 1998, the race's inaugural year, and 2013, when she was undergoing radiation for her cancer treatment.
In 1985, doctors discovered and operated on a cancerous spot on the roof of Thompson's mouth. Twenty-five years later, they told her she had three months to live. She opted out of surgery and chose to undergo light radiation, which eventually removed the cancer.
The best part about running for hours, she says, is thinking about crossing the finish line. To her surprise, this year, confetti dropped on top of her and news crews asked her questions when she finished, red lipstick intact. She compares the scene to when American aviator Charles Lindbergh returned to the country after conducting the first solo airplane flight across the Atlantic Ocean in May 1927.
"I feel so good...like I'm on top of the world," she says. "I wouldn't want to do a marathon every day, but I can see a tremendous difference. I just encourage everybody who can get out there and walk to really exercise."
Thompson, a concert pianist born in Carlisle, Pennsylvania, has five children and 10 great-grandchildren. In races, her son runs behind her to act as her protector and provide her with food. Along the route, spectators and runners wanted to take their photographs with her.
"[But] he would have them do selfies so I didn't have to stop," she says of her son.
Hundreds of marathons are held throughout the world each year, with tens of thousands of runners participating in some of the larger races. Thompson says other participants approached her on Sunday and said she inspired them to register for the race.
"Well, if I can do anything worthwhile at this age, that's fine," she says. "I'm all for it."