93-Year-Old Woman Crowned 'Miss Holocaust Survivor' in Annual Pageant
A 93-year-old woman was crowned 2018's "Miss Holocaust Survivor" on Sunday, winning the Israel-based beauty contest for survivors of World War II's Nazi Holocaust.
Great-grandmother Tova Ringer beat 12 other contestants to top the pageant, Reuters reported. Ringer was born in Poland and now lives in Haifa, the city where the annual event is based. She lost her parents, four sisters and a grandmother in the Auschwitz death camp, Reuters said.
"I'm very happy. It's something special," the new Miss Holocaust Survivor said, after donning her silver tiara and a blue-and-white sash. "I wouldn't believe that at my age I would be a beauty."
According to The Times of Israel, runners up included Rita Kasimow Brown, 85, Madeleine Schwartz, 74, and Tamara Weitzman, 81. It said "thousands" of people attended the event. Reuters reported that the youngest contestant, aged 74, was still working as a teacher.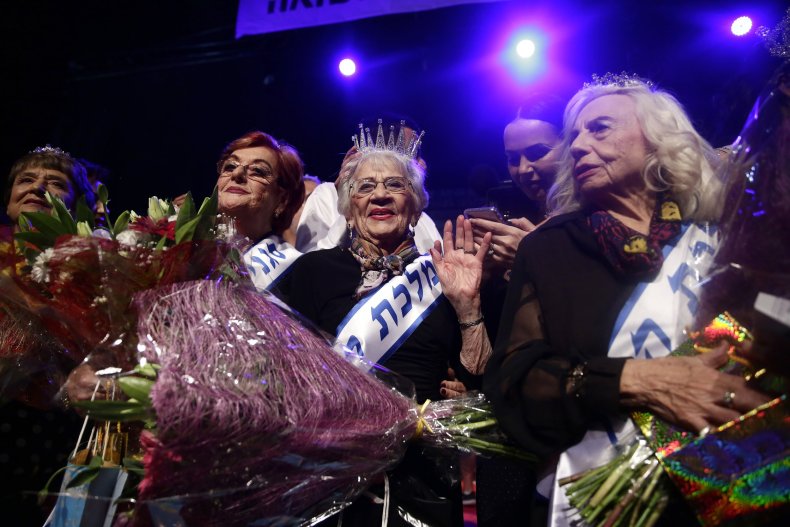 The contest, which launched in 2012 amid controversy, is organized by Yad Ezer L'Haver (also known as "Helping Hand") which, according to its LinkedIn page, was created to "support and protect" survivors in need who lived through "the horrible atrocities of the Holocaust."
Helping Hand's director, Shimon Sabag, previously dubbed the pageant a "celebration of life." A German spectator agreed this year, describing it as a "wonderful celebration."
"It is very important for my generation to know the history of the Holocaust, of the Shoah, and it is important for me to support these people," Jan Fischer, a 52-year-old from Munich, was quoted by Reuters as saying on Sunday. "I wish that this [genocide] won't happen again—never."
Around 6 million European Jews were murdered in the Nazi genocide during the second World War. Israel is home to up to 200,000 Holocaust survivors, according to The Times of Israel.
Auschwitz survivor Shoshana Kolmer, aged 94, was crowned Miss Holocaust Survivor in 2016, The Jerusalem Post reported. At the time, she urged the audience to "pass on the information to the next generation so they never forget there was a Holocaust," the newspaper said.
"Totally macabre"
The pageant has attracted criticism in the past. Colette Avital, chairwoman of the Center of Organizations of Holocaust Survivors, a leading Israeli Holocaust survivors' umbrella group, called the event "totally macabre" in 2012.
She told Haaretz.com: "I am in favor of enriching lives, but a one-time pageant masquerading [survivors] with beautiful clothes is not what is going to make their lives more meaningful."
An Internet Movie Database (IMBb) listing shows a documentary was made about the event and released in 2017. The contest is also supported by Israel's International Christian Embassy.