Bodies of 95 Forced Laborers Uncovered During Texas School District Construction Project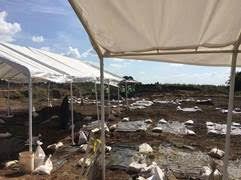 A school district in Texas unearthed a long-forgotten cemetery, during a construction project, which archaeologists now believe contains the bodies of black forced-labor prisoners.
The remains of 95 people were discovered in February in the city Sugar Land, just southwest of Houston. This week, researchers announced the bodies likely belonged to black people who were working in forced-labor camps, at a moment in history, between 1878 and 1910, when slavery had already been abolished. The discovery was made when the Fort Bend Independent School District broke ground for a new technical center.
"I think it's a remarkable opportunity for our community and our school district to learn much more about the history of our local region," superintendent of schools Charles Dupre said in a statement to Newsweek.
"There are so many things we know about our history, and this is just going to add value and extend the knowledge base about Fort Bend County and Sugar Land, Texas," he added.
A team of researchers from three universities gathered to start the delicate process of removing the bodies.
The scientists must spend at least 36 hours per grave to remove each body, followed by four to eight hours to clean the remains and up to 15 hours for analysis.
Of the bodies that have been analyzed so far, all are male, except for one female, Catrina Whitley, bioarchaeologist and lead anthropologist at the site, said in a statement
Historians say there are many more slave cemeteries hidden throughout the country, under parking lots and on church grounds. The finding of this latest burial ground comes not long after a similar case that unearthed hundreds of bodies under an abandoned baseball field in Tennessee. The people buried there were also thought to be slaves.
Sites like these are slowly being uncovered. Michael Blakey, an anthropologist at the College of William and Mary in Williamsburg, Virginia, and director of the Institute of Historical Biology, told USA Today that this findings like these should be honored.
"It belongs to us as citizens, and there's a need to memorialize," he said. "The history of African-Americans in this country has been distorted and omitted."