96-Year-Old WWII Veteran Sings National Anthem in Clip Viewed Over 3M Times
John Pylman is taking the internet by storm.
The 96-year-old World War II veteran was recently tasked with singing the national anthem for the West Michigan Whitecaps, a Minor League Baseball team based in a Grand Rapids, Michigan suburb—and now, a video from the event, found here, has gone viral on social media.
Hailing from Grand Rapids, Pylman enlisted in the Air Force in 1943 and was stationed in England, reported MLive. Upon his return, he went to college and became the principal of Wyoming's Rogers High School, where he stayed for 23 years, from 1957 to 1980.
His recent performance, from an August 5 game, is far from the first time Pylman has taken the stage for the Whitecaps' opening anthem—he's a pro, having sung at eight previous games.
While not a trained singer, Pylman reportedly landed the gig after he attended a past Whitecaps game and, upon seeing the national anthem performance, thought to himself: "Hey, I could do that."
"I just like to sing," he told MLive. "And I'm pretty good at it."
"John sang at our ballpark in years past, then took a few years off," echoed Whitecaps promotions and fan entertainment manager Ben Love in a statement to Newsweek. "He called us and was feeling like he still had the energy to do it again, and we were thrilled to have him back."
The act appears to hold significance to the veteran, who explained to MLive: "God's blessed us with this wonderful country, let's take care of it. It's worth fighting for," he added.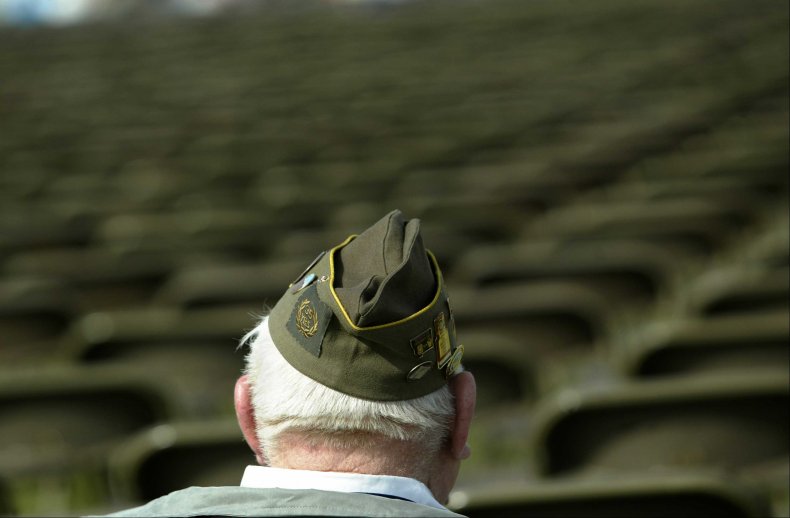 The video has gained traction on Facebook, after the Whitecaps shared it on their official page. At the time of writing, the clip has racked up a whopping 3.1 million views and nearly 10,000 comments.
Viewers flocked to leave messages of support for Pylman, with many thanking the "true hero" for his service.
"That brought a tear to my eye," noted one commenter.
Another called the performance "very touching."
"I can't believe it," said Pylman to MLive, on the viral success of his video. "That's my attitude right now—I just can't believe it. I was amazed at the crowd's reaction, and I thought, okay, this is a good thing to have done."
Newsweek reached out to Pylman for further comment but was not able to contact him in time for publication.
While the population is declining, as of May 2020, there were about 300,000 American U.S. World War II veterans still alive, noted the Pew Research Center. More than 16 million Americans served in WWII, approximately 350,000 of which were women.