AAA Warns on Gas Prices, North Carolina Invokes Emergency as Colonial Hackers Apologize
North Carolina declared a state of emergency on Monday as gas prices were expected to rise in parts of the U.S. Meanwhile, the hacker group responsible for the ransomware attack that crippled the Colonial Pipeline issued an apology.
North Carolina Governor Roy Cooper, a Democrat, said that he declared a state of emergency to "prepare for any potential motor vehicle fuel supply interruptions across the state and ensure motorists are able to have access to fuel."
The American Automobile Association (AAA) forecasted modest location-specific increases to gas prices this week due to the shutdown of the pipeline, which supplies around 45 percent of fuel to the East Coast.
"This shutdown will have implications on both gasoline supply and prices, but the impact will vary regionally," AAA spokesperson Jeanette McGee said in a statement. "Areas including Mississippi, Tennessee and the east coast from Georgia into Delaware are most likely to experience limited fuel availability and price increases, as early as this week. These states may see prices increase three to seven cents this week."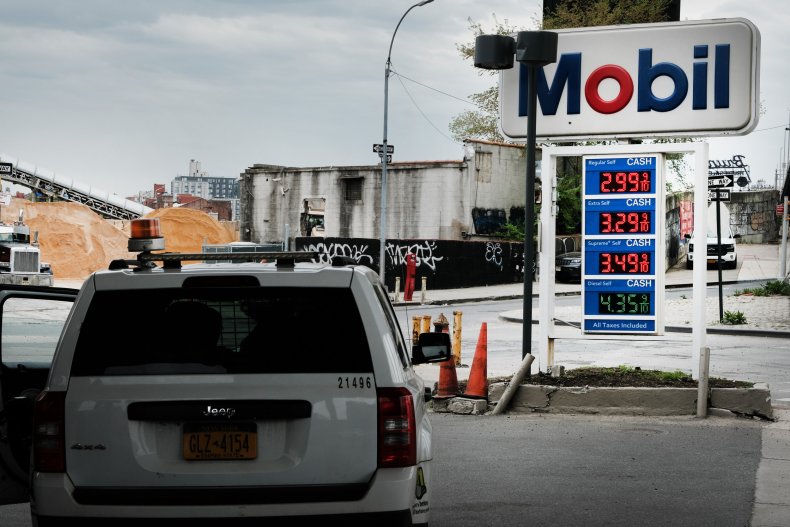 DarkSide, the hacker group that the FBI confirmed was responsible for the attack on Monday, issued an unusual apology for the attack on the same day. The group said it would "introduce moderation" to "avoid social consequences in the future" and insisted that it was entirely profit-driven and "apolitical" in a statement posted to the dark web, according to Vice.
"We are apolitical, we do not participate in geopolitics, do not need to tie us with a defined government and look for other our motives," the group reportedly wrote. "Our goal is to make money, and not creating problems for society. From today we introduce moderation and check each company that our partners want to encrypt to avoid social consequences in the future."
Although the attack has prompted concerns about gas supplies, officials have said there are currently no U.S. gas shortages. Price increases may occur due to difficulties in transporting the fuel from Texas, where the pipeline originates, to the areas it serves. Retailers in some area may also choose to raise prices themselves even if their own supplies are not impacted.
Over the weekend, President Joe Biden directed the Department of Transportation to loosen restrictions on using tankers to deliver gas until the pipeline can be restored.
During a White House briefing on Monday, he said that the Department of Energy was "working directly with Colonial to get the pipelines back online and operating at full capacity as quickly and safely as possible."
"We're prepared to take additional steps, depending on how quickly the company is able to bring its pipeline back to full operational capacity," the president added.
Biden also said that although U.S. intelligence had found no evidence to link the attack with the Russian government, he believed the country had "some responsibility to deal with" the issue since some evidence did indicate that the ransomware may have originated in Russia. Ransomware is software that hackers use to take control of data before demanding money in exchange for its return.
The Colonial Pipeline's main line remains down as of Monday night, while some supplemental lines are operational. Colonial said that it has "the goal of substantially restoring operational service by the end of the week."
"Colonial Pipeline is continuing to work in partnership with third-party cybersecurity experts, law enforcement, and other federal agencies to restore pipeline operations quickly and safely," the company said in a statement. "While this situation remains fluid and continues to evolve, the Colonial operations team is executing a plan that involves an incremental process that will facilitate a return to service in a phased approach."
Newsweek reached out to the White House for comment.