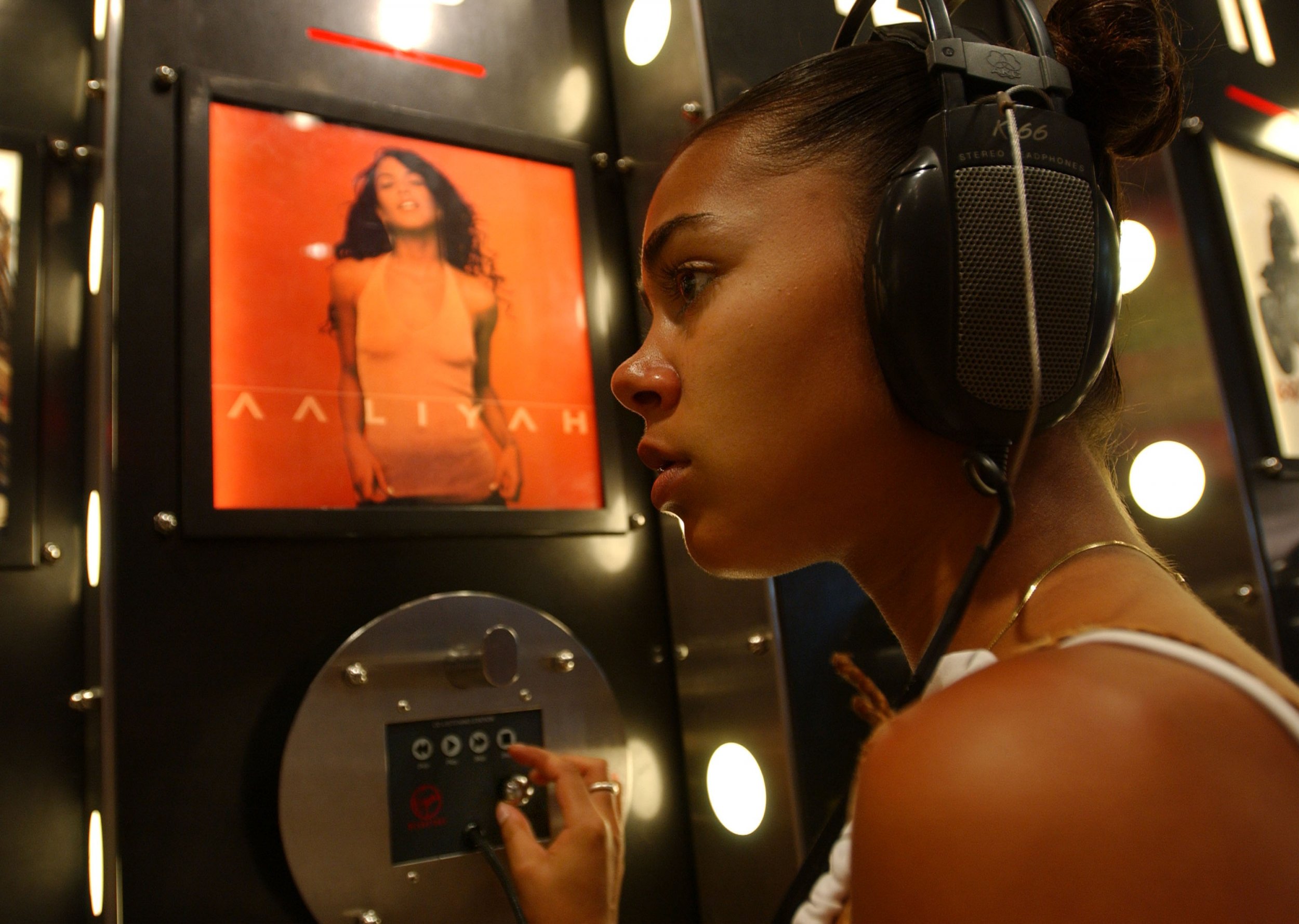 It has been 17 years since R&B superstar Aaliyah died in a plane crash, and if today she would have turned 39. But fans hoping to celebrate her birthday by streaming her music on Spotify, Google Play, or Apple Music are out of luck.
Aaliyah's uncle, producer Barry Hankerson, has her discography on lockdown, according to a report published by Complex in 2016. In 2017, a hacker uploaded her posthumous album, Aaliyah, to iTunes for the first time, including some of her greatest hits: "One in a Million," "Try Again," and "Are You That Somebody." Within 24 hours, the tracks were gone.
As Complex's Stephen Witt points out, the only Aaliyah album available online is her first, "the one that Hankerson doesn't control the masters for, and the one where she sings lyrics penned by the suspected pedophile she was fraudulently married to. This does not honor her legacy."
Keeping Aaliyah's music off the biggest streaming services isn't just a matter of legacy or even convenience—it's about connecting young people to a pop star who inspired millions.
At 12 years old, Aaliyah Haughton was a Brooklyn girl with a perfect 4.0 GPA at her performing arts high school. At 14, she recorded Age Ain't Nothing But a Number, a sultry album for Jive Records that went double platinum, selling 3 million copies worldwide. That same year, she illegally married R&B star R. Kelly. (In 2017, he was accused of keeping young women in an "abusive" cult run out of his home.)
By 17, Aaliyah switched record labels and worked with Timbaland and Missy Elliott, two producers who were reportedly nervous to meet the young R&B starlet since they were "just starting out."
She released another best-selling album, 1996's One in a Million, and appeared in two films: Romeo Must Die (2000) and posthumously in Queen of the Damned (2002).
In 2001, Aaliyah boarded a plane out of the Bahamas, where she had been filming a music video. The plane barely made it off the runway before the unlicensed pilot, who had traces of alcohol and cocaine in his system, lost control of the craft and crashed.
The 22-year-old prodigy, already hailed by the media as the "Princess of R&B," was gone.
The German newspaper Die Zeit published a final interview with Aaliyah the year she died, including her description of a recurring dream: "It is dark in my favorite dream. Someone is following me. I don't know why. I'm scared. Then suddenly I lift off. Far away. How do I feel? As if I am swimming in the air. Free. Weightless. Nobody can reach me. Nobody can touch me."
For years, Drake was attached to mixing and producing a final Aaliyah album, but he backed off in 2014, saying he "wasn't comfortable" with the "stigma" surrounding the project.
But in 2018, Aaliyah remains a cultural force, often referenced and thanked by people who knew her or by artists old enough to remember when Age Ain't Nothing But a Number debuted. Kendrick Lamar's 2011 track "Blow My High" is a nearly four-minute track to Aaliyah, and artists including J. Cole, Meek Mill, Kanye West, Run the Jewels' Killer Mike, Dr. Dre, and Young Thug have all rapped or sang about her beauty and musical gifts.
Many fans, including Witt, believe young people deserve full streaming access to Aaliyah's discography, especially since Apple Music and Spotify are the primary way fans engage with new music. To leave Aaliyah out of streaming, which is how fans access figures like Beyoncé and Rihanna, is to undercut her role in pop music.
You can stream Aaliyah's first album on Amazon Prime, Apple Music, or Spotify. Her second and third albums, One in a Million and Aaliyah, and her two compilation albums, I Care 4 U and Ultimate Aaliyah, must be purchased in full.