Aaron Carter's Mom Questions His Death After Gruesome Photos—'Murder'
Aaron Carter's mom, Jane Schneck, is adamant that her son was murdered after his body was found in a bathtub at his home in Lancaster, California, on November 5.
The 34-year-old's cause of death has not yet been determined by the Los Angeles County Department of Medical Examiner-Coroner. The case has been deferred, pending further investigation. However, his mom has accused authorities of being dismissive over her suspicions because of Carter's history of drugs misuse.
Schneck took to Facebook to share her thoughts about what happened to her son and posted that she wants a "proper investigation."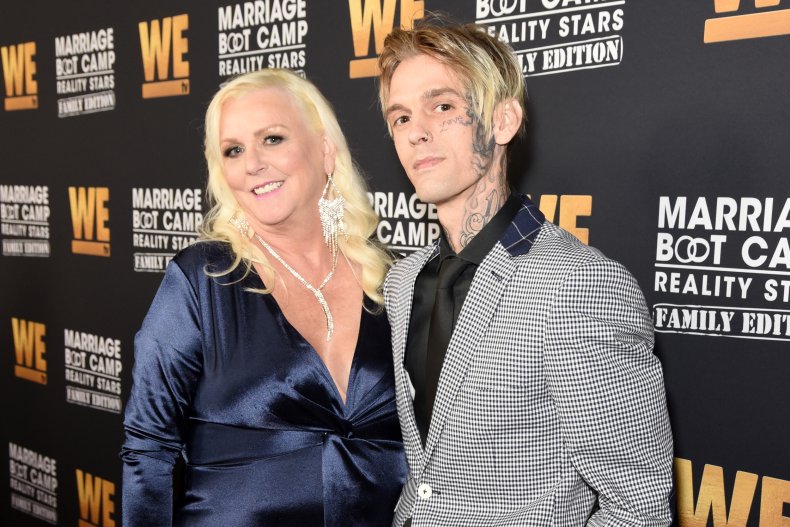 Schneck also shared photos from the bathroom where Carter was found, including the dirty green water in the bathtub. Other images showed towels and clothes laid on the floor and what looked like feces on the floor.
"Just did an interview with TMZ. I'm not backing off. A mother always fights for her cub. I'll do the same for Nick. I just want a proper investigation," Schneck wrote on one Facebook post.
"Yes he had a lot of issues but he never intended to die that way! The tub was still full. No evidence of him even being in there! No water on the floor. Also Betty the housekeeper is Mia (missing in action)."
In a second Facebook post, she wrote: "Not afraid of any one. I just want the truth. Too many things that don't add up.
"I know [tabloid news organization] TMZ is going to say that I just won't accept that Aaron was doing what he did but I'm saying that even if he was doing it somebody had a plan to use his addiction to eliminate him. That's no excuse for a murder," Schneck added.
In other Facebook posts, Schneck wrote that police did not take Carter's death seriously and that they even allowed people to "tromp through" the house, potentially destroying evidence.
Police found cans of compressed air and prescription pills in Carter's bedroom and bathroom.
"They never investigated it as a possible crime scene because of his addiction past," Schneck wrote on Facebook.
"Look at the photos. They were not taken by the police. But they allowed people to go in and out."
Carter's older brother and Backstreet Boys star, Nick Carter, blamed "addiction and mental illness" as "the real villain," after his death.
Aaron's former fiancée, Melanie Martin, with whom he shared a son Prince, 16 months, backed Schneck's claims of a potential murder. She told TMZ that Carter was "being threatened" by a drug dealer on the night he died.
Martin said she found text messages on his phone from someone writing that Carter owed $800 for an unknown substance.
Carter began his entertainment career at just 9 years old and released six studio albums, including his 1997 self-titled debut.
He opened for the Backstreet Boys and Britney Spears on tour and also starred in the 2006 E! reality series House of Carters with his siblings, Nick, Bobbie Jean (B.J.), Leslie and Angel.
Carter had spoken about his addiction to prescription medication. He even predicted his death during a September 2019 appearance on the talk show The Doctors, saying his greatest fear was dying young.
Carter asked to appear on the show for help with getting off drugs. His sister, Leslie, had died from a drug overdose at age 25 in 2012.