Aaron Eckhart's Birthday: His 15 Best Movies Ranked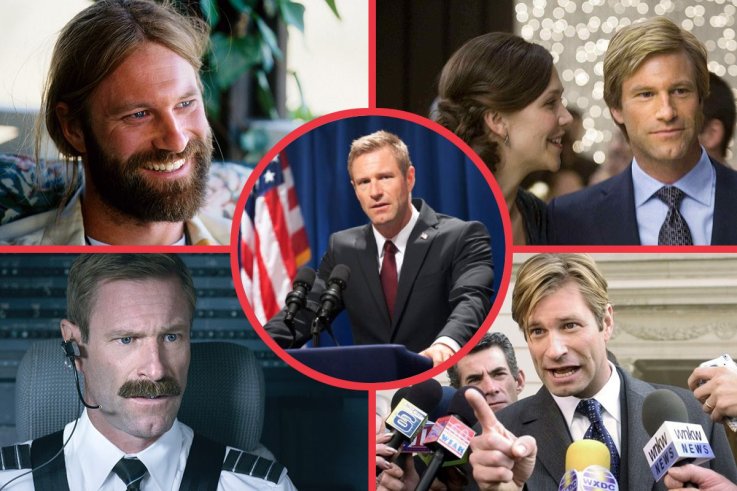 Aaron Eckhart, who turns 51 today, is an American actor best known for playing the smooth-talking tobacco lobbyist in Thank You For Smoking and Harvey Dent in The Dark Knight—and, in some eyes (arguably his own included), as one of those celebrities who have never quite hit the heights they wanted to.
Born in Cupertino, California, Eckhart was brought up in a Mormon family, and over the course of his childhood moved countries and continents frequently. By the time he was 17, he had lived in America, Britain and Australia. Acting was one of the few constants, as he starred in school plays, from Charlie Brown to Waiting for Godot.
While studying at Brigham Young, a university owned and operated by The Church of Jesus Christ of Latter-day Saints in Utah, he met Neil LaBute, a fellow Mormon and a budding director, and the pair began a productive professional partnership that continues to this day.
After acting in several of LaBute's plays, Eckhart's breakthrough moment came in LaBute's first feature film, the critically acclaimed In the Company of Men, released in 1997. Eckhart's portrayal of Chad, a nasty and misogynistic managerial type who dates a deaf colleague only to dump her without reason, was so convincing that he was often booed by women at Q&A screenings.
At the Independent Spirit Awards, the movie won Best First Screenplay, and Eckhart won Best Debut Performance. The Washington Post hailed him as "the movie's most malignant presence and its top draw."
A star was seemingly born. In 2000, he gained mainstream attention as George, the love interest of Julia Roberts's character Erin Brockovich in Steven Soderbergh's drama of the same name. While the movie was a box-office hit, Eckhart's performance received mixed reviews. "So dominant in In the Company of Men," Roger Ebert wrote, "…here, wearing a twerpy John Ritter beard that he doesn't seem comfortable with, [Eckhart] is a shallow cipher."
More movies followed with a similarly mixed success rate. Between 2001 and 2003 he co-starred with Jack Nicholson, Cate Blanchett, and Ben Affleck in The Pledge, The Missing and Paycheck respectively. Eckhart sensed he was on the brink of stardom. "I'm feeling that everything I've done is just a preamble," he told The Guardian in 2004. "I'm not even in the first trimester of my life, my birth. I really want to do some great work."
In 2006, that moment arrived, as he received a Golden Globe nomination for Best Actor for his leading role in Thank You for Smoking . His "standout, whip-smart performance" was praised by USA Today .
However, even though more big movies followed, including Christopher Nolan's 2008 Batman epic The Dark Knight, his sense of unfulfilled potential persisted. "I'm not happy with my career," he told Vanity Fair in 2011. "I feel like I have much more to give, and I feel like I need to have more courage, and to get out there and take more chances."
At 51, Eckhart still has time. To celebrate his birthday, Newsweek has analyzed data from review aggregation websites Rotten Tomatoes, Metacritic and IMDb to rank his 15 best movies.