Hernandez's Death Shines Light on Larger Problem of Prison Suicides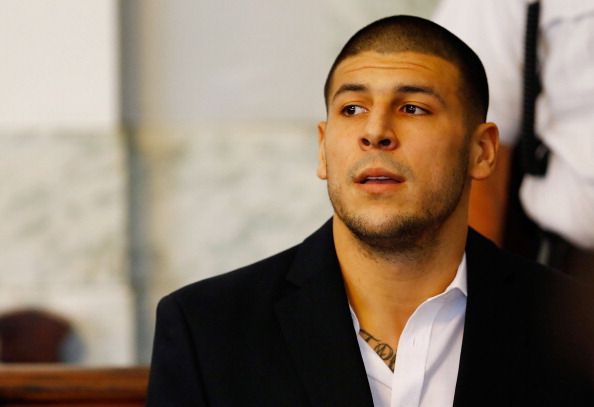 A life largely defined by tragedy came to an end Wednesday when Aaron Hernandez, convicted murderer and former NFL star, was found hanged by his bed sheets in a Massachusetts prison cell. And if it was indeed a suicide, Hernandez's death might have been unexpected, but not necessarily uncommon among the prison population.
Officials described the death as being self-inflicted, while some people close to the former New England Patriot have cast doubt on that assertion amid a continuing investigation. Massachusetts Department of Corrections spokesman Christopher Fallon said in a statement that Hernandez "hanged himself utilizing a bed sheet" in his single cell.
Related: A Timeline of the Rise and Tragic Fall of Aaron Hernandez
Already in prison—where suicide rates are higher than the U.S. population at large—Hernandez also met a number of factors that indicate an inmate could be more at risk for suicide, said Christine Tartaro, criminal justice professor at Stockton University and author of the book Suicide and Self-Harm in Prisons and Jails. The 27-year-old former tight end was serving a life sentence after he was found guilty of killing Odin Lloyd, the boyfriend of his fiancé's sister. He was in maximum security and was just days removed from a court date, during which he was acquitted of a double murder.
Despite winning an acquittal, the end of the trial also could have signaled to Hernandez the start of an interminable stretch behind bars, the professor said.
"The trial gave him something to do and something to fight for," Tartaro told Newsweek. "There were no more court dates. No more opportunities to put on street clothes."
Since there was no note in his cell, there is, of course, no way to know Hernandez's thinking—but Tartaro noted suicides are common before and after court dates often because of feelings of nervousness or feeling resigned to a fate away from the outside world. In 2014, the most recent year for which data was available, there were 20 suicides per 100,000 people in state prisons, according to Bureau of Justice statistics. That represented a 30 percent rise from the year prior. In Massachusetts, meanwhile, there were 32 suicides per 100,000 prisoners. That's a far higher rate than the population at large: in the U.S. there are 13.26 suicides per 100,000 individuals, according to the American Foundation for Suicide Prevention.
Hernandez reportedly displayed no warning signs that he may have been contemplating suicide. His lawyer, Jose Baez, called Wednesday for a thorough investigation in a statement: "The family and legal team is shocked and surprised at the news of Aaron's death. There were no conversations or correspondence from Aaron to his family or legal team that would have indicated anything like this was possible," the statement read. "Absolutely no chance he took his own life," his former agent Brian Murphy posted to Twitter.
Tartaro noted that without warning signs, officials wouldn't have reason to watch Hernandez more closely beyond the already strict supervision he'd be subject to as a prisoner. "So many people in facilities are a couple days away from court dates," she said. "They have to see warning signs with the inmate."
Jill Harkavy-Friedman, research director at the American Foundation for Suicide Prevention, noted that suicide is complicated, caused by a number of factors that aren't necessarily easy to spot in an individual.
"Naturally, we always want to find the one thing that caused it but suicide doesn't work that way," she told Newsweek.
There are long-term, underlying factors that contribute to suicide, like a person's mental health—it's widely held that 90 percent of people who die by suicide suffered from mental health issues. According to Bureau of Justice statistics, 55 percent of male inmates in state prisons suffer from mental health problems, compared to about one in five U.S. adults overall. And struggling with mental health problems can prove particularly challenging in prison.
"Prisons are very stressful, People are on alert all the time," Harkavy-Friedman said. "We know people who are stressed a lot of the time, that affects their mental capacity."
Harkavy-Friedman also pointed to a need for further observation during transition periods, such as a court date, but added that even the very fact of being called an inmate can cause a particular sort of harm to people—it's the "stress of being labeled as a criminal."
Correction: 4/20, 8:25 pm: This story has been changed to correct the spelling of Tartaro's name.