Was Aaron Hernandez Gay? Documentary Explores Football Player's Rumored Sexual Past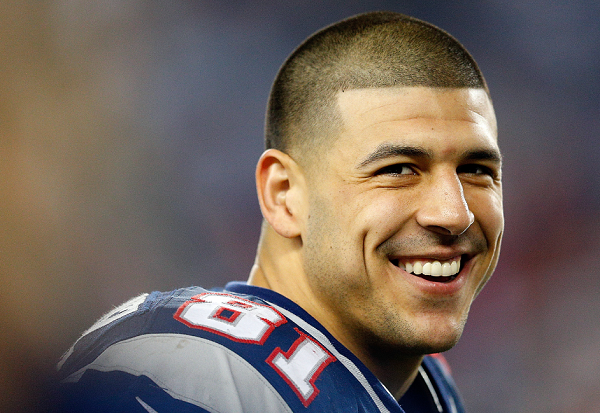 According to a new documentary, former New England Patriots player Aaron Hernandez, who was serving a life sentence for murder when he committed suicide in prison in 2017, was hiding a secret.
The two-part Aaron Hernandez Uncovered, which aired on the Oxygen network on Saturday and Sunday, presented a number of people close to the former NFL star who revealed Hernandez was a gay man. They also said his struggle with his sexual identity may have been the source of his violent behavior.
In the film, Alyssa Anderson, Hernandez's ex-girlfriend, recalled rumors about Hernandez being involved with another man back when they were attending the University of Florida. Anderson said Hernandez continuously denied the claims. However, when she reached out to him via letters during the height of his murder trial in 2013, he revealed some horrifying details about his childhood.
"Toward the end of his first trial into the second trial, the letters became more intense," Anderson said. "He did open up about some of the struggles he had gone through as a kid. He admitted to being molested as a kid, but he never dealt with it." She added that she believed that experience "led to issues in his sexuality."
George Leontire, an openly gay member of Hernandez's legal team, also recalled a number of private conversations he had with Hernandez, during which time they talked extensively about the former NFL star's sexuality. "This man was clearly gay," Leontire said. "[He] acknowledged it. Acknowledged the immense pain that it caused him."
Leontire added that he believed Hernandez's upbringing also contributed to his inability to accept being a gay man. "I think that he also came out of a culture that was so negative about gay people that he exhibited some self-hatred."
Before Hernandez was sentenced to life in prison in April 2015 for the murder of Odin Lloyd, he was engaged to Shayanna Jenkins, with whom he shared a daughter, Avielle Janelle Hernandez. After Hernandez was discovered hanging from the window of his prison cell in April 2017, Jenkins appeared on Dr. Phil and said that she asked Hernandez if the rumor about him being gay was true and he assured her "that it wasn't."
But she noted in Aaron Hernandez Uncovered that her fiancé's true sexuality was something that still "confused" her.
​