Aaron Hernandez's Fiancée: I Thought Suicide News Was a 'Cruel' Trick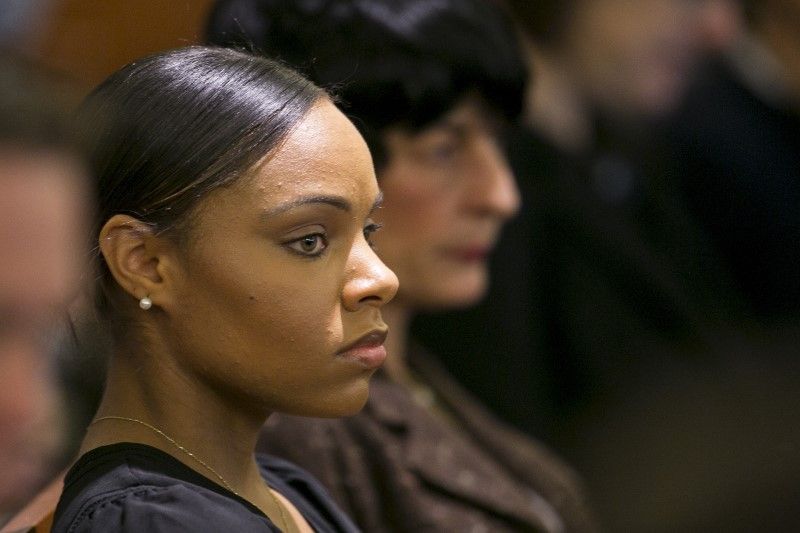 The fiancée of former New England Patriots star Aaron Hernandez initially thought reports last month of his prison suicide were a cruel hoax, Shayanna Jenkins-Hernandez said in an interview to be broadcast next week on CBS television's "Dr. Phil" show.
The former National Football League athlete hanged himself in the Massachusetts prison cell where he was serving a life sentence for murder, but his death shocked his family as it came just days after a jury had cleared him of a separate double-murder charge.
"I thought it was a hoax, that this was some cruel person playing a trick on me," Jenkins-Hernandez told longtime talk show host Phil McGraw. "I felt like we were looking so bright. We were going up a ladder to a positive direction."
Hernandez had been upbeat and had taken a more spiritual tone in his conversations with fellow inmates at the Souza-Baranowski Correctional Center in Lancaster, Massachusetts, according to court papers released last week.
"Tell my story fully, but never think anything besides how much I love you," he wrote to Jenkins-Hernandez in a note found by his body. In that note, he also told his fiancée "you're rich."
Hernandez had a $41 million contract with one of the NFL's top franchises when he was arrested in June 2013 and charged with murdering acquaintance Odin Lloyd. The team dropped him within hours.
Hernandez was convicted of that murder in 2015 and sentenced to life in prison without possibility of parole. A Massachusetts judge on Tuesday overturned that conviction, citing a state legal principle that allows a verdict to be vacated if the defendant dies before he has exhausted the appeals process. Prosecutors plan to appeal that decision.
Inmates said that idea had been the subject of prison gossip in the days before Hernandez's death, according to court papers, and local media have reported that Hernandez may have believed his fiancée could recoup some of the money he lost when the Patriots released him if his earlier conviction were overturned.
Dr. Phil asks that question in the interview, to be broadcast in two segments on May 15-16, according to advance excerpts provided by his show: "Did he kill himself so that you could collect $6.5 million?"
The excerpts do not indicate Jenkins-Hernandez's response and a CBS spokeswoman declined to comment on what she said. A lawyer for Jenkins-Hernandez did not immediately respond to a request for comment.