A Timeline of the Rise and Tragic Fall of Aaron Hernandez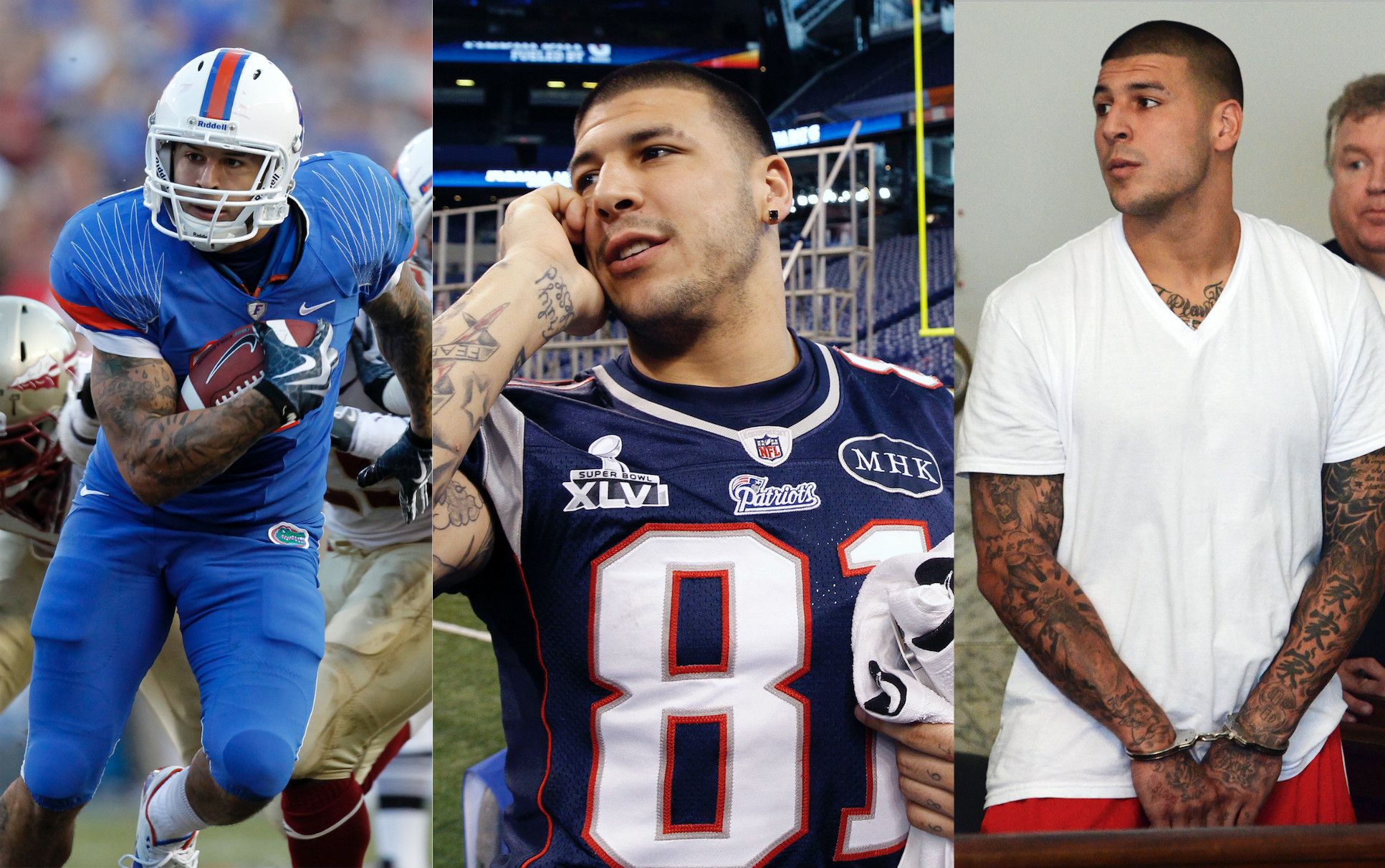 Former New England Patriots star Aaron Hernandez was found dead in his prison cell early Wednesday morning, bringing an end to one of the most sordid downfalls in the history of professional sports.
Hernandez was a standout for Connecticut's Bristol Central High School, the University of Florida and then the Patriots, but his world collapsed in 2013 when he was arrested and charged with the murder of Odin Lloyd. Though he was found not guilty last week of a 2012 double murder, Hernandez was still facing life in prison for the murder of Lloyd when he took his life at the age of 27.
The investigations into both murders brought to light a troubled past filled with a shocking amount of violence.
Related: Former NFL star Aaron Hernandez found hanged in prison cell
September 2006: Hernandez is named a high-school All-American after catching 24 touchdowns for Bristol Central High. He was also named Connecticut's Gatorade Football Player of the Year.
April 2007: Soon after enrolling at the University of Florida, Hernandez, then 17, refused to pay for two alcoholic drinks at a Gainesville bar. An argument with an employee ensued, and Hernandez punched the employee in the side of the head. A police report was filed, but Hernandez was not charged.
September 2007: Shots are fired into a car at a stoplight in Gainesville by what one of the victims described as a "Hispanic" or "Hawaiian" male with a large, muscular build and tattoos. The victim said that a black male was also present, whom he identified as Florida Gators safety Reggie Nelson. Nelson denied being present, and two days later, Gainesville police said that neither he nor Hernandez was a suspect. In July 2013, authorities investigating the murder case against Hernandez would reach out to Gainesville police in an attempt to determine if Hernandez was in fact involved in the 2007 shooting.
January 2009: After sitting out most of his freshman year, Hernandez caps an impressive sophomore season with a team-leading 57 receiving yards in the BCS National Championship Game, which the Gators win 24-14.
January 2010: Hernandez breaks out in his junior season at Florida, becoming a first-team All-American and winning the John Mackey Award as the nation's best tight end. After the season concludes, he announces that he will forgo his senior season and enter the NFL draft.
April 2010: The New England Patriots select Hernandez as the 113th pick of the draft. Hernandez wasn't expected to be available in the fourth round, but off-the-field concerns—including multiple failed drug tests while at Florida—caused several teams to pass on the All-American.
"He had multiple tests, so he either had issues or he's dumb," an NFL executive told The Boston Globe. "One or two tests? Fine. But four, five, six? Come on, now you've got an addiction. He's not a bad kid. He just has an issue."
January 2011: Hernandez enjoys an impressive rookie season, scoring six touchdowns on 563 receiving yards.
April 2011: Hernandez hosts a pair of events aimed at raising awareness for the lack of mental health treatment available to Hispanics in America. "I've been through a lot in my life, and I used psychologists along the way,'' Hernandez said. "There are not enough psychologists to help kids, especially in the Hispanic community. I feel like I could be an influence in a lot of kids' lives by being involved in this charity.''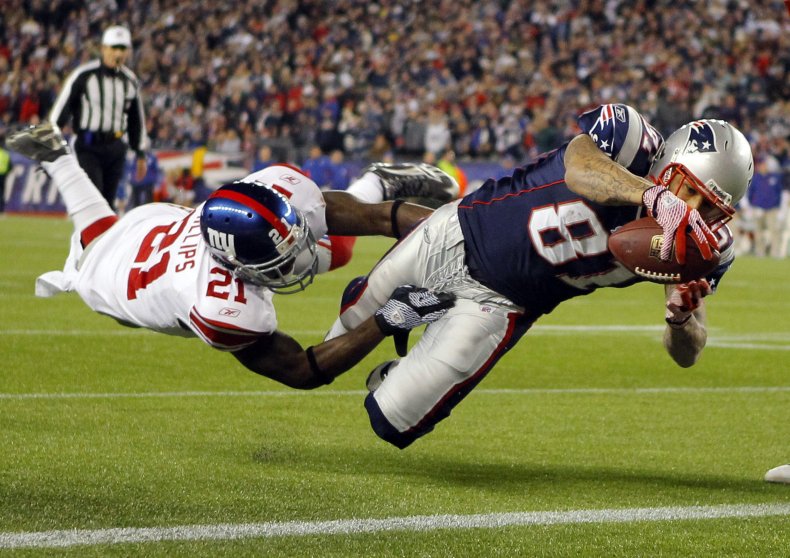 February 2012: In his second season, Hernandez helps lead the Patriots to the Super Bowl, where they would lose to the New York Giants. His seven touchdowns and 910 yards earn him a spot in the Pro Bowl.
July 2012: Two men, Daniel Jorge Correia de Abreu and Safiro Teixeira Furtado, are killed in a drive-by shooting in Boston. After Hernandez is charged with the murder of Odin Lloyd in 2013, investigators look into whether he could have been involved in the murders of de Abreu and Furtado as well.
August 2012: Hernandez signs a $40 million contract extension with the Patriots and then donates $50,000 to owner Bob Kraft's charity. "One of the touching moments since I've known the team— knowing that this is our charitable gala tonight—Aaron came into my office, a little teary-eyed and presented me with a check for $50,000 to go to Myra Kraft Giving Back Fund," Kraft said. "I said, 'Aaron, you don't have to do this, you've already got your contract.' And he said, 'No, it makes me feel good, and I want to do it.'"
January 2013: Hernandez plays only 10 games in his third season with the Patriots. He hauls in five touchdowns and 483 receiving yards.
February 2013: After partying with Hernandez at a Miami strip club, Alexander Bradley is found shot in Riviera Beach, Florida. Hernandez is later connected to the shooting, which left Bradley without a right eye.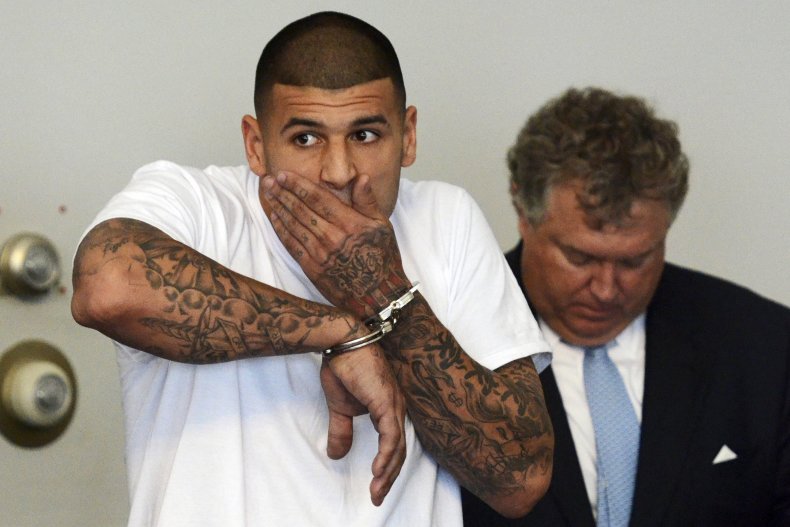 June 2013: The body of Odin Lloyd is found in an industrial park near Hernandez's home in North Attleboro, Massachusetts. Lloyd was a semi-pro football player who dated the sister of Hernandez's fiancée, Shayanna Jenkins. A video showed Hernandez with Lloyd the night of the murder, and after his home is searched twice by investigators, Hernandez is arrested and charged with murder.
Hours after the arrest, Hernandez is released by the Patriots. Shortly thereafter, the University of Florida begins to remove commemorations of his achievements at the school, including a brick honoring his selection to the All-American team.
"We didn't feel it was appropriate to celebrate Aaron Hernandez," the school said in a statement. "We put together an immediate plan after the initial news broke to remove his likeness and name in various private and public areas in the facility."
July 2013: The Patriots host a jersey exchange at Gillette Stadium in Foxborough, Massachusetts. Fans are allowed to trade in their Hernandez jerseys for the jersey of another player of their choice.
September 2013: Hernandez pleads not guilty to the murder of Lloyd.
April 2014: Hernandez is investigated for allegedly threatening to kill a prison guard.
May 2014: Hernandez is indicted in the 2012 double homicide of Daniel de Abreu and Furtado. He pleads not guilty.
That same month, Hernandez is charged with assault after fighting with a fellow inmate.
January 2015: The Odin Lloyd murder trial begins.
April 2015: Hernandez is found guilty of the first-degree murder of Lloyd. The conviction necessitates a sentence of life in prison without parole.
May 2015: Hernandez is indicted on a witness intimidation charge in relation to the 2013 shooting of Bradley. Bradley had allegedly given Hernandez reason to believe he knew about Hernandez's connection to the 2012 double homicide, which prompted Hernandez to shoot him in the face.
December 2015: Hernandez is moved to solitary confinement after prison guards find a shank in his cell.
April 2017: Hernandez is found not guilty in the 2012 double homicide of de Abreu and Furtado.
On April 19, five days after being found not guilty, Hernandez is found hanging from a bed sheet in his cell. He is pronounced dead at 4:07 a.m.