Aaron Hernandez Guilty of Murder, and of Wasting His Own Golden Life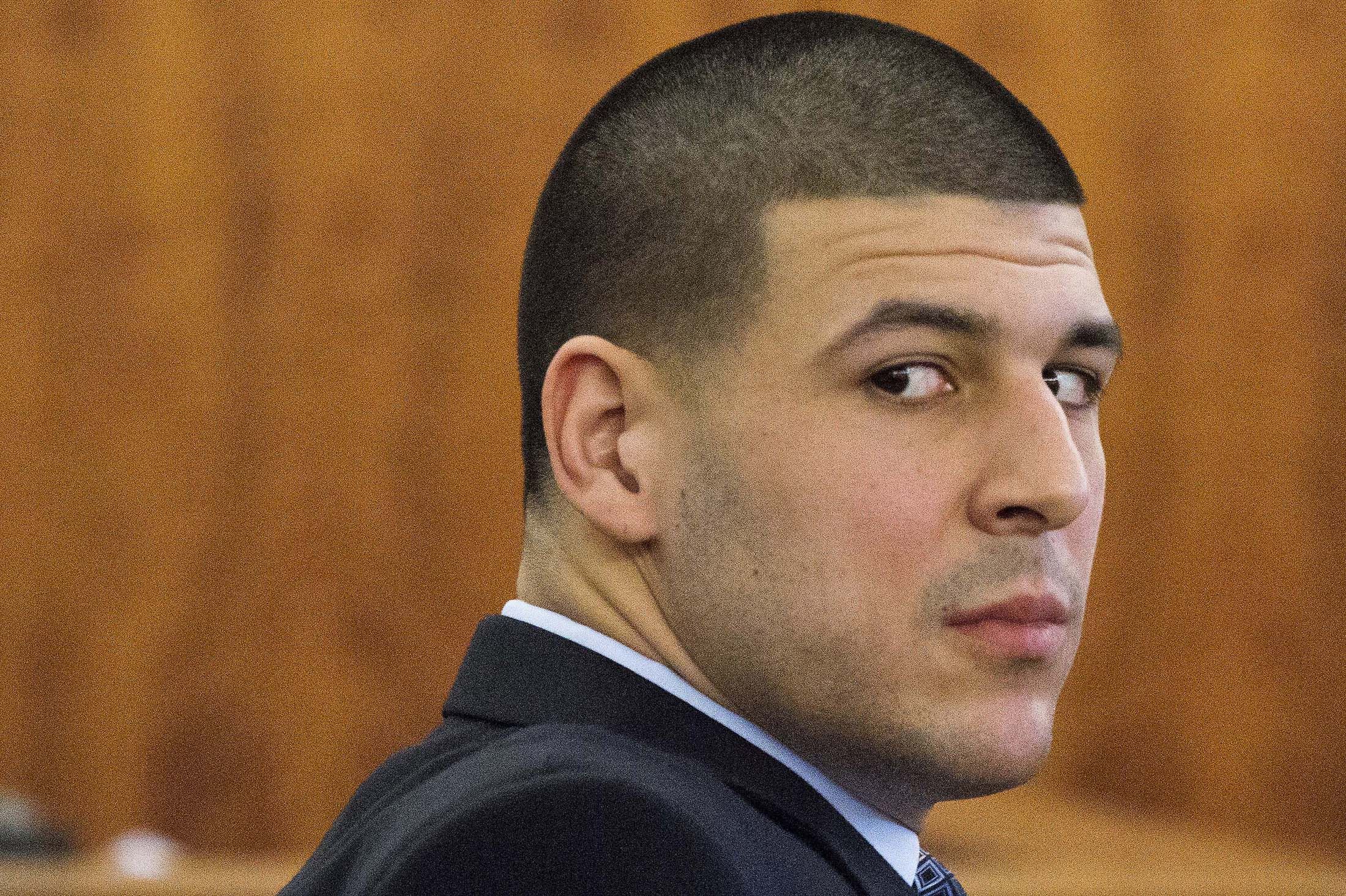 "He threw that one away."
You hear this every Sunday in autumn, from the mouths of both NFL announcers and bar stool analysts. In football parlance, it refers to a quarterback intentionally spiraling a pass out of bounds, far over the heads and beyond the grasps of any players on the field. The passer is wasting a down, but only to avoid a potentially more dire outcome, such as a sack or an interception. He threw that one away refers to having no desirable options and thus choosing the least undesirable.
On Wednesday morning, former New England Patriot tight end Aaron Hernandez was found guilty of the first-degree murder of Odin Lloyd. In the Commonwealth of Massachusetts, that verdict carries a mandatory sentence of life without parole. Hernandez threw that one away. He launched his life far beyond the field of play and into, as long as he lives, the inside of a jail cell. Why?
The tragedy of Hernandez's now wasted life is that there were no metaphorical pass rushers in his face. No imminent sacks or turnovers in his future. In the gridiron vernacular, he was running in the open field.
On June 17, 2013, in the predawn hours when Lloyd, 27, was shot five times, twice in the chest, Hernandez was 23 years old. A former All-American at the University of Florida, where he helped the Gators win the 2008 national championship, Hernandez had already played three seasons in the NFL.
The 6-foot-2, 255-pound stud was not selected until the fourth round of the NFL draft as questions—in hindsight, well-founded ones—swirled around his character. And yet the Bristol, Connecticut, native had dropped into the ideal professional situation. His quarterback was Tom Brady, one of the all-time greats, a designation that also fit his head coach, Bill Belichick. Hernandez may not have been the team's top tight end, but only because the Patriots' other player at that position, Rob Gronkowski, was the league's best.
The Pats had selected both tight ends in that 2010 draft, and it was not a matter of redundancy. Belichick placed both tall, strong and athletic receivers on the field at the same time, creating nightmares for opposing defensive coordinators. In their three seasons together, Gronkowski and Hernandez caught 187 and 175 passes, respectively. Hernandez had just 12 fewer receptions despite playing in five fewer games than his 6-foot-6 teammate due to injury.
As a tandem, Gronkowski and Hernandez were in the early stages of becoming an unstoppable weapon. In their second season, for example, they set NFL records for receptions (169), yardage (2,237) and touchdowns (24) by tight ends on the same team, as the Patriots advanced to Super Bowl XLVI. Hernandez even caught a 12-yard touchdown pass in that contest, but the Patriots lost to the New York Giants, 21-17.
Hernandez had youth, glory, outstanding physical gifts and, of course, wealth. The Patriots treasured the pair. During that 2012 offseason, New England signed "Gronk" to a six-year, $54 million extension, but Patriots owner Robert Kraft gave Hernandez no reason to feel neglected. In August, just days before the season would kick off, the Pats signed Hernandez to a five-year, $40 million extension that included a $12.5 million signing bonus.
Gronkowski's extension was the largest ever doled out to an NFL tight end, while Hernandez's signing bonus also set a new benchmark for the position. They were 24 and 23 years old, respectively. Their futures, and the Pats' for the next five seasons, were set.
There's a song by the rap group Geto Boys titled "Damn, It Feels Good to Be a Gangsta," and from what has been unearthed about Hernandez's past, both at the University of Florida and in New England, he subscribed to that credo. In addition to the Lloyd conviction, he was indicted last May for a double homicide in 2012.
Not long after Hernandez was arrested in June 2013, former Patriots teammate Matt Light was asked about him by the Dayton Daily News. Keep in mind that Light, a three-time Pro Bowl offensive tackle, played 11 seasons in New England and won three Super Bowls. "I never talk about other guys," said Light, "but I will say I have never embraced—never believed in—anything Aaron Hernandez stood for." Those are sentiments you never hear one professional athlete say about a teammate.
Last January 29, just a few days before the Patriots met the Seattle Seahawks in Super Bowl XLIX in Glendale, Arizona, Hernandez's murder trial commenced in Fall River, Massachusetts. During his opening statement, Michael Fee, Hernandez's defense attorney, asked jurors why a professional football player with that much money and "the world at his feet" would throw it all away.
"Why?" asked Fee. "Why would Aaron Hernandez do this?"
There is no good answer.