Lawyers Move to Quash Aaron Hernandez Murder Conviction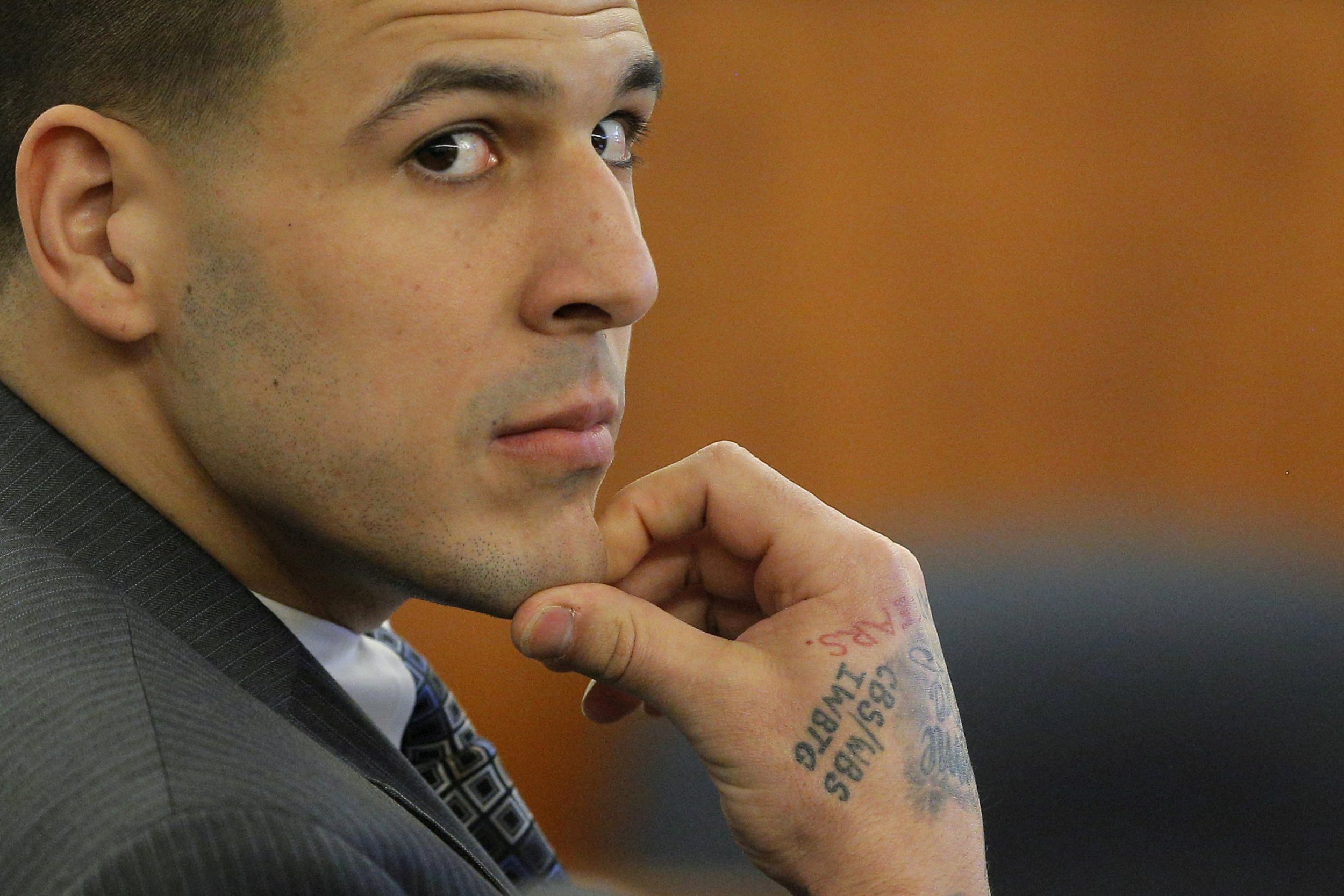 Lawyers for former New England Patriot Aaron Hernandez are asking for his first-degree murder conviction to be overturned following his death in prison.
Defense lawyers filed the motion on Tuesday, a spokesman for Bristol district attorney's office in Massachusetts told the Associated Press. Prosecutors will reportedly oppose it, according to the Boston Herald.
Hernandez, 27, hanged himself last week in a maximum security state prison, days after he was acquitted of shooting dead two men in Boston in 2012. He had been convicted in 2015 of the murder of Odin Lloyd, a semi-professional football player.
Courts in Massachusetts have previously ruled in cases in which a prisoner dies before their appeal is heard to overturn their conviction, argued the defense team in its filing. Hernandez' appeal against his conviction for the 2013 murder of Lloyd had not been heard at the time of the football star's death.
In the filing, the lawyers cite a 1993 case, in which it was ruled that "When a defendant dies while his conviction is on direct review, it is our practice to vacate the judgment and remand the case with a direction to dismiss the complaint or indictment, thus abating the entire prosecution."
Hernandez' funeral was held on Monday in his home-town of Bristol, Connecticut, and was attended by his wife, 4-year-old son, mother and brother.
A kidney fluid screen run during his autopsy has found traces of drug K2, also known as "spice", prompting a police raid Monday on the Souza-Baranowski Correctional Center in Shirley, where Hernandez took his own life.
In a statement, lawyers for the Hernandez family also denied reports that Hernandez had a gay lover while in prison.
Attorney Jose Baez described reports that Hernandez had written a suicide note to Kyle Kennedy, a 22-year-old armed robber with whom he allegedly had a romantic relationship while incarcerated, as "malicious untruths."
"I issued the statement yesterday as follows: 'Rumors of letters to a gay lover, in or out of prison, are false. These are malicious leaks used to tarnish someone who is dead,'" Baez said in a statement.
Kennedy's lawyer had requested on Monday that the note to be turned over to his client, reported the Washington Post.