The Aaron Hernandez Suicide: A Football Brain Injury Link?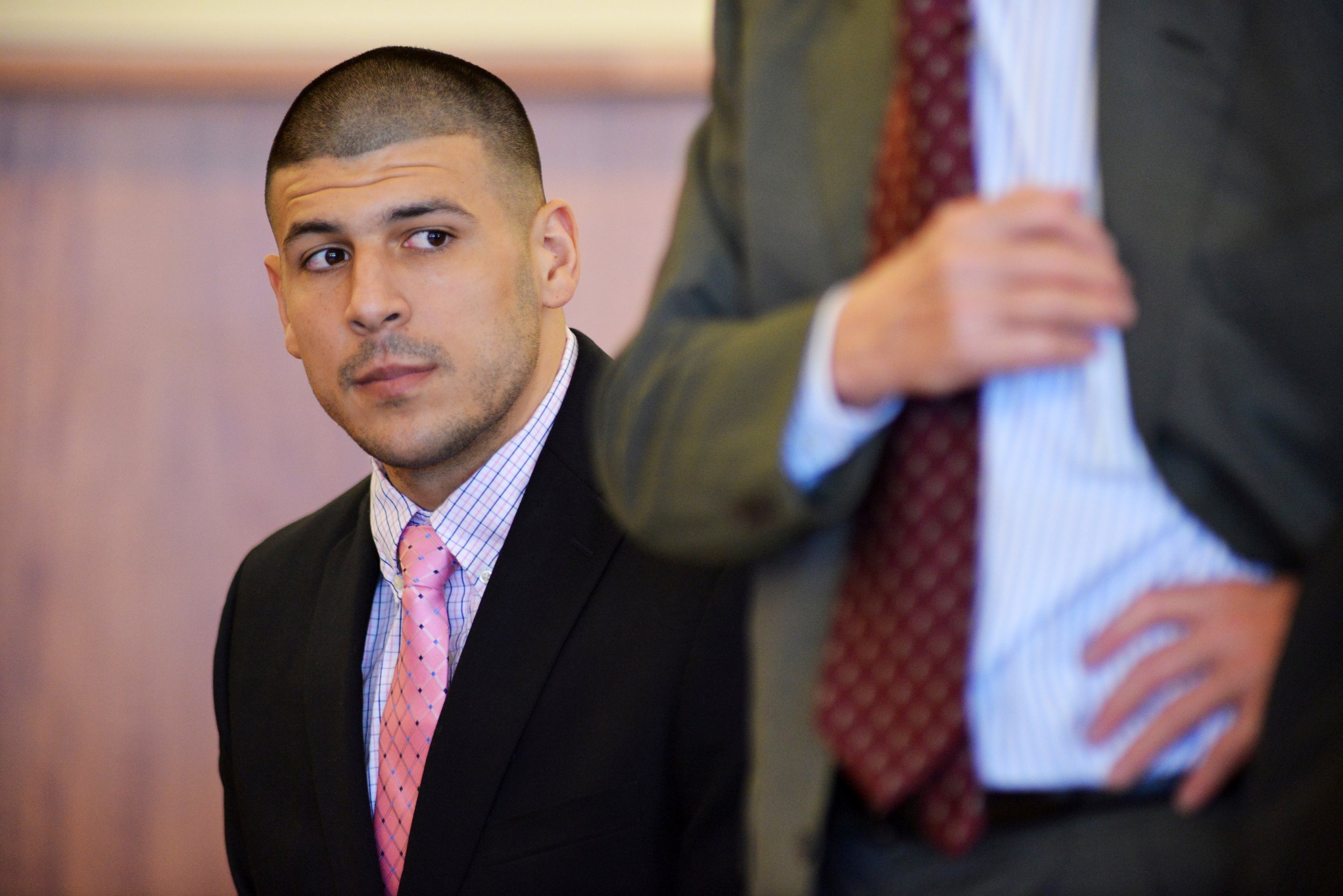 Boston University researchers will be studying the brain of Aaron Hernandez, the former football player who on April 19 was found to have died by suicide while in prison. If those researchers find evidence of chronic traumatic encephalopathy, or CTE, the former New England Patriots tight end would join the growing list of former professional football players afflicted by the brain disease—and the list of those who have died by suicide.
Related: Suicide fears rise in wake of Aaron Hernandez, '13 Reasons Why'
The CTE Center, part of the Boston University Alzheimer's Disease Center, is receiving the brain. The center has found evidence of CTE in 90 of the 94 brains of former professional football players it has studied. "What it means is there is a link between the types of hits that some football players experience and the development of this brain disease later in life," the director of clinical research at the center, Robert Stern, a professor at the Boston University School of Medicine, told Newsweek in 2015. (At the time, 76 of the 79 brains of football players the center had studied indicated CTE. A representative for the center declined an interview request about Hernandez.)
Hernandez took his life while in prison serving a life sentence for murder. Days earlier, a jury had found him not guilty in a separate double homicide case. It is unclear whether Hernandez suffered a brain injury as a football player, but statistics suggest it is likely. In a 2016 study of 40 retired National Football League (NFL) players, 43 percent showed evidence of traumatic brain injury. There is a link between such injuries and suicide. In a 2016 study published in the Canadian Medical Association Journal, researchers counted three times as many suicides among patients who had suffered concussions than in the general population. The researchers analyzed data for more than 200,000 patients over a 20-year period.
An earlier study of more than 400,000 United States veterans who sought care from the Veterans Health Administration, published in 2011 in the Journal of Head Trauma Rehabilitation, found that patients with a history of traumatic brain injury were nearly twice as likely to die by suicide than those without such an injury. A 2001 Danish study of nearly 150,000 people, published in the Journal of Neurology, Neurosurgery and Psychiatry, also found a higher suicide rate among people with a traumatic brain injury. Those researchers attributed that higher rate to "the physical, psychological and social consequences of the injuries."
Several former professional football players who died by suicide have had expected or confirmed cases of CTE. That list includes Jovan Belcher (who, like Hernandez, had committed a murder), Ray Easterling, Dave Duerson, Andre Waters, Junior Seau and Rashaan Salaam. Hernandez's death perhaps most mirrors that of former football player Lawrence Phillips, who also hanged himself in his maximum security prison cell following a milestone in a murder case. The CTE Center is studying his brain, too.
"The list goes on and on of football players who have committed suicide," says Karen Kinzle Zegel, who started the Patrick Risha CTE Awareness Foundation, a nonprofit, after the suicide of her son, a high school and college football player who had CTE. "A life of hitting your brain can lead to horrible things, and this is a perfect example."
"I think there is a link," says Dr. Brent Masel, national medical director for the Brain Injury Association of America, even if research is lacking. Masel blames the paucity of information on CTE being traceable only through an autopsy, which is not always performed following a suicide.
But besides those high-profile cases, the connection between CTE and suicide is not as definitive as that between brain injuries and suicide. "More work needs to be done to understand if there is truly a link," says Christopher Nowinski, a former professional wrestler who is co-founder and CEO of the Concussion Legacy Foundation, which focuses on brain trauma in athletes and people in other groups. CTE may develop from an injury, but not every case involves a documented concussion, according to Nowinski. "We need to tease out if there is a link, is it due to the initial insult or due to the progressive degenerative condition," he says.
Grant Iverson, director of the Sports Concussion Program at MassGeneral Hospital for Children, among other affiliations, is also skeptical of the CTE-suicide link. "In recent years, suicide has been widely cited as being associated with CTE," he wrote in a 2015 article published in the Journal of Neuropsychiatry and Clinical Neurosciences. "This evolution of the clinical features has been reinforced by thousands of media stories." But he called the science behind the supposed correlation "inconclusive," and he said that NFL players are actually at lower risk for suicide, not higher.
Concern over brain injuries sustained playing football has grown in recent years. In 2015, a U.S. district court first approved a settlement between the NFL and retired players who said the league had not adequately warned them about the risks from brain injuries. Former players and other claimants could begin submitting claims in March.
Speaking with the Associated Press, Jose Baez, the lawyer for Hernandez in the double murder case, would not say whether Hernandez's family believes that there is a connection between any football injuries and the suicide. "We're not suggesting anything," he said. "You go where the evidence takes you. We need to examine every aspect of this case." (Through a representative, Baez declined Newsweek's interview request.)
Michael McCann, a professor at the University of New Hampshire School of Law, points out in Sports Illustrated that a finding of CTE could help Hernandez's estate defend against ongoing civil lawsuits filed by family members of his victims and alleged victims. It could also help his estate sue the NFL for wrongful death, as Seau's family did after his 2012 suicide, McCann writes.
Hernandez's football career isn't the only factor that may have increased his risk for suicide; incarcerated people take their lives at a higher rate than the general population. But suicide prevention advocates caution people against searching for a single answer as to why a person took his or her life. "There is never a single cause for suicide," the American Foundation for Suicide Prevention said in a statement. "Suicide is the result of many factors that come together, such as an underlying mental health condition and access to lethal means."