Aaron Hernandez Autopsy: K2 Synthetic Marijuana Found in His Body After Suicide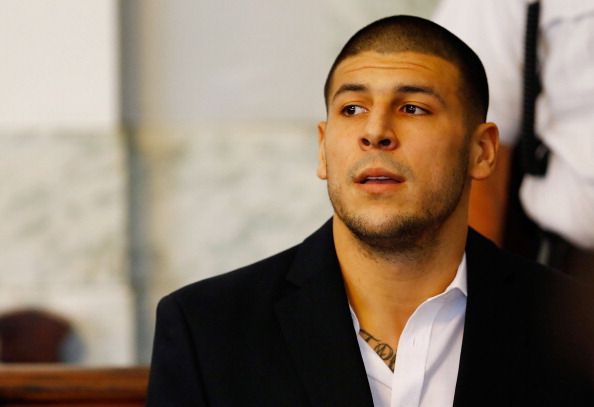 The body of former New England Patriots star Aaron Hernandez, who was serving a life sentence for murder when he hanged himself on April 19, tested positive for K2, a synthetic form of marijuana, according to two law enforcement sources with direct knowledge of the case.
A kidney fluid screen conducted during an autopsy showed traces of the drug, the sources said.
That news prompted a State Police raid at the Souza Baronwski Correctional Center (SBCC) in Lancaster, Massachusetts on Monday, multiple sources say. (Like others who spoke to Newsweek for this story, they asked for anonymity because they weren't authorized to speak to the press.) Dozens of Massachusetts State Police troopers assigned to the State Police Emergency Response Team and Tactical Operations Team searched the SBCC—the jail where Hernandez died last week—looking for contraband, including paper soaked with the synthetic marijuana known as K2, the sources told Newsweek.
Related: Aaron Hernandez's sex life probed as murder motive, police source says
The comprehensive search came days after Hernandez was found dead in his cell on April 19 at 3:03 a.m., the same day some of his former teammates on the New England Patriots traveled to the White House to be congratulated by President Donald Trump for their 2017 Super Bowl victory. Inmates at SBCC had told investigators Hernandez may have been high on K2 the morning he killed himself.
Department of Correction sources say it is unusual for state troopers to conduct an SBCC prison search, and that the presence of DOC Internal Affairs officials and the department's Commissioner Thomas Turco indicates a wide-scale investigation is underway at the prison, where one correction officer has already been "detached with pay" after being accused of missing a round at 2 a.m. Hernandez was found dead at 3:03 a.m. There was also a "shakedown of the warehouse" shared by SBCC and a second prison, MCI-Shirley, the sources said. Both inmates and DOC employees work in that warehouse, which is used to store dry goods before they go into the prison, DOC sources confirm.
Among the items officials were looking for were liquefied drugs such as K2, which can be smuggled into prison by dipping corners of paper into the drug and mailing that piece of paper as a letter, the sources tell Newsweek.
In other developments relating to Hernandez's suicide, the lawyer for Kyle Kennedy confirmed that his client, described by multiple law enforcement sources as the prison boyfriend of Hernandez, was the intended recipient of one of the three letters found in the cell where the one-time NFL standout hanged himself.
"My client is obviously saddened by the loss of his friend, Aaron Hernandez," Larry Army, Jr. said in a statement released on Monday. "A letter was left to my client but neither I, nor my client, have seen the letter. We will be requesting that the letter be turned over to my client as soon as possible."
The existence of this letter was first reported by Newsweek on April 21. Hernandez and Kennedy did not share a cell, but Kennedy was put on suicide watch after Hernandez's body was discovered. Kennedy's lawyer says his client is no longer under observation, and never exhibited any signs of "risky behavior" related to the death of Hernandez.
Earlier on Monday, a Bristol Superior Court judge ordered Worcester County District Attorney Joseph Early's office to turn all three letters over to the Hernandez family after information pertaining to the investigation into his suicide is redacted, according to the family's attorney.
Kennedy is a 22-year-old convicted armed robber arrested in 2015 for holding up a gas station with a large butcher knife. Prosecutors said he led police on a high-speed chase, and tried to escape from the police station where he was being booked.
Hernandez was buried on Monday in his hometown of Bristol, Connecticut in a private funeral.
The night he died, Hernandez scrawled out those three notes—one to his fiancé, the mother of his little girl, one to that daughter and a third to Kennedy, his lawyer confirmed—and put them near a Bible that was opened to the New Testament, John 3:16: "For God so loved the world that he gave his one and only son, that whosoever believes in him would not perish but have eternal life." Hernandez also had the verse scrawled on his forehead with red ink. He made marks on his hands and feet, perhaps mimicking the stigmata associated with the crucifixion of Jesus Christ.
The 27-year-old serving a life sentence without the possibility of parole for murder also jammed the rail of his cell door with cardboard to prevent guards from coming in, slicked his cell floor with liquid soap and shampoo (which investigators believe he did in case he lost his nerve), wrapped a bed sheet around his neck multiple times and then tied it to a bar on the window of his cell.