Aaron Hicks Signs Seven-Year, $70-Million Extension With New York Yankees
Aaron Hicks has signed a seven-year extension with the New York Yankees, which will keep him with the team until 2025.
The franchise announced the deal Monday and while they did not disclose financial terms, they indicated the agreement includes a team option for 2026.
ESPN and NBC Sports both reported that the outfielder will make approximately $70 million over the seven years.
Since he was traded to New York from the Minnesota Twins in exchange for John Ryan Murphy in November 2015, Hicks has established himself as a key player for the Yankees.
Over the last two seasons, the 29-year-old has combined to hit .255 with 42 home runs, 131 RBIs and .838 OPS .
Last year, Hicks batted .248 and recorded career-highs in terms of home runs and RBIs with 27 and 79, respectively.
"He's a big part of this team and a big part of our success [...] I always love playing by him," Yankees right fielder Aaron Judge was quoted as saying by ESPN.
"To hear he got seven years, we'll be playing together for a long time."
Hicks was scheduled to become a free agent next season but the Yankees' decision to sign him to a seven-year extension divided opinions.
Some praised the move, as it means the Yankees now have two outfielders in Hicks and Giancarlo Stanton tied into long-term contracts. Others echoed the thoughts, suggesting the Yankees had successfully locked a player they clearly value into a long-term extension without breaking the bank.
Predictably, not everyone shared the opinion. Red Sox fans in particular did not waste time in poking fun at their bitter rivals for handing a player who will be 30 in October such a long extension, while others wondered whether the deal was as team-friendly as it appeared.
The dynamics of the free agent market have changed dramatically over the last two seasons and it is unlikely Hicks would have signed early for a $10 million average annual salary in the past.
Over the weekend, Red Sox outfielder J.D. Martinez criticized the stagnant free agent market, branding it embarrassing for baseball.
"It's embarrassing for baseball, it really is," he was quoted as saying by Boston radio station WEEI .
"It's really embarrassing for the game. You have a business. They say, 'The market is down, the market is changing.' The market is higher than it's ever been. People are making more money than ever, and they're trying to suppress it. It's more of a race towards the bottom now than a race towards the top."
News of the deal for Hicks, which was first reported by the YES Network, follows a similar extension the Yankees handed out to Luis Severino earlier this month.
The 25-year-old pitcher signed a four-year deal worth a guaranteed $40 million to extend his stay with the Yankees, the franchise with whom he's played since making his MLB debut in 2015, until 2022.
The package includes a $15 million option for 2023 with a $2.75 million buyout clause.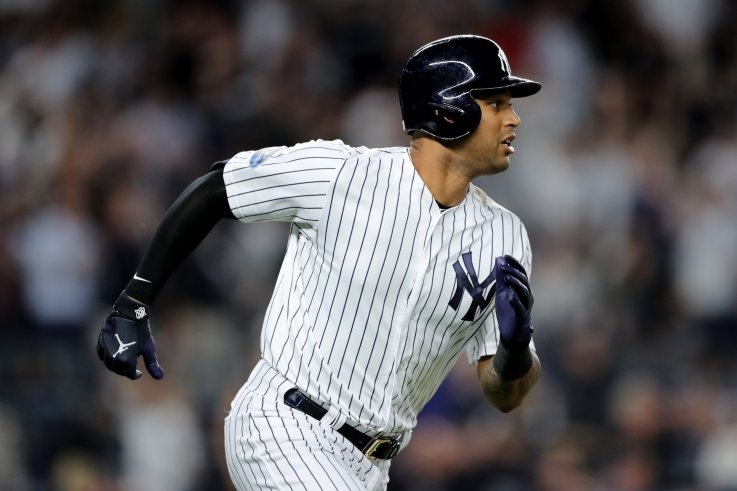 Aaron Hicks Signs Seven-Year, $70-Million Extension With New York Yankees | Sports