Aaron Judge Hit 62 Home Runs: Will He Now Get a Record-Breaking Contract?
Aaron Judge of the New York Yankees hit his 62nd home run of the year on Tuesday, breaking an American League record for single-season homers set in 1961 by Yankee Roger Maris.
With his historic season, Judge may also break another record when he becomes a free agent this offseason. Contract experts who spoke with Newsweek believe the slugger could very well not only sign the biggest deal in baseball but perhaps in all of sports history.
Judge turned down a contract extension from the Yankees at the beginning of the 2022 season that was reportedly worth $213.5 million. As a result, he stands to land a bigger offer when the season concludes, especially since many baseball fans argue that his 62 home runs should represent the record for all of baseball and not just the American League. Above Judge on MLB's all-time single-season home run list are Barry Bonds, Mark McGwire and Sammy Sosa of the National League—all of whom have been accused of taking performance-enhancing drugs.
Leigh Steinberg, who has been a top sports agent for more than 40 years, believes Judge could easily command the largest contract any athlete has ever signed.
"He's unique, and he's an offensive juggernaut," Steinberg told Newsweek.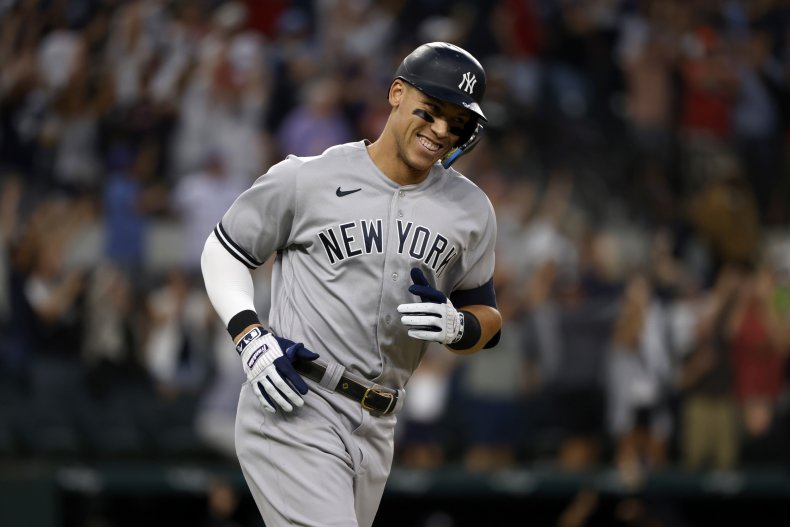 Along with his home run-hitting prowess, Judge also possesses an overall excellent batting average, can run the bases well and has a powerful defensive arm, Steinberg noted.
In fact, Judge could also win baseball's Triple Crown if he finishes the season with the lead in batting average, home runs and runs batted in (RBI).
Molly Fletcher, a former premier sports agent turned motivational speaker, said taking the Triple Crown would add more value to Judge's contract.
"These are stats, essentially achievements, that strengthen his position," Fletcher told Newsweek.
Steinberg stressed the way Judge carries himself off the field will also play a big part in a massive contract.
"One other thing is he has no character issues. There are no owners who are going to wake up in the middle of the night worrying about whether he'll be out partying or arrested for drunk driving," Steinberg said. "He's popular with his teammates. He's a good team player. He's unselfish, and there's no controversy around him."
Steinberg continued, "He's a real box office attraction, and he's one of the few players in baseball that people will pay to go see."
Fletcher agreed about Judge's reputation, saying it "[a]bsolutely plays an important role—especially under the bright lights and pressure of New York."
"With a massive contract, you want fans to come to the ballpark, watch games, buy merchandise, and be excited about the acquisition in addition to the value he brings on the field and in the clubhouse," Fletcher said.
When asked for a ballpark guess for what Judge may receive, Fletcher said she figured the number would be "well above" $400 million. Steinberg ventured it "could be something in the range of 10 years, $500 million."
Fletcher and Steinberg both agreed that other teams will make offers to Judge. Steinberg, though, was firm in thinking Judge will ultimately remain where he is.
"It's New York," Steinberg said. "Were they to lose him, they face a disappointed and angry fanbase."