Derek Jeter With Babe Ruth's Swing: Yankees Fans Already Breathless About Aaron Judge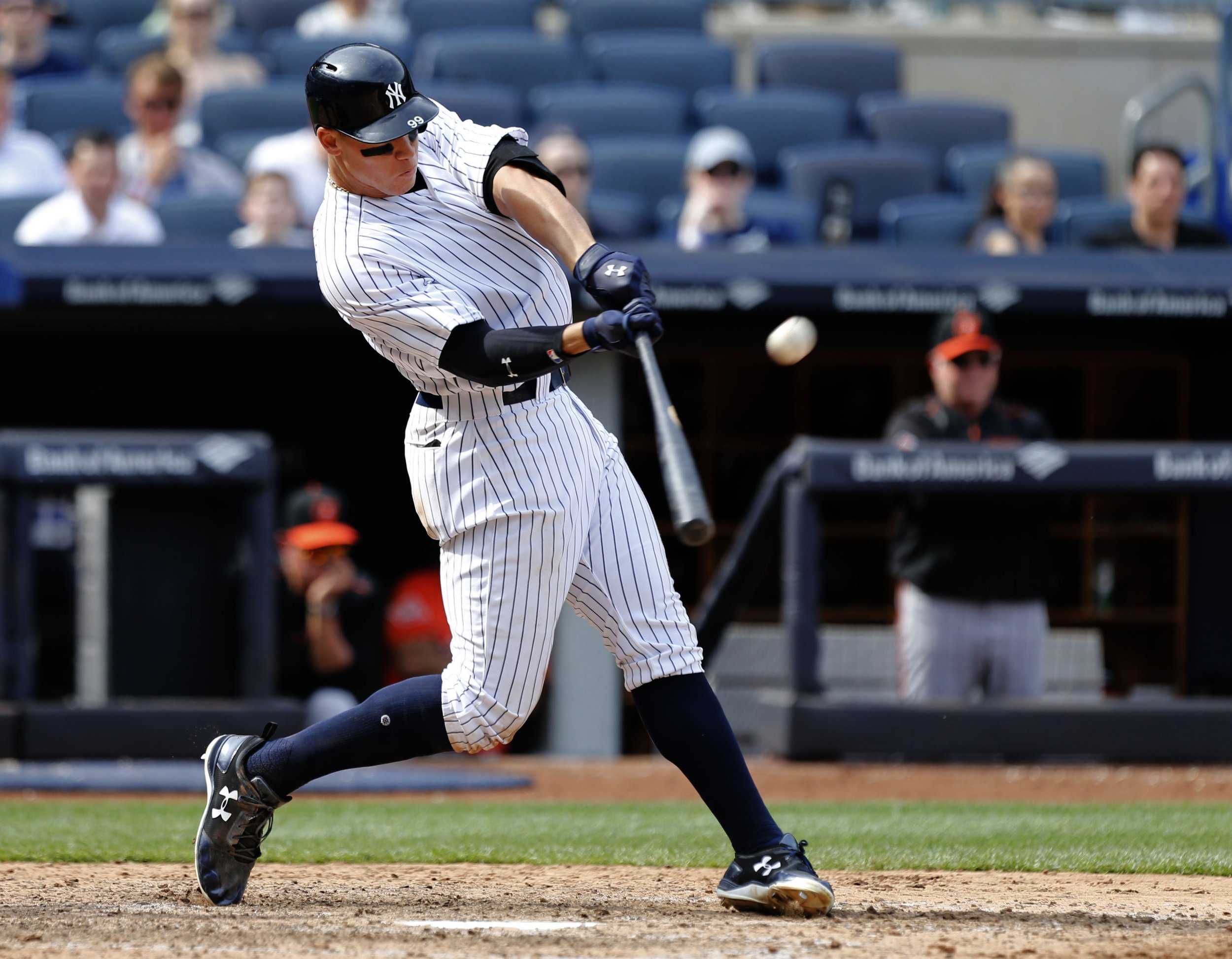 It's not as if the New York Yankees have never played a slugger in the outfield before. And it's not as if Major League Baseball has never had a home-run king named Aaron. However, less than five weeks into the season, the Bronx Bombers and baseball are rightfully agog over the magnificent missiles launched by right fielder-in-pinstripes Aaron Judge.
The 6'7", 282-pound rookie leads the Major Leagues in home runs (13), but the frequency of his blasts pales in comparison to their majesty. There are four-baggers and then there are screamers, escape-velocity rockets. Take, for example, the comet Judge unleashed last Friday night against the Baltimore Orioles, a dead-center-field shot that erupted off his bat at 119.4 miles per hour. According to Statcast, that was the hardest-hit home run that the technology has recorded since it was introduced two years ago.
Related: Derek Jeter is Seinfeld, haters are Newman
Two weekends ago in Pittsburgh, Judge launched a 460-foot parabola that was his longest of the season. Again, some sluggers hit home runs; Judge sends baseballs on flights that offer business and first-class seats. "[Aaron] is just a humongous human being that has out-of-this-world power," Yankees third baseman Chase Headley told ESPN recently. "Five-hundred- fifty-feet is not out of the question. If there is nothing in the way, he is hitting it 550."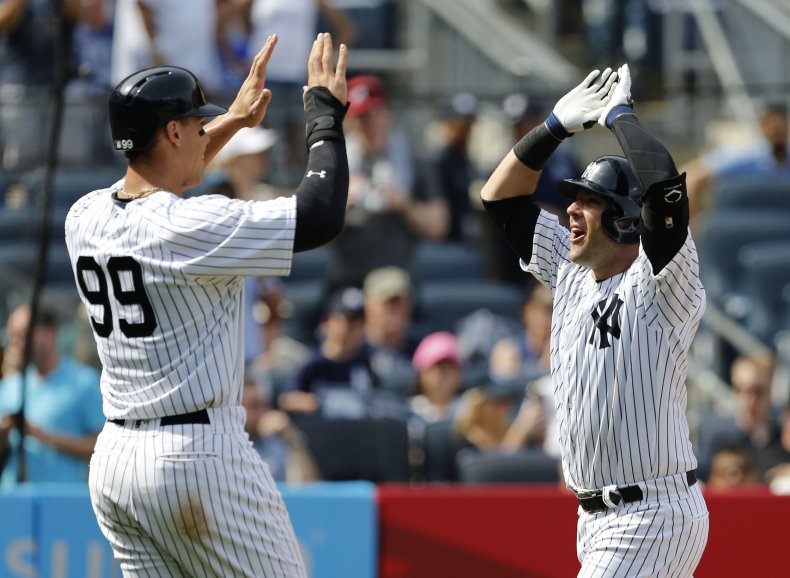 Headley is talking in terms of feet, but then again who knows? Volume? The Yankees are 11-0 in games in which Judge has gone yard, including having erased deficits of eight and four runs during the recent homestand. Judge, who turned 25 last week, is the youngest player in Major League history to hit 13 home runs in his team's first 26 games. The Yankees are in first place in the American League East as they travel to Chicago this weekend to face the world-champion Chicago Cubs.
A buzz has returned to the Bronx that extends beyond the confines of Stan's Sports Bar (a popular pre-game watering hole), thanks primarily to Judge. Earlier this week, manager Joe Girardi, ordinarily circumspect in his praise, even invoked the "D-word" in addressing Judge's prospects. "He's a little bit like Derek [Jeter] to me," Girardi said last Monday. "He's got a smile all the time. He loves to play the game. You always think that he's going to do the right thing on the field and off the field when you look at him. He's got a presence about him. He plays the game to win all the time, and that's the most important thing. It's not about what you did that day.
"And I understand that's a big comparison, but I remember Derek when he was younger and he grew into that leadership role. But that was Derek. Derek loved to have fun and loved to laugh and loved to play the game and always had a smile on his face. He was energetic. And that's what I see from this kid. I see him doing things the right way on and off the field, and that's the way Derek was as well when he was young."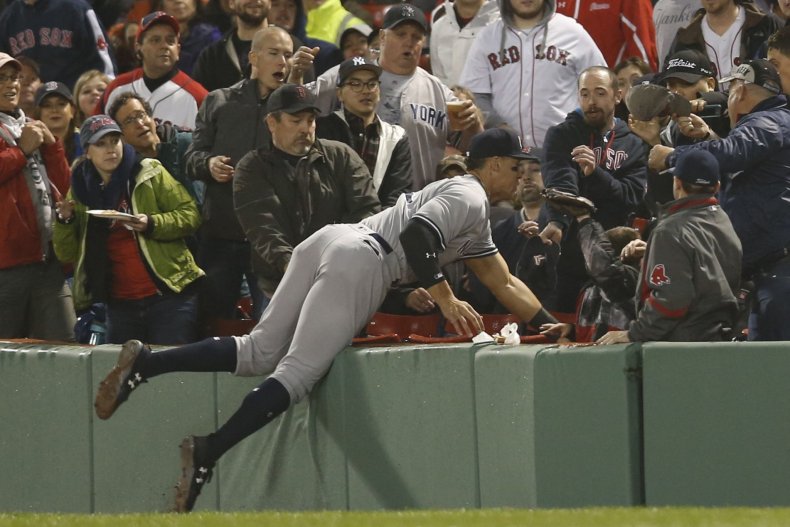 Told of his skipper's comments, Judge, betraying his Jeter-ness, replied, "There's only one Derek Jeter...I'm trying to be the best Aaron Judge I can be."
He is a superior Aaron Judge to the one who played the final six weeks for the Yankees last season. Although Judge hit a home run to Monument Park (i.e., dead-center field in Yankee Stadium) in his first Major League at-bat last August 13, he also struck out 42 times in 84 at-bats (he was whiffing .500). When the season ended, the Yankees and their fans were far more enthused about the prospects of fellow August call-up Gary Sanchez, a catcher who belted 20 home runs in only 53 games, than they were about Judge.
Last month, in the season's fifth game, Sanchez strained an arm muscle and was put on the disabled list. The Yankees were 1-4 at the time and Judge had yet to hit a home run. They are 16-5 since and Judge, whose gargantuan build makes him the rare baseball player who looks right wearing "99" on his back, has led the surge. Meanwhile, not unlike Jeets, a mythology of sorts is already building around the Yankee round-tripper: During batting practice on Tuesday, Judge crushed a baseball that not only landed in the bar located beyond the center field wall, it smashed a flat-screen TV inside. The Yankees have no plans to replace the screen. It's the first monument to Judge in a stadium that is flush with them.