Aaron Rodgers has issued an apology to his reported ex-fiancée, Shailene Woodley, for the residual backlash she faced over his COVID vaccine stance.
The Green Bay Packers quarterback, 38, faced criticism late last year when, after testing positive for the novel coronavirus, he revealed that he had not been vaccinated as he expressed skepticism about the vaccine's efficacy.
His comments were all the more controversial because he told reporters back in August 2021 that he had been immunized against COVID-19, though he didn't detail how. He isolated for 10 days in November 2021 after testing positive for COVID-19.
During an appearance on SiriusXM Radio's The Pat McAfee Show on Tuesday, the sportsman accepted that he owed an apology to actress Woodley, 30, and other "loved ones" for being caught in the "shrapnel" of his backlash.
He said, per Entertainment Tonight: "One thing that I am sad about and definitely apologetic is I didn't realize in the midst of the COVID conversations how much my situation was affecting my loved ones and my people.
"I didn't realize the kind of shrapnel that was being flaked off of what I felt like were the bullets coming at me because I was too locked in on me and defending myself and trying to get a message out."
"I never wanted to be divisive in this whole thing, I really didn't," the California-born sports ace went on. "The issue is polarizing, I get that and I know there's a lot of fear involved around that, but my intention was never to be divisive."
Directly naming Big Little Lies star Woodley, he said: "I am very sorry to those people, Shai and my loved ones. I didn't realize the kind of shrapnel they'd be taking...
"Understanding kind of the entire gravity of the situation I was thrust into and decided to speak on multiple times had an effect on a lot of people. To those people, I just say I'm sorry."
The interview came one day after Rodgers expressed his love for Woodley in a "#MondayNightGratitude" Instagram post dedicated to "the incredibly special people in [his] life."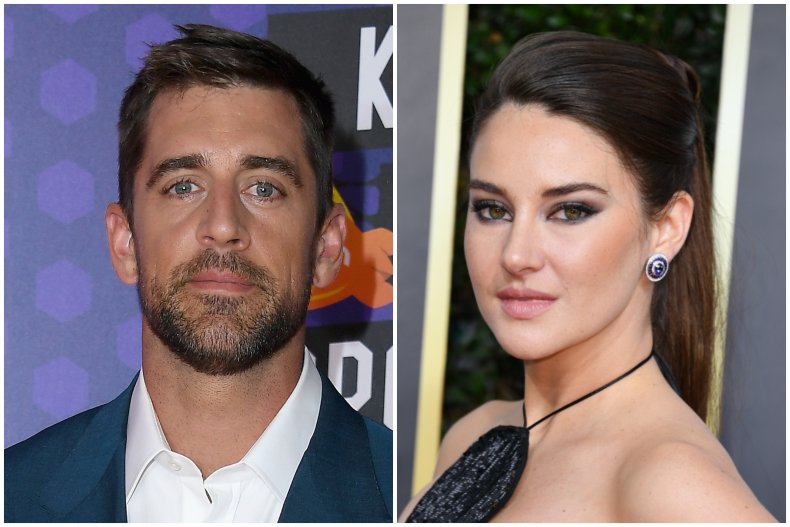 He captioned a photo of himself and the actress posing together: "@shailenewoodley, thanks for letting me chase after you the first couple months after we met, and finally letting me catch up to you and be a part of your life.
"Thanks for always having my back, for the incredible kindness you show me and everyone you meet, and for showing me what unconditional love looks like, I love you and am grateful for you."
It was last week reported by multiple outlets, including Entertainment Tonight and People, that Rodgers and Woodley have called off their engagement and split up.
Newsweek has contacted representatives of Rodgers and Woodley for comment.
In 2021, when Rodgers spoke about his reluctance to take the COVID vaccine, he said that it could stand to affect his fertility, though he didn't cite any studies to support that particular theory.
According to the Centers for Disease Control and Prevention (CDC), no clinical research has linked any of the vaccines approved for use in the U.S. to male infertility.
While the Johnson & Johnson COVID-19 vaccine has been linked to cases of blood clots in adult women younger than 50, the CDC has stated that blood clots in male vaccine recipients are rare.
According to an Oxford University study published in August 2021, the risk of developing blood clots is "substantially higher" from COVID-19 infections than from any possible side effects of taking the vaccine.
After testing positive for COVID, Rodgers said that he had been taking the anti-malaria medication hydroxychloroquine and the anti-parasite medication ivermectin to treat his symptoms. According to medical authorities, neither medication has any proven effect on alleviating COVID symptoms.
As he faced backlash for his stance, Rodgers spoke out against vaccine mandates, as he insisted that what happens to his body should be his personal choice.
"I'm not some sort of anti-vax, flat-earther," Rodgers told McAfee in November. "I believe strongly in bodily autonomy and the ability to make choices for your body, not to have to acquiesce to some sort of woke culture or crazed individuals who say you have to do something."
During another appearance on McAfee's podcast in November 2021, Rodgers said: "I made some comments that people might have felt were misleading and to anyone who felt misled by those comments, I take full responsibility for those comments."
In November, the NFL fined the Green Bay Packers, Rodgers and his teammate Allen Lazard, for violating COVID-19 protocols. The Packers organization was ordered to pay $300,000, while Rodgers and Lazard were fined $14,650.