Aaron Rodgers Claps Back at NFL Awards Voter for Early MVP Snub of Superstar Quarterback
Green Bay superstar quarterback Aaron Rodgers on Wednesday struck back at the NFL awards voter who said publicly that voting for him as most valuable player would be "honoring the biggest jerk in the league."
"I think he's a bum. I think he's an absolute bum," Rodgers said after a reporter asked him about the comments made by Hub Arkush during a discussion Tuesday on 670 The Score, a Chicago-based radio station. Arkush is one of 50 voters of the Associated Press' yearly NFL awards and an editor for Pro Football Weekly.
"His problem isn't with me being a bad guy or the biggest jerk in the league because he doesn't know me. He doesn't know anything about me. I've never met him. I've never had lunch with him. I've never had an interview with him," Rodgers said. "His problem is I'm not vaccinated ... so if he wants to go on a crusade and collude and come up with an extra letter to put on the award just for this season and make it a most valuable vaccinated player then he should do that."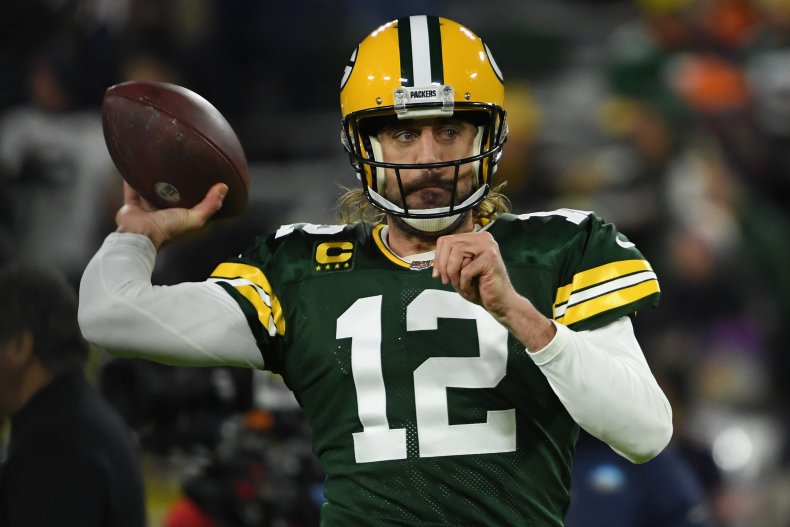 Rodgers' comments were posted via tweet by Ari Meirov on @MySportsUpdate. Meirov covers the NFL for Pro Football Focus.
During the Tuesday radio program, the Chicago area-writer said Rodgers has "punished" the NFL, the Green Bay Packers organization and the team's fan base this season with his off-the-field actions. He also suggested other players were just as valuable as Rodgers.
"Has he been the most valuable on the field? Yeah, you could make that argument, but I don't think he is clearly that much more valuable than Jonathan Taylor or Cooper Kupp or maybe even Tom Brady," said Arkush. "So from where I sit, the rest of it is why he's not gonna be my choice. Do I think he's gonna win it? Probably. A lot of voters don't approach it the way I do, but others do, who I've spoken to."
It was in November that Rodgers revealed his preseason comments about being "immunized" were more accurately about receiving an unsanctioned treatment regimen against COVID-19 rather than receiving the vaccination.
Rodgers hadn't participated in the Packers' offseason program and stories about his potential retirement floated in the press. When it was later revealed he wasn't vaccinated, Rodgers responded to critics, many from the media, saying it was his belief that everyone should have autonomy over their own body.
On Wednesday, Rodgers found himself once again defending himself off the football field.
"To say he had his mind made up in the summertime, in the off-season I had zero chance of winning the MVP in my opinion should exclude future votes," added Rodgers, referring to Arkush's voting ability. "It's surprising he'd even say that to be honest."
Rodgers has thrown for 3,977 yards and 35 touchdowns with only four interceptions in 15 games this season. He missed one game after testing positive for COVID-19. The NFL's regular season wraps up this weekend, with the 13-3 Packers taking on the Detroit Lions.