Aaron Rodgers Contract: Packers QB Becomes Highest Paid Player in NFL History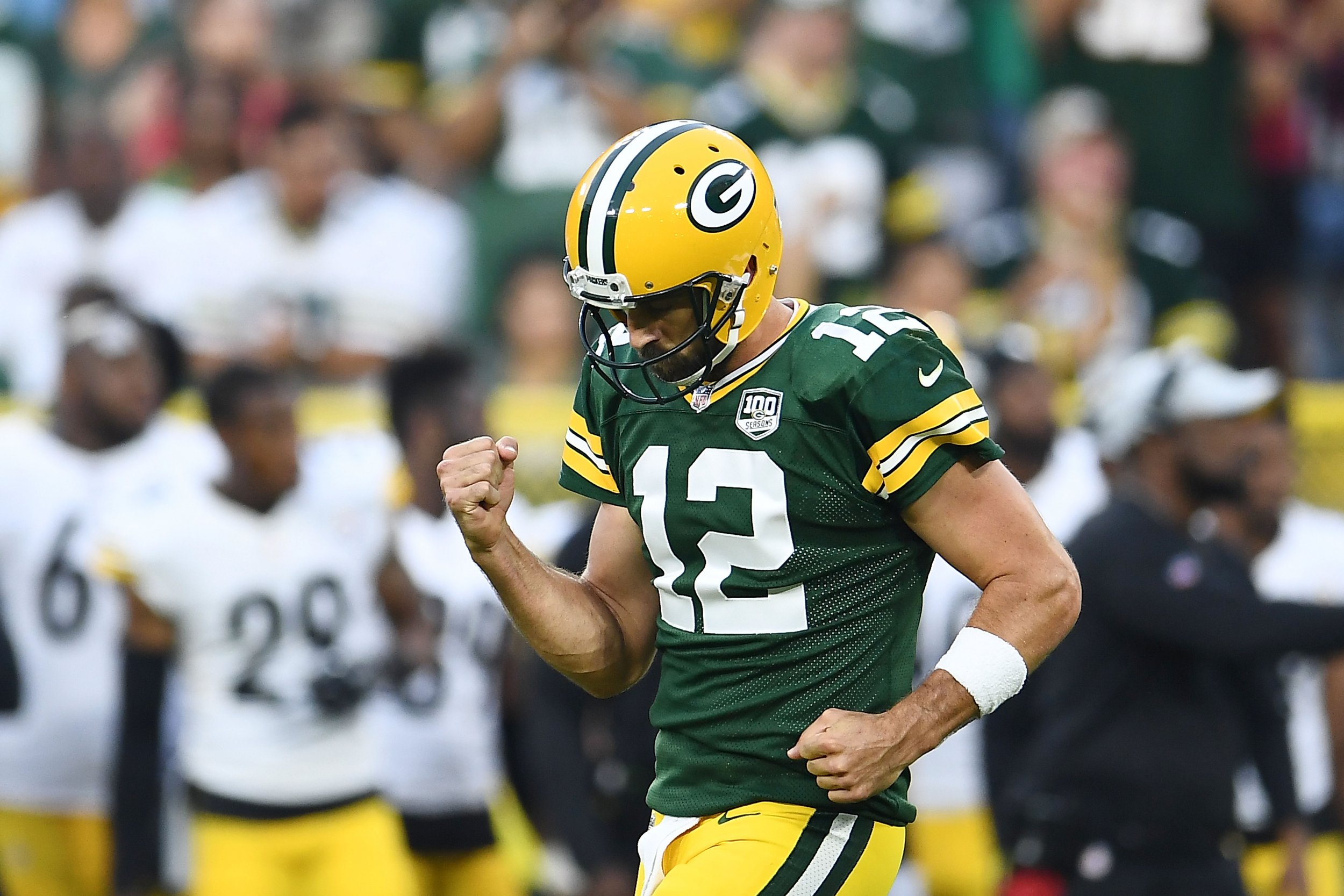 Aaron Rodgers will become the highest-paid player in NFL history after agreeing to a record four-year extension worth $134 million. The new deal will keep the two-time MVP with the Packers through to 2023 and includes almost $103 million total in guarantees, a record amount for the league.
Rodgers will have an annual average of $33.5 million and, according to a source quoted by ESPN's Adam Schefter, he stands to make an eye-watering $67 million by the end of the 2018 calendar year with an additional $13 million before March 17 next year.
The 34-year-old has spent his whole career with Green Bay since he was selected in the first-round of the 2005 draft, leading the franchise to victory in Super Bowl XLV. News of the extension doesn't come as a surprise, given Packers general manager Brian Gutekunst said in March that he expected a deal to be agreed in the offseason.
The Packers quarterback had already held the title of highest-paid player in NFL history when he signed his last contact in April 2013. The five-year deal worth $110 million, included a $35 million signing bonus and a total of $54 million guaranteed, while his $22 million average salary surpassed Joe Flacco's $20.1 million paycheck as the league's highest.
The market for quarterbacks has changed dramatically since Jimmy Garoppolo signed a $27.5 million-a-year deal in February 2018, just four months after he was traded to the San Francisco 49ers. The deal was the largest contract in NFL history on an annual basis, surpassing that of Detroit Lions quarterback Matthew Stafford, who had agreed a five-year extension worth $135 million in August 2017.
Stafford had himself overtaken Derek Carr and Andrew Luck, who had signed extensions worth $125 million and $140 million respectively in the previous 12 months.
Garoppolo held the title of highest-paid for just over a month until Kirk Cousins signed a fully guaranteed three-year deal with the Minnesota Vikings, worth a total of $84 million with an average salary of $28 million per year.
That was trumped by Matt Ryan, who in May became the first player in league history to earn $30 million per year, when he signed a new five-year deal with the Atlanta Falcons.
The extension paved the way for Rodgers's new deal, which has now re-established the Super Bowl XLV MVP as the league's highest-paid player, after he had slipped down to ninth in the ranking.
Rodgers took to Instagram to thank the Packers for what has so far been an "amazing ride," adding he was excited to begin his 14th season with the franchise. The California native has previously indicated he wants to follow the example of Tom Brady and play well into his 40s and has so far shown no signs of slowing down.
Since becoming the Packers starting quarterback in 2008, Rodgers has never thrown fewer than 28 touchdowns per season in every campaign in which he has played at least 15 games.