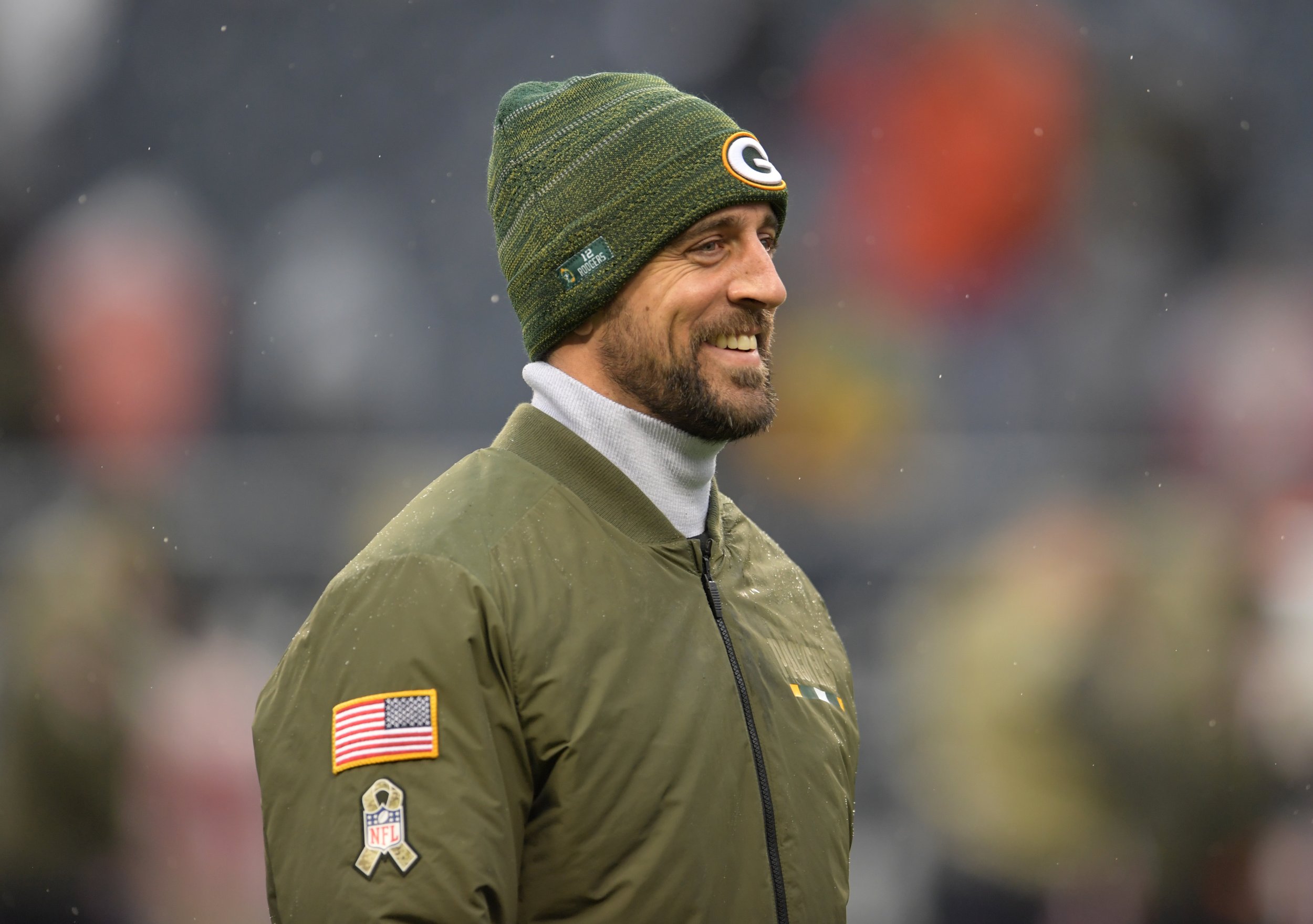 Game of Thrones is no stranger to cameos, the medieval fantasy show featured six in the seventh season alone. From pop stars to famous actors to athletes, all manner of celebrities have appeared on the show in "blink and you'll miss it" bit parts and cameos. The latest rumor claims that Super Bowl-winning quarterback Aaron Rodgers could appear in this weekend's episode.
Why do people believe that the Green Bay Packers quarterback might show up briefly in Westeros this weekend? Rumors began when Rodgers was spotted close to the GoT set in Northern Ireland last summer. Speculation then grew when the seven-time Pro Bowl passer requested that his Twitter followers avoid spoiling the show, while also including the hashtag, #episodeFiveshouldbegood.
On May 8, Cheesehead TV founder, Aaron Nagler, tweeted what appeared to be a declarative confirmation of the rumor: "Aaron Rodgers is going to be in Game of Thrones. Enjoy."
If that weren't enough, on May 10, Sam Alex of SamAlexRadio asked Rodgers at the Kentucky Derby if he'd ever cameo in a tv show or movie? Rodgers replied cryptically with "Episode five, Game of Thrones, effectively confirming the State Farm-sponsored sportsman will be appearin on the show. If these rumors are to be trusted, he'll appear in episode five, airing May 12.
The quarterback is a huge fan of the show. Rodgers even appeared in Season 8 promotional material, occupying the Iron Throne as "Lord Aaron of Green Bay."
So, what will the Super Bowl XLV MVP do for his appearance on Game of Thrones? Since that remains unknown, the best we could do was speculate wildly, but judging from recent cameos, Rodgers' cameo could end up being a bit on the nose.
Possibility #1: He's going to be eating a cheese wheel
Musician Ed Sheeran appeared on the show in Season 7 as an unnamed "Lannister soldier," though his character does briefly sing a song called "Hands of Gold."
Additionally, members of Coldplay and Sigur Ros have also appeared on the show, in both cases as musicians.
Since Westeros lacks footballs, it wouldn't make sense to have Rodgers randomly hurling the pigskin around the fighting pits. But the folks at GoT could make a fun nod to Green Bay Packers fans — known as Cheeseheads — and have Rodgers' character noshing on some cheddar.
And since everything on GoT is bigger and badder, why not have Rodgers chow down on an entire wheel of cheese?
Okay, so that is all highly unlikely, but it would be good for a laugh.
Possibility #2: Rodgers will chest bump Jon Snow before the battle begins
Athletes are known for their chest bumps and Rodgers is no stranger to the bumping of pectorals.
Before the Targeryen/Stark forces enter into deadly conflict with the Lannisters (backed by Euron Greyjoy's men and the newly acquired Golden Company men), Rodgers could leap from offscreen to chest bump Jon Snow —though, given the several inches difference in height between the two men, that seems like a recipe for disaster.
Again, classify that one under "Highly Unlikely."
Possibility #3: Rodgers will just be another guy in armor and it will probably be tough to notice him
Sheeran's appearance on GoT was the rare celebrity cameo, in that no effort was made to disguise him or make it less noticeable that gosh-dang Ed Sheeran was suddenly in Westeros hanging out with Arya Stark.
However, virtually every other celebrity walk-on — like It's Always Sunny In Philadelphia co-star Rob McElhenney, Silicon Valley's Martin Starr or Los Angeles Chargers defensive end Joey Bosa — has gone largely unnoticed until they were pointed out after their respective episodes aired.
Perhaps — and most likely — it will be a similar case for Rodgers, who will probably done armor or some scuffed up leather outfit and helmet for a brief on-screen appearance, most of which will end up on a behind-the-scenes extra on HBO Go.
Find out if Rodgers shows up, and what he'll do on the show if he does, when it airs Sunday night on HBO.