Seeing a franchise player go down with an injury is a nightmare for all parties involved.
That's exactly what happened on Monday night as Aaron Rodgers left the field moments after his regular-season New York Jets debut. The quarterback is thought to have suffered an Achilles tendon injury, and head coach Robert Saleh said that things weren't looking good after the game.
To be clear, a serious injury would be bad news for both the quarterback and his new team. It's tough to find a silver lining when there's a potential season-ending—not to mention career-ending—injury on the table.
But, at the same time, the show must go on. And, as the cliché says, every setback presents an opportunity. That's even true for Rodgers. In his case, the veteran QB has a golden opportunity to outdo Brett Favre in a different way.
Let's break things down.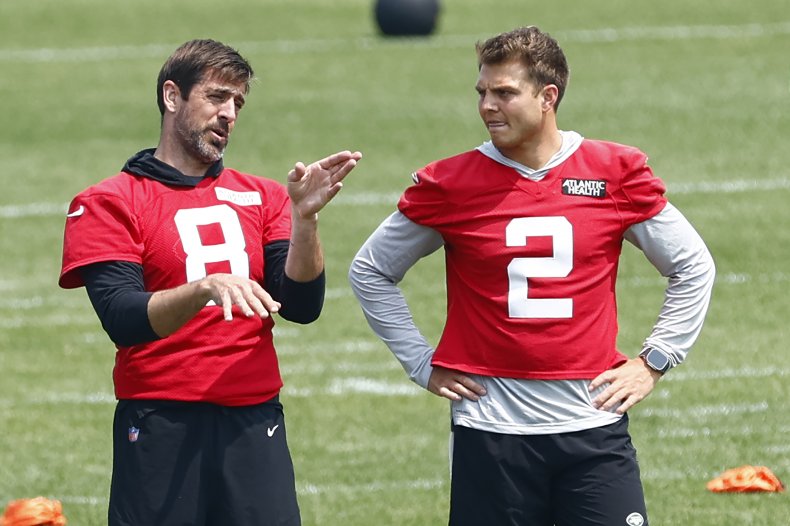 Rodgers' Injury Thrusts Zach Wilson Into Spotlight
Over the summer, Jets QB Zach Wilson probably felt like a bit player in a Hollywood movie. Rodgers arrived in New York, taking the starting job and getting the media attention. That left the Brigham Young University QB in the picture but clearly relegated to the background. In Week 1, though, that all changed.
As you've surely heard—and probably seen—Rodgers left the game after absorbing a sack mere moments after taking the field for the first time. That pushed Wilson into the breach, tasking him with holding the offense together.
The Jets did win the game, but the signal-caller's performance didn't exactly set the world on fire. He completed 14-of-21 passes for 140 yards, throwing one touchdown and one interception. Wilson's presence also seemed to affect the Jets' play calling, as coordinator Nathaniel Hackett chose to play it safe more often than not.
And while that's understandable—the entire offseason was built around Rodgers, not Wilson—it does put Gang Green in somewhat of a tricky situation. The club has a top-notch defense, which is capable of winning games. Ultimately, though, you'll need to put points on the board. How can you retool on the fly to best make use of a limited quarterback?
Perhaps that's where Rodgers comes in.
Rodgers Has Golden Opportunity to Mentor Wilson
Before going any further, let's take a brief trip back in time to Rodgers' early days in the NFL. He and Brett Favre, the Packers' franchise QB at the time, never really had a relationship. The veteran even told journalist Graham Bensinger in a 2016 interview that he felt like mentoring his future replacement wasn't part of his job description.
For his part, Rodgers has since spoken about how sitting behind Favre helped him learn to prepare for a game.
Despite that public sentiment, pro athletes can also take things personally, and we know that Rodgers is more than capable of finding motivation. His 2020 and 2021 MVP awards, for example, were largely fueled by the Packers drafting Jordan Love. Heading into the 2023 season, he was probably planning how to prove he was still the big man on campus.
The Favre connection also resurfaced in the QB's move to the Big Apple. Some suggested that Rodgers would have a bit more fire in his belly since the senior Packers great joined the Jets in 2008 and failed to get over the hump. If Rodgers could lead Gang Green to glory, that would be a major feather in his cap, plus a "told you so" to his collective doubters.
Obviously, being sidelined with a serious injury would throw a wrench into that plan. At the same time, though, it would give Rodgers a chance to contribute in another way.
Ever since he joined the Jets, the veteran has spoken openly about wanting to mentor Wilson. He even raised the specter of Favre in April.
"I think being around me and seeing how I go about my business, seeing how I lead, how I interact with the guys, I think there are some things he can pick off from that," Rodgers told ESPN's Rich Cimini.
He went on: "Part of my opportunity here is to be a great mentor to him and to teach him fundamental stuff, to allow him to be around me and, through osmosis, just pick up some things that can help him in his career. That's what happened to me, being around Brett [Favre]."
Again, while we know that Rodgers did learn from Favre, we also know how the more senior man felt about the responsibilities. And we also know that the California native is perfectly willing to hold on to a slight—real or perceived—and set out to prove himself. As Oliver Connolly wrote in The Guardian, "A grumpy and vengeful Aaron Rodgers will be in his happy place with the Jets."
So if you're the New York Jets' injured star, what better chance to prove your mentoring abilities—and quiet any rumors that you're a bad teammate—than coaching Wilson through the season?
Remember, this is a third-year player who has struggled during his time in the pros and ultimately lost the starting job. He was primarily tasked with being a game manager on Monday night, and it was clear that the offense wasn't really built for him. If you polled Gang Green's fans, they'd probably tell you that the former first-round pick simply isn't good enough.
That's where Rodgers can step in. He's in a unique position to lead the team through a tough spot, even from the sidelines.
At this point in his career, few active NFL players have more experience than the quarterback, both at breaking down defenses and handling the pressure in big-time media markets. And while that experience can't turn Wilson into a world-beater overnight, it can help lead the younger man through a tricky situation. Whether it's an arm around the shoulder, some whispered insight or anything in between, it will take a village to get the Jets through this campaign.
If he's hypothetically done for the season, it would be completely understandable if Rodgers packed it up. Depending on the severity of his situation, his time in the NFL could be finished. In the face of that challenge, though, it would be impressive if he essentially became a coach, taking it upon himself to prepare his replacement as best as he can.
Would Favre or the comments about his character be actively in his mind at that point? Probably not, but this is Aaron Rodgers we're talking about. He's not one to pass up the opportunity to prove someone wrong.
Winning a Super Bowl in New York would provide a massive amount of vindication, but guiding Wilson to the promised land would be a different sort of victory.
Would it be what Rodgers planned? Of course not, but sometimes you have to call an audible.
Uncommon Knowledge
Newsweek is committed to challenging conventional wisdom and finding connections in the search for common ground.
Newsweek is committed to challenging conventional wisdom and finding connections in the search for common ground.
About the writer
Joe Kozlowski is a Newsweek reporter based in New York City. His focus is reporting on trending sports stories. Joe joined Newsweek in 2023. He is a graduate of NYU's Gallatin School of Individualized Study. You can get in touch with Joe by emailing j.kozlowski@newsweek.com.
Languages: English.