Aaron Rodgers to Julio Jones Could be Better Than Brady to Moss, Montana to Rice
Quarterback Aaron Rodgers has already made it known he wants out of Green Bay. And on Monday, wide receiver Julio Jones let the world know he wants out of Atlanta. There must be a few NFL general managers out there thinking the obvious: let's mesh Rodgers and Jones together in our offense.
Jones has never had a quarterback as good as Rodgers, and Rodgers has never had as good of a receiver as Jones. Sure, they played with some really good counterparts, but none as elite as each other.
Even if they only played in the same offense one season, they could break single-season records and bring a team into immediate contenders for next season's Super Bowl.
What's the best landing spot for them? The short answer is Green Bay, which made it to the NFC Championship game last year in the friendly confines of Lambeau Field in Green Bay. The Packers lost to the Tom Brady-led Tampa Bay Buccaneers, who went on to beat the Kansas City Chiefs at Super Bowl LV in Tampa.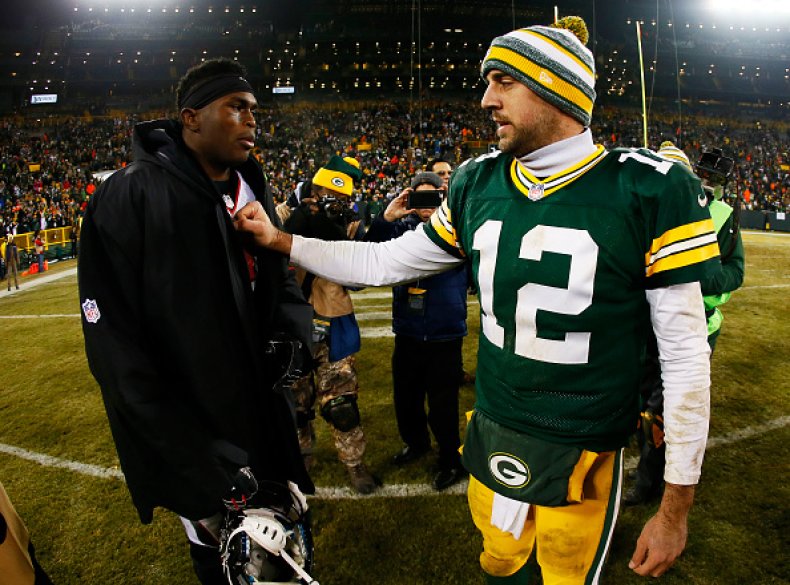 Julio Jones, even after 10 years in the NFL with the Falcons, would be the best receiver Rodgers ever had in his arsenal. Even better than Jordy Nelson, Davante Adams, James Jones and Randall Cobb. And as good as Atlanta quarterback Matt Ryan has been in his career, Rodgers is still better on an all-around level.
Jones wants to win a championship now. He last won a title following the 2009 college season when he and the Alabama Crimson Tide won the national championship.
During The Undisputed talk show on FS1, co-host Shannon Sharpe called Jones and asked the receiver about his situation in Atlanta.
"I'm outta there," Jones said. "Right now I want to win."
As Jones wants out of Atlanta, Rodgers has stated he wants out of Green Bay. Rodgers has been unhappy since the Packers moved up in the 2020 NFL Draft to select Jordan Love in the first round. How did Rodgers respond? He won the league's MVP award for a third time in 2020.
A Rodgers-Julio duo in Green Bay could be the best single-season combo of quarterback and wide receiver if they linked up for at least just one season. They could be more effective than Tom Brady and Randy Moss in New England, or any single season by Joe Montana and Jerry Rice in San Francisco, Troy Aikman and Michael Irvin in Dallas, Peyton Manning and Marvin Harrison in Indianapolis, Jim Kelly and Andre Reed in Buffalo or Terry Bradshaw and Lynn Swann in Pittsburgh.
Brady and Moss connected for 23 touchdown passes in the 2007 season, which the Patriots went undefeated before losing the Super Bowl to the New York Giants. That still stands as the single-season record, which Rodgers and Jones could easily approach by year's end.
Montana to Rice is considered the greatest all-time connection, but they never put together a season like Brady and Moss—neither did the other quarterback-receiver combos.