Aaron Rodgers Likely Iced the 2020 NFL MVP at Snowy Lambeau Field Sunday
The race for NFL's 2020 MVP has come down to about four players going into the last weekend in December. Green Bay Packers quarterback Aaron Rodgers may have wrapped it up after Sunday night's win in a snowstorm on the frozen tundra.
The four frontrunners for the 2020 NFL MVP heading into Christmas weekend were Rodgers, Buffalo Bills quarterback Josh Allen, Kansas City Chiefs quarterback Patrick Mahomes and Tennessee Titans running back Derrick Henry.
The games mattered most for all four of those players, and Rodgers shined the brightest on the Sunday night game. Allen will play on Monday night at the New England Patriots.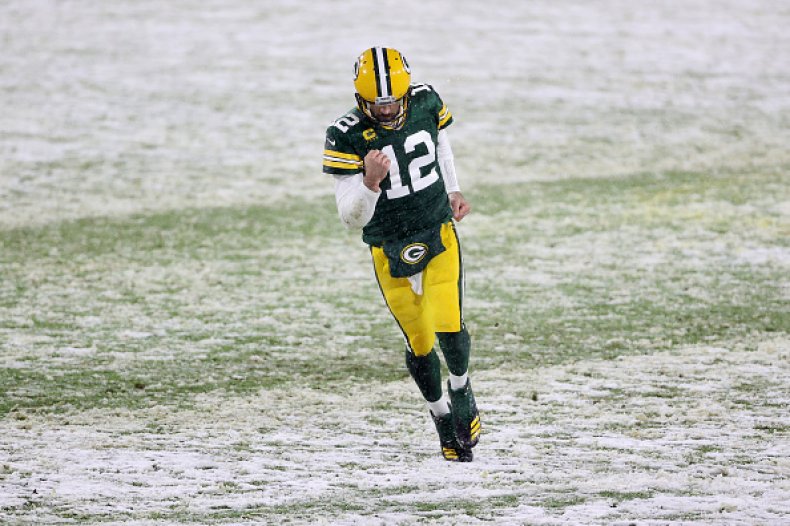 Rodgers completed 21-of-25 passes for 231 yards and four touchdowns Sunday night on a cold, snowy night at Lambeau Field in Green Bay. His completion percentage (84%) and touchdown numbers are stellar, but the total yardage might not seem like much. However, he played against a Tennessee Titans defense that has been solid most of the year, the game was in a heavy-footed, snow-filled field and the Packers needed to win.
The Packers did win, 40-14, and it was because of a balanced attack where the Packers also rushed for 234 yards and a pair of scores. Rodgers looked in command for almost the entire game, unlike Mahomes on Sunday against a hapless Atlanta Falcons squad.
Green Bay (12-3), which has already clinched the NFC North title and holds the top record in the conference, needed a win Sunday night to stay one game ahead of the New Orleans Saints and Seattle Seahawks, who are both 11-4 and nipping at Green Bay with just one game remaining now.
While Rodgers did his usual business on Sunday, here's what the other MVP favorites did Sunday (Allen plays Monday night):
Mahomes: 24-for-44, 278 yards and 2 TDs with 1 INT
Henry: 23 rushes for 98 yards, 0 TDs
Allen: Monday night at New England
Mahomes is rightfully considered among the MVP candidates because he's the leader of the NFL's top offense, and a team that is 14-1. He's got more playmakers in his arsenal than Rodgers or Allen have at their disposal.
Whereas people might say Rodgers has wide receiver Davante Adams and running back Aaron Jones, Mahomes has even more with wide receivers Tyreek Hill, Sammy Watkins, Mecole Hardman and Demarcus Robinson, the league's top tight end in Travis Kelce and a slew of running backs with Clyde Edwards-Helaire, Le'Veon Bell and Darrel Williams.
Henry could win a rushing title for the second-consecutive year, but scoring no touchdowns on Sunday night might not have scored points with those who vote on the MVP award.
Allen has completed 351-of-511 passes for 4,000 yards and 30 touchdowns this season.
As for Mahomes, in 2020 he has completed 67.3 percent of his passes for an NFL-leading 4,462 yards. He has thrown 36 touchdowns against just five interceptions.
Rodgers leads the league in touchdown passes with 44, and he has just five interceptions as well.