Aaron Rodgers, Mason Crosby Lead Green Bay Packers To MNF Comeback Win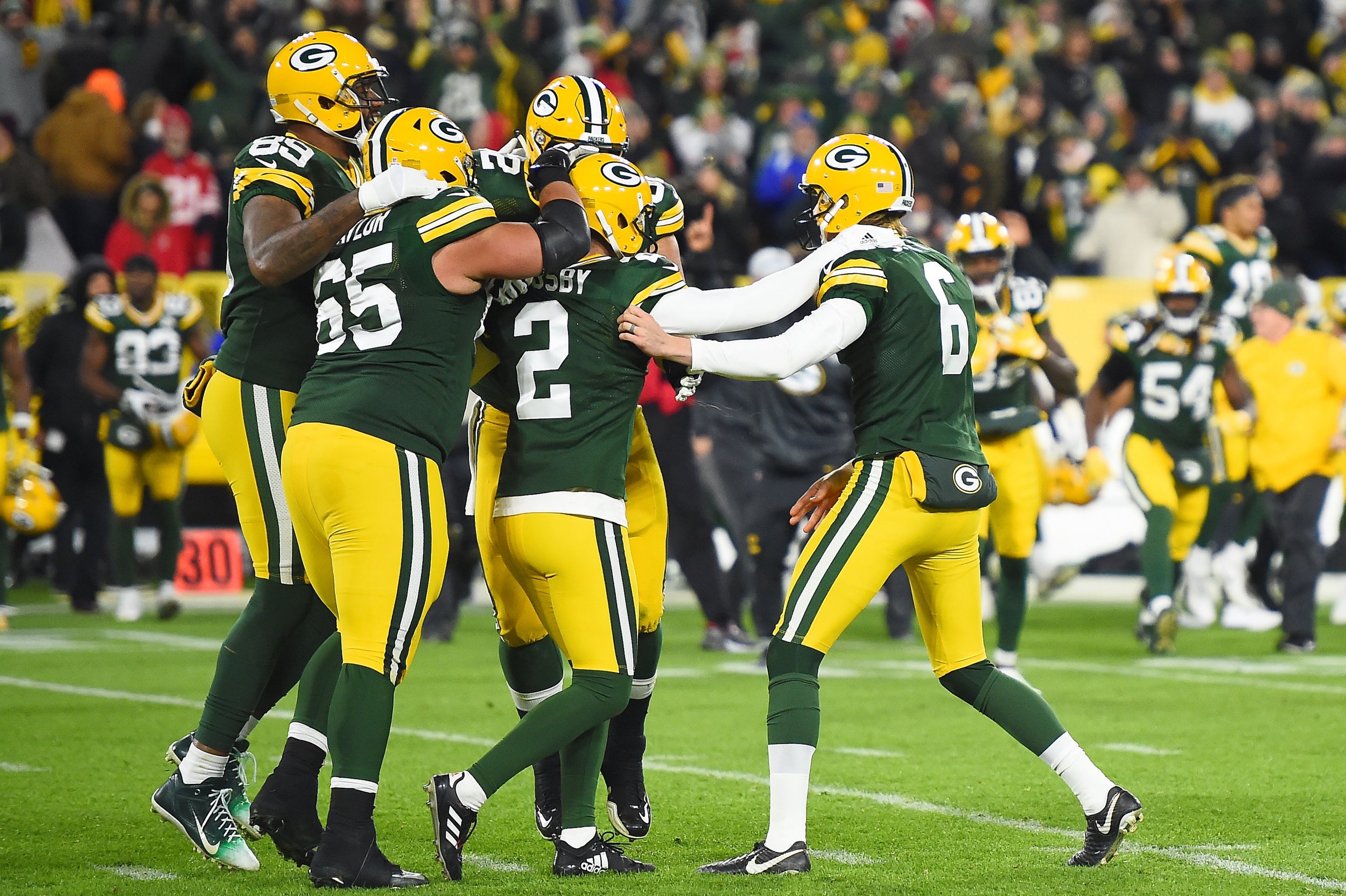 Redemption!
Green Bay Packers kicker Mason Crosby connected on a 27-yard game-winning field goal in a 33-30 victory over the San Francisco 49ers on Monday, just one week after the worst game of his career.
Crosby missed four field goals during Green Bay's 31-23 loss to the Detroit Lions in Week 5 and received blame from fans after the loss, before scoring the deciding three points against the Niners.
"Obviously it's an awesome game to comeback and bounce back," Crosby told ESPN's Lisa Salters after the game. "I was just hoping I'd get a lot of chances to help this team win and I can't say much. I'm kind of broken up about it. My teammates, it's been unreal the support this week from the guys in the locker room and we just stuck together. What a gutsy win that was."
The kick was set up by an 81-yard drive led by quarterback Aaron Rodgers, whose second half performance propelled Green Bay back from a 7-point fourth quarter deficit.
Rodgers connected with Davante Adams on a 16-yard touchdown pass to tie the game at 30 with 1:55 remaining.
Kevin King intercepted 49ers quarterback C.J. Beathard on San Francisco's next possession on 3rd down, which gave possession back to the Packers to set up the game-winning drive with 1:07 left in regulation.
Rodgers admitted that he was thinking of "overtime actually" when Green Bay reclaimed possession after the game.
"When Ty [Montgomery] broke off the first run outside the 25 I said, 'we'll take a couple shots,'" Rodgers told Salters. "They kinda sagged a little bit in the coverages and didn't bring pressure. I told them to get out there and put a run and then the last two plays we had a great job by the young guy [Equanimeous St. Brown] on the sideline not only catching the ball, great release, catching the ball, getting out of bounds. Then to come back and hit Davante [Adams] same thing, other side.
"We had faith in Mason from anywhere tonight like we always do but to get him even closer made it a certainty."
The Packers' rookie receivers, St. Brown and J'Mon Moore, received more playing time in the absence of former Pro Bowl receiver Randall Cobb, who missed Monday's game due to an injury.