Green Bay Packers quarterback Aaron Rodgers has tested positive for COVID-19 and will not play in this Sunday's match-up against the Kansas City Chiefs, according to multiple sources.
Reporters for the NFL Network have also claimed the reigning NFL MVP is unvaccinated. ESPN said sources confirmed the same about Rodgers' vaccination status to them.
During an August press conference, Rodgers was asked if he was vaccinated, and he answered that he was "immunized."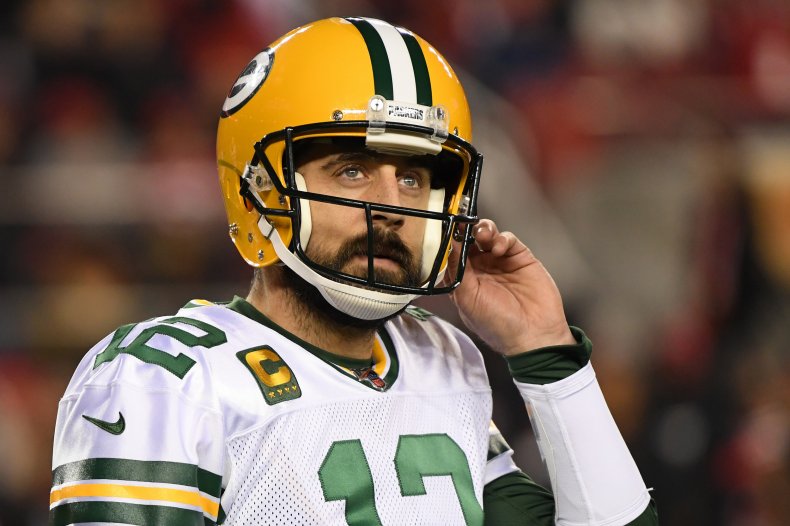 "You know, there's a lot of conversation around it, around the league, and a lot of guys who have made statements and not made statements, owners who have made statements," Rodgers said in August when asked about vaccinations. "There's guys on the team that haven't been vaccinated."
"I think it's a personal decision. I'm not going to judge those guys," he added. "There are guys that've been vaccinated that have contracted COVID. It's an interesting issue that I think we're going to see played out the entire season."
News about Rodgers' test comes after Packers star receiver Davante Adams missed last week following a positive test. At least two other players on the team have missed time this season due to having the virus, while defensive coordinator Joe Barry has also been out because of COVID-19 protocols.
Ian Rapoport of the NFL Network first reported that Rodgers is unvaccinated in a Wednesday morning tweet. He also named fellow NFL Network journalist Mike Garafolo as a source in the statement regarding Rodgers' vaccinations status.
If Rodgers is unvaccinated, he will miss a minimum of 10 days even after he returns a negative test, according to league rules. His earliest possible return to the field would be against the Seattle Seahawks on November 14.
NFL's COVID-19 rules also state that unvaccinated individuals must be tested daily. Vaccinated people working in the league as players or staff are subjected to weekly tests, though they may volunteer for additional testing or can be made to take daily tests if they are believed to have been exposed to COVID-19.
The Packers, who are currently on a seven-game winning streak after dropping their season opener, will reportedly turn to backup quarterback Jordan Love for Sunday's game against the Chiefs.
When the Packers traded up to obtain Love in the 2020 NFL Draft, sources said Rodgers was upset by the move, and trade rumors began to swirl around the star quarterback.
During a press conference last week, Dr. Allen Sills, the NFL's chief medical officer, said the league has conducted almost 100,000 COVID tests this season. He also noted that 94.1 percent of the players in the NFL are vaccinated.
Newsweek reached out to the Green Bay Packers and the NFL for comment but did not hear back in time for publication.
Uncommon Knowledge
Newsweek is committed to challenging conventional wisdom and finding connections in the search for common ground.
Newsweek is committed to challenging conventional wisdom and finding connections in the search for common ground.
About the writer
Jon Jackson is an Associate Editor at Newsweek based in New York. His focus is on reporting on the Ukraine and Russia war. Jon previously worked at The Week, the River Journal, Den of Geek and Maxim. He graduated Summa Cum Laude with honors in journalism and mass communication from New York University. Languages: English.